Immersive theatre at its absolute best, 'Butt Kapinski' will take you on a bizarre journey where you'll be hanging off every curiously pronounced word.
Centring on a quirky film noir detective as he battles against time to solve a crime – the worst kind of crime, a gruesome murder – Deanna Fleysher flawlessly brings the character of Butt Kapinski to life.
The audience, while hesitant and wary of what is about to occur, are giggling from the moment the saucy tunes begin, as the curious silhouette of our hero appears on stage and saunters out into the crowd – where he remains for the entirety of the performance. Fleysher, carrying her own stage lighting in the form of a back mounted desk lamp is so incredibly believable in the role of a somewhat clueless, lisping, 1920s-era male detective Butt Kapinski.
Roaming through the crowd, the apprehensive audience are quickly put at ease as it becomes evident that no one would be 'picked on' as such, however every single audience member would graciously be given the opportunity to contribute to the show and thanks to the artful structure put in place, most contributors are rewarded with laughs and gratitude from their fellow audience members.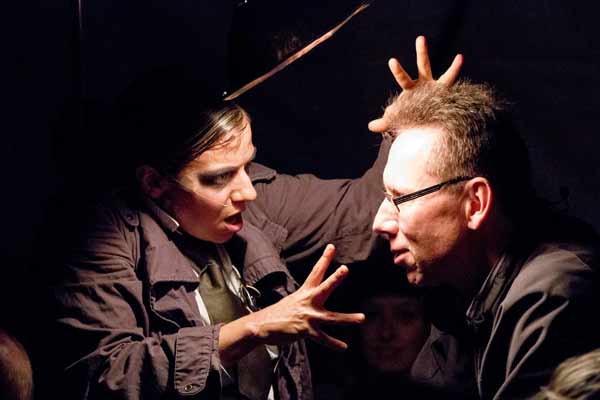 Image © Nathaniel Mason
A soundtrack is provided by a volunteer from the crowd and soon we are on our way, tagging along with the self-proclaimed talented private eye as he attempts to figure out exactly what had gone down – yet easily becoming distracted by the goings on in the seedy town that is eloquently created both with graphic descriptions and hilarious miming from generally willing participants.
As the tension builds, the crowd begins to wonder if the mystery will ever be solved – while we have learned a lot about the place that Kapinski calls home – all the way laughing and miming some seedy private moments, have there really been any clues?
The show quickly reaches a climax (pun intended, there is certainly a lot of sly sexy talk in this laugh-out-loud performance) and it all begins to make sense – though to say too much more would ruin the suspense for any future arm chair (or more aptly, fold out wooden chair in a circus tent) detectives.
A wonderfully unique experience, delightfully executed every step of the way, 'Butt Kapinski' is simply one of those shows that you must experience with an open mind, plenty of energy and a willingness to laugh and play.
'Butt Kapinski' runs at Campanile at the Garden of Unearthly Delights until 19 March.