Woodford is a cultural ecosystem all by its own, and a long and thriving one at that.
Boasting 20 stages/ performance tents, Woodford in 2017 (27 December 2017 to 1 January 2018) is as alive and teeming as ever. An old tree sprouting and bursting with enough food, music, colours, lights, art, activities, workshops and living theatre to soak your senses like a wet sponge.


Although there were acts playing all day the festival begun officially with its traditional opening ceremony at 7:30pm on the Wednesday.
Click here to view Day One photo gallery.
Being a Woodford virgin I wasn't sure exactly what to expect. But was happily surprised and wide-eyed to find myself staring at a long and absorbing performance that was comprised of giant, 10-foot puppets roaming about to live operatic music, the amazing traditional dances and music of the Jinibara people (traditional custodians of the land on which Woodford is situated) and a short bout of Waltzing Matilda from none other than ex-PM Bob Hawke.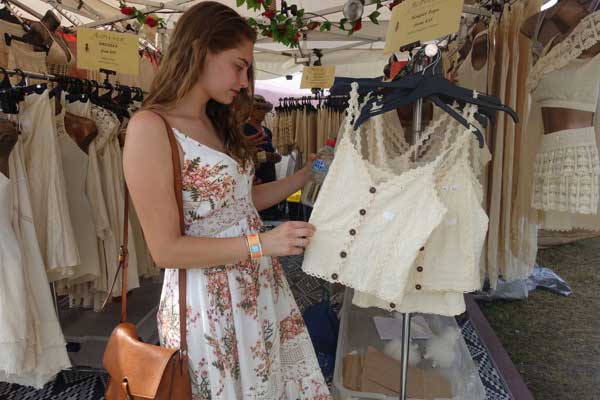 Image © Creation Saffigna


With this wrapped up, the horde of rowdy and cheering Woodfordians swarmed the gravel of the Amphitheatre as Canadian Folk trio The East Pointers emerged, as eager and excited as their audience to kick Woodford 2017/ 18 off to a lively start.


The East Pointers


And so they did. Can you imagine techno through a banjo? That is how fast, feverishly and skilfully
The East Pointers
wielded their folk.
It came rushing out in a lighthearted and playful river that dug deep into the blood and awoke the Frodo Baggins within till we were all dancing like mad and hairy-footed hobbits upon the table of some old alehouse. Their music captures the age-old spirit of folk and carries it off onto new and higher paths.
It's clear why they were scheduled to play every day of the festival; in them shines the hope for a new generation of folk music and Woodford embraces and reveals it like a proud parent.
John Butler


Safe to say this warmed everybody up for the arrival of the infamous John Butler. A veteran of the festival he was greeted with a loud welcome by the expectant crowd.
After wooing us with some banter he launched right into it, luring us in with familiar classics like 'Better Than' and 'I Used To Get High' before taking us dancing and singing through the full-color wheel of his soul.
Through heartfelt moments, bad-ass shredder moments, belting bouts of political angst, belting bouts of revolution and of course moments of mouth-hanging awe.
John Butler - image © Creation Saffigna
One such moment was the performance of his song 'Ocean'. A purely guitar-based instrumental, which he explained: "Says how I feel about it all." Actual tears were rolling down cheeks as hundreds stood silent and absorbed in awe.
For me, it was certainly one of the most special moments in music I have ever been a part of. And shit, it was only the first day. 

That first night was a horn that heralded the quality of what was to come. The sheer calibre of musicianship and talent over the course of the festival was plain mindblowing and might I say, diverse.
I was carried on the current of the following days from stage to stage and act to act like a child in a town-sized playground.
Sampa The Great


Ah. The incredible, beautiful and bad-ass Sampa The Great. This talented and soulful woman, about as tall as your little sister and about as powerful as the Mother of all mothers, blends a fusion of Kendrick Lamar-level rap with Erykah Badu-esque neo-soul tunes to create something magic and unparalleled.
She let us know that this was 'healing music' and it truly was just as soothing as it was intensely empowering and spiritual.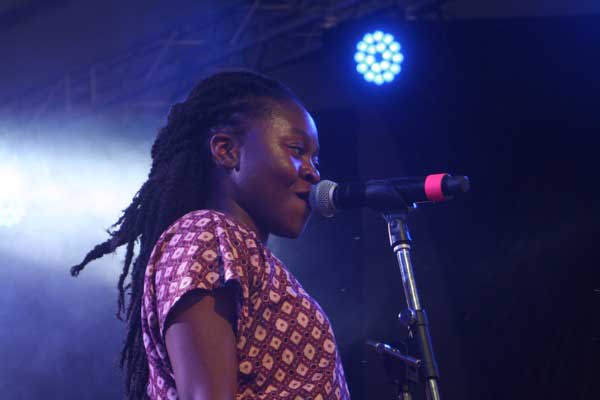 Sampa The Great - image © Creation Saffigna
She draws her force from her unbroken and strong connection to her African roots and uses it to lay a balm and a battery in the hearts of all those who have been disenfranchised and wounded by the bullshit in our western world.
Click here to view Day Two photo gallery.
Rich in soul and overflowing with mad skills, you can bet your ass I went back to see her twice.

POW! Negro


The greatest new discovery for me was POW! Negro. I walked into their set quite calm and collected and found myself throwing my body around with all the reckless abandon and primal fever in my bones within moments.
Hailing from Fremantle, emerging from the same circle from which the likes of Koi Child and Tame Impala have come, these boys rock-out with an electrifying fusion of psychedelic jazz-rap meets Rage Against The Machine.
A combo that can easily turn into just warped and static noise is pulled off with incredible cohesion, and even a sexy smoothness by these talented youths.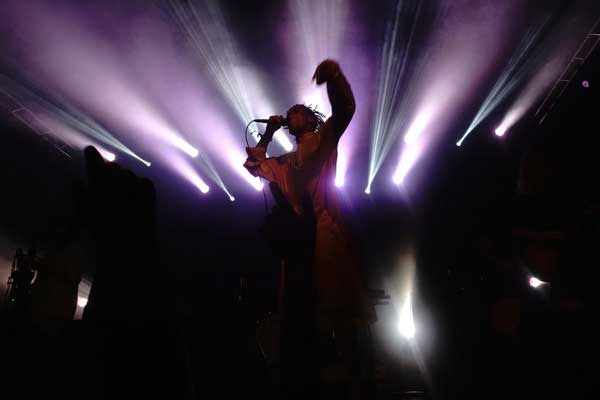 POW! Negro - image © Creation Saffigna
Coming from a background in theatre, frontman Nelson Mondlane puts on one of the most energetic and captivating performances I have seen.
Rapping away at light speed with colourful and thought-provoking lyrics he quickly earned them a swell of gossip and chatter and by the time their second performance rolled around, they were joined on stage by none other than Sampa The Great and playing to a crowd quadruple the size.
Keep your eye on these guys; I think we'll be seeing more of them.
Holy Holy
Holy Holy
were one of the acts I had been anticipating the most, and they didn't disappoint. Their sound is quite bright. Filled to the brim with high-ringing ambience and long, silvery guitar licks, they rock-out with a kind of heavenly tone, if the name didn't already give that away.
Holy Holy - image © Creation Saffigna
The fusion of lead singer Tim Carroll's author-like songwriting and the weaving of Oscar Dawson's musical wizardry (undoubtedly one of the greatest guitarists I've ever seen live) makes for a really piercing and illuminating experience.
I went in with high hopes, wanting to have my soul struck and strike it they did. Leaving it ringing like a gong with an afterglow that lingered on for the rest of the night.


Husky


Husky are a band I have been listening to since I was a teenager. Though, looking around from where I was at the very front of stage I could see that I wasn't the only, nor the biggest, fan-girl present.
Their music is tenderhearted and melodic. Interwoven with stories and parables that have something of a woodland mysticism to them. Poked through with little hints, riddles and an essence of something somewhat ghostly and otherworldly.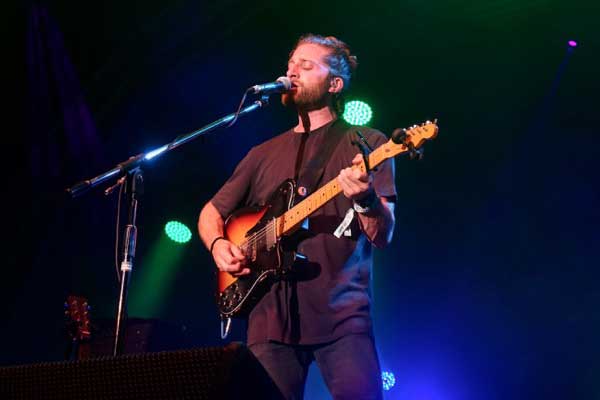 Husky - image © Creation Saffigna
Though their set may have been rich with stories that the crowd were following word-by-word, it was also broken up by some outstanding musical moments. Namely the epic keyboard solo by the talented Gideon Preiss and the beautiful Leonard Cohen cover with which they ended the show.
They called some friends on stage who bunched around microphones as they invited the whole crowd to sing-along with them: "Lover, Lover, Lover, Lover come back to me." It was one of the most touching and inclusive moments of the festival.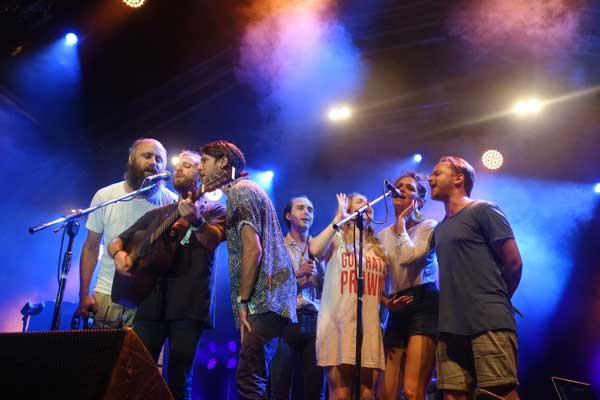 Husky and friends - image © Creation Saffigna

Something I respect most about Woodford is how much acknowledgement, opportunity and allocation is given to indigenous artists and musicians.
Whenever I rocked up at the Songline's tent I would either be blown away by some kick-ass talent or privy to some educating and epic talks on indigenous culture as well as insights into some of the challenges that the 40,000-year-old culture is facing today.
Click here to view Day Three photo gallery.
Yirrmal


Yirrmal is a gift to the ears and a gift to the soul. Hailing from Arnhem Land, young Yirrmal carries the torch passed on by forerunners Yothu Yindi.
Merging an ancient and long lineage of language and song with the instruments of contemporary music, and standing as an embodiment and expression of how the different streams of Australian culture can come into a strong and healthy synthesis.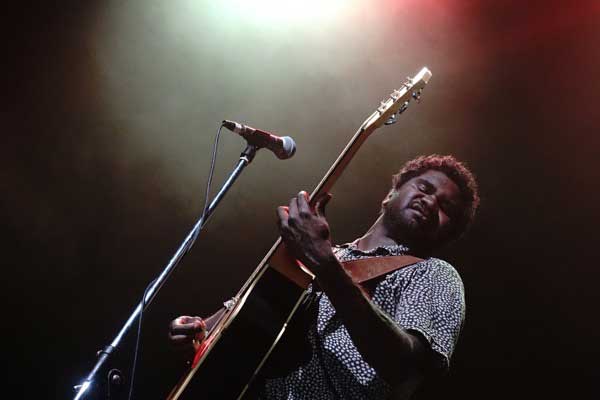 Yirrmal - image © Creation Saffigna
Yirrmal leads the charge with a voice that is lined with incredible power, but also incredible beauty. Alternating between English and his traditional language of Yolngu Matha, he addresses the wounds of his culture while at once laying a healing touch upon them, singing out with such love and the kind of spirit that sends goosebumps up your arms.
Yirrmal also brings an incredible energy to his performance. Unafraid to have a laugh and put all of himself into his songs, he fuses that soulful voice with ballad belting, smooth rock to get into your bones and blood till he's got you rocking out right up the front.


Baker Boy


Then there was
Baker Boy
, another blazing light from the magical Arnhem Land. Walking a similar path as Yirrmal in merging the ancient elements of his language and culture with the elements of contemporary music.
Baker Boy came exploding with energy and rap into the open arms of capacity crowds for both his performances.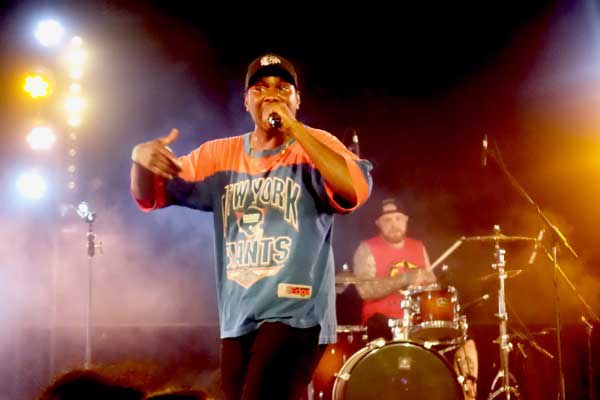 Baker Boy - image © Creation Saffigna
With a healthy pride in himself and his culture Baker Boy streamed forth with rhythms and rhymes to challenge, empower, tackle and support the state of our current world and the changes breaking through it.
Having been a dancer before he became a rapper he wove some seriously impressive dance performances into the show, merging again elements of traditional dance with some of the funky moves of contemporary dance.
Click here to view Day Four photo gallery.
Baker Boy had his finger on the crowd's pulse and ensured they were constantly vibing and that a dull moment was completely out of the question. A force to be reckoned with, expect to see more of this man cutting and carving new lines and paths through the world of music.


NYE


By the time New Year's Eve rolled around, the festival's energy was reaching a crescendo. I passed the bridge to 2018 in the moshpit of the amphitheatre with a buzzing hive of my kindred Woodfordians.
A special NYE celebration was put on to bring to life the momentous moment, a collage of some of the most stellar acts of the festival so far.
The Jinibara Dancers - image © Creation Saffigna
The Jinibara Dancers were out again, Dubmarine dug into deep grooves with a wild cover of Yothu Yindi's 'Treaty', the girls of Rising Appalachia crooned us with a touch of their soul magic, Baker Boy was out once more with his crew for a bit of dancing.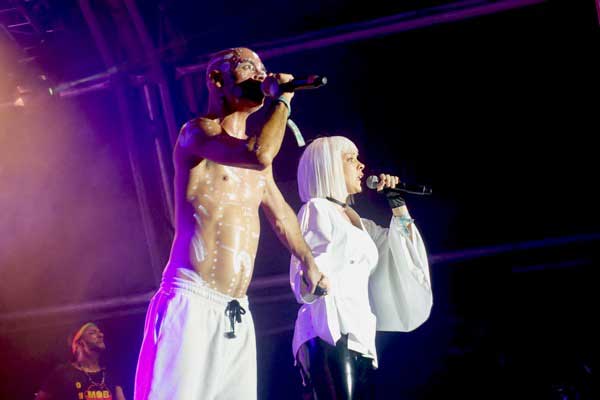 Dubmarine - image © Creation Saffigna
But it was the funk-soul brothers of Afro Dizzi Act who took us sweating and shaking madly into the New Year.
Rising Appalachia - image © Creation Saffigna


Just before the crossover however, the whole performance was paused. Three minutes of silence were taken and we were invited into a meditation on the year before and the year to come.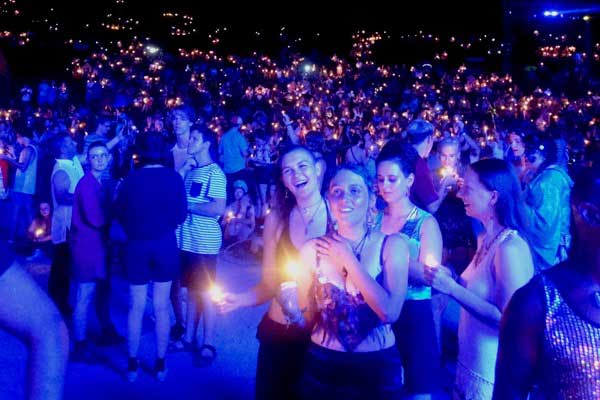 Image © Creation Saffigna
The whole bowl of the amphitheatre was lit up by thousands of candles glowing in the potent stillness. A powerful and magical moment for everybody present matched in sacredness only by the ceremony of the dawn.


It is an age-old Woodford tradition to climb the yonder high hill and watch the dawn peek up over the Glass House Mountains while Tibetan monks welcome in the year's first light with moving mantras and chants.
Click here to view Day Five photo gallery.
Some hit the sack early to wake before the dawn, some slept up on the hill, some said f#$% it and just kicked on all the way till the sun-kissed their red and bleary eyes.
Image © Creation Saffigna
Regardless of the way, it seemed everyone got there and when the sun finally came shining up over the clouds it was greeted by the roars and howls of thousands of mouths as if it were the most anticipated artist and act of the whole festival.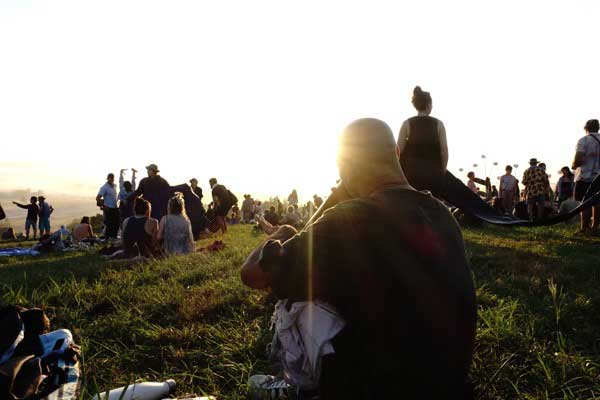 Image © Creation Saffigna
To me, Woodford stands strong as an exhibition and example of what our culture could be, rather than being a week-long escape from it. It has survived and thrived through 32 years and just received a $2 million dollar grant from the Queensland Government for a reason.
The purpose that drives it is much deeper than revelry alone. It is a seed carving out a path toward a new future. Not airy and flighty in the slightest but grounded, wholesome and inclusive in its growing dream of a new world.
I was glad to have been a blob of ink in this year's chapter and a ray of colour in its vision. Till next year Woodford, thank you very much.
Click here to view the closing ceremony photo gallery.