Founded in 1981, US punk rockers Violent Femmes have released nine studio albums, their most recent being last year's 'We Can Do Anything'.
When arranging this interview, I'm giving an Australia number to call and chat with founding member Brian Ritchie. "So you're in Australia?" I ask.
"I'm an Australian citizen, I've been living here for ten years. In Hobart." When not playing bass with the Femmes, Ritchie is curator of music at Hobart's MONA. Those gigs on the lawn, that's him.
With the current global landscape, I ask Ritchie: Is there really no resisting a Christian? A reference to the tune 'There's No Resistin' A Christian' that Ritchie penned for the now legendary 'SST Acoustic' 1991 compilation that featured contemporaries Dinosaur Jr, Husker Du and Negativland among others. "Well it looks like they're taking over," Brian says.
"But you can still resist them. It's horrible. I'm glad to be an Australian citizen now."
I suggest heading to Uluru and laying low for a few years is an option till it all blows over. "Good plan."
At our weekly indie nightclub Termights (back in Limerick), like every indie club in the world I'd imagine, the night simply wasn't over unless you heard Ritchie's unmistakable intro to 'Blister In The Sun'.
"That's our calling card. It gets played everywhere: at baseball games, cricket matches, hockey matches, parties, clubs, surfing events." He chuckles at the thought it is our generation's 'Sweet Caroline', another seventh inning stretch standard. Then onto Gnarls Barkley.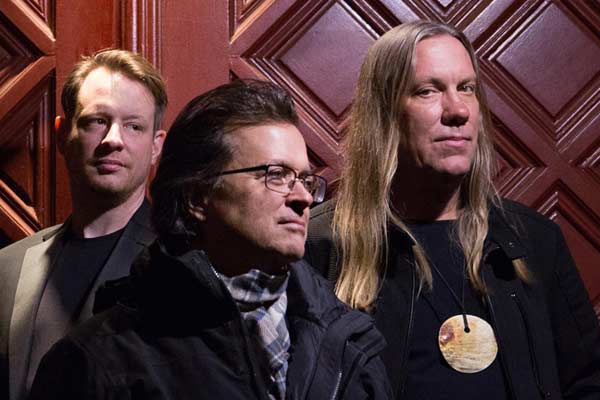 "We of course loved their version of 'Gone Daddy Gone'. We decided to return the compliment by doing a cover of 'Crazy'. We heard they liked it. A little bit of a mutual respect."
So where's Gordon Gano and what are the two of them working on? "Gordon lives in the USA still in an undisclosed location. He doesn't want people to know where he lives, so I won't tell you," he jokes.
"So, he's subject to the new regime. We've got two fairly new records. An EP called 'Happy New Year', and an album called 'We Can Do Anything'. And I'm working on putting together a new live album as we speak." Busy times indeed.
Our chat then moved to a quick fire round. I threw lots of bass player's names at him and his answers were revealing. Mike Mills (REM): "He was the musical intelligence of the harmonies of that band. Just a good musician all-'round."
Lou Barlow (Sebadoh/ Dinosaur Jr): "He's got a big, reggae-type sound, but he's punk."; Mark Ibold: "Who? I don't know who that is. Oh, Pavement? I saw them play. Pavement is a good name for that band because they are very flat (chuckling) and just moving forward at a constant pace. But I don't remember his playing."
Deb Googe (MBV): "We need more girls playing bass. Playing music in general."
He also remembered others who have gone before. "We've lost some good bass players recently. We've lost Chris Squire [Yes], John Wetton [Roxy Music] just yesterday. Greg Lake [ELP] died. And from the people still living there's Mike Watt [Minutemen, Stooges], he's like a hero.
"There's so many great bass players. I appreciate them all. I don't judge bass players, I just listen to them. They're all different. If they're in a good band, that means they're good. It's not about technique, it's about what they've added to the music."
Click here for the full list of Violent Femmes national tour dates.