Dubbed the 'Hendrix Of The Sahara', Malian blues guitarist Vieux Farka Touré shreds his way to Australia for a tour at the end of the year.
Vieux was born into a traditionally military family and his father Ali, who was also a renowned guitarist, disapproved of his son becoming a musician due to his own experiences with the industry.
Defying his father and practicing in secret, Vieux's style is a brash mix of blues and West African culture that has captured hearts and ears around the world.
What are you most looking forward about your upcoming Australian tour?
You know, I really enjoyed the Australian people the last time I was on tour there. Very friendly and funny people. So I would say that it is what I am most looking forward to. I love to talk with fans and even with friendly strangers on the street, in shops and restaurants and that kind of thing.
In terms of a band, who will be joining you on-stage for this tour?
This is my 'power-rock trio' that will be accompanying me. My drummer is Mamadou Kone. He has been playing with me in Mali for many years, but has recently joined my international band. He plays both drum kit and also the calabash for the acoustic songs. The bass player is also my tour manager, Marshall Henry. Marshall is a good friend and great guy to have on a tour.
Your latest album 'Touristes' is a collaboration with Julia Easterlin. What is the next project you're working on?
I have recorded my next album already. It will be called 'Samba'. Samba refers to a second-born, which I am. In our culture, the Samba of a family holds a very important position. Of course for me, I am in the position of carrying the legacy and the responsibilities of my father, so I am Samba. The album was mostly recorded in front of an audience in a recording studio in Woodstock, New York. Unfortunately, it will not be released until a few months after the tour in Australia, but we will play a lot of material from this new album.
How was the experience of working with Julia, who is primarily a vocal artist?
It was a very interesting experience. We come from two, very different worlds, culturally and musically. So this is one of the reasons why we called the album 'Touristes': also it is a mix of 'Toure' and 'Easterlin', but it also described the idea for the music. We were tourists in each other's worlds, musically speaking.
I love to do projects like this where I am forced to adapt to something totally new for me. It forces a musician to really listen and to think about what he is creating. It is like exercise for the musical part of the brain.
How does it feel to be known as the 'Hendrix Of The Sahara'?
You know, I hear this all the time, and I think it is very flattering, but honestly I don't pay very much attention to it myself. There is only one Jimi. He did what he did and I do what I do. It's very different. But I think people say this because everyone knows Jimi Hendrix, so when someone is compared to Jimi the people will know immediately what you are talking about, instead of wondering 'who is this guy from Mali? Where is Mali anyways?'.
Your father Ali (also a guitarist) initially discouraged you pursuing a career in music. What made you persevere?
My father was Ali Farka Toure. 'Farka' means donkey in our language. He got this nickname because he was a very stubborn man. I am the same way and that is why he gave me the name 'Farka' as well. If I have a passion to do something in my heart, I will do it. It does not matter what anyone else wants me to do. My father saw this in me at the end of his life. Even though he did not like the business of music and was worried for me to enter it, he understood that I had this fire in me to follow this dream and that I must follow it.
Did you ever feel overshadowed by your father's own career?
I try not to compare myself with Ali, even though others do all the time. Ali was Ali, just like Jimi was Jimi. I am not Ali and I am not Jimi. I am Vieux. I hope that that is good enough for people. It is good enough for me.
Starting as a drummer/ calabash player, why did you switch to guitar?
I have always been very interested in the guitar. When I began in music, I was scared to touch a guitar because my father was such a respected guitarist, and I did not want to be compared with him. Also, I wanted to learn something that could make me useful for him, and playing drums and calabash was a good way to be close with him. I toured with him a bit in the last years of his career as a percussionist.
But I knew in my heart since I was young that I wanted to play the guitar. I am glad that I spent years training in percussion though because this helps a lot on the guitar. My style of playing guitar is very rhythmic and my skill at this is thanks largely to my time spent playing percussion.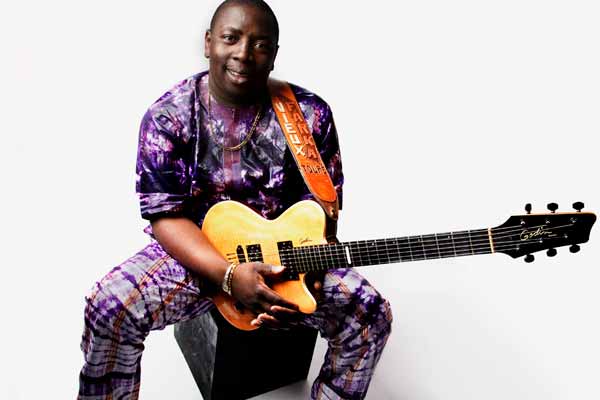 Why did you choose Godin as your signature brand of guitar?
Godin is a small, but great company that have supported me since the very beginning of my career. My first time in Montreal they gave me a beautiful guitar that I still use today and they have always provided me with guitars. I love their guitars as well. They are very well made and play very easily, so for me it is very easy to be loyal to them.
Who are some guitarists (living or dead) you look up to?
BB King, John Lee Hooker, Jimi of course, I really like the guitarist Abdallah Oumbadougou from Niger. My friend Bombino, also from Niger, is a very wonderful guitarist. These are my favourite guys.
Can you tell us about your humanitarian project, AMAHREC Sahel and why it's so important to you?
AMAHREC Sahel is a charity organisation that I started with some others in my family and my general community in Mali that addresses the needs of the most vulnerable people of our society. We run an orphanage and a programme to deliver mosquito nets to woman and children in my home region of Niafunke.
I am also beginning to work with a health organisation called Mali Muso, which is providing health services to hundreds of thousands of people who need it in Mali. It is an honour and a responsibility of being an internationally recognised artist from Mali to use this influence to help my country.
Vieux Farka Touré Shows
28-32 Dec - Woodford Folk Festival (Sunshine Coast)
Sun 1 Jan - MONA (Hobart)Wed 4 Jan - Solbar (Sunshine Coast)
Thu 5 Jan - Mullumbimby Civic Hall
Fri 6 Jan - Bellingen Memorial Hall
Sat 7 Jan - Summer Of Soul Festival (Meeniyan)Sun 8 Jan - Caravan Music Club (Melbourne)