Saturday night (23 April) belonged to the hometown-grown talent that is James Keogh, better known as Vance Joy, who rocked the Margaret Court Arena.
Beginning his career by plugging away at numerous Melbourne open-mike nights during the 2000s while completing his law degree, Vance Joy has come a long way since.
Click here for more photos.
Off the back of a recent US tour, Vance was back in Melbourne for the night playing to an adoring full house.
As a huge, black sheet dropped to the floor, which was illuminated from behind to reveal Vance Joy's name in massive lettering: the teenagers, mid-agers and older folk alike united in cheers, knowing the 28-year old was about to enter the stage and take them on a journey throughout the night. And that he did.
Vance Joy - image © Carl Neumann
Vance only has an EP and one studio album as part of his discography. So it was nothing but expected when he played pretty much everything he has released, except for a really cool cover of Paul Simon's 'You Can Call Me Al', which delighted the older crowd and enthused the younger fans equally.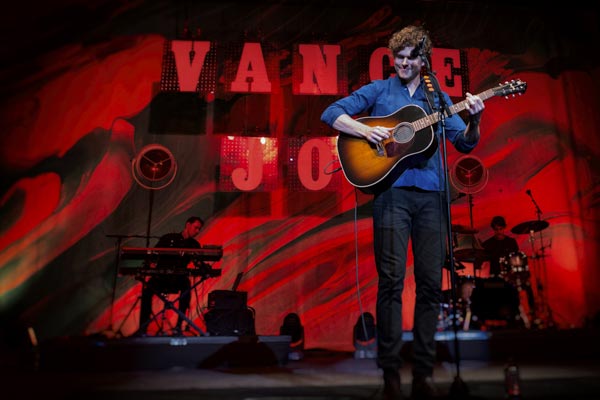 Vance Joy - image © Carl Neumann
For a big man who plays the ukulele for most of the show, he sure does know how to entertain. He is a great songwriter and musician, and so deserves the fame and recognition he's getting. He's sure to have a catalogue of new music written (he has current album deal with Atlantic Records) and it's a sure bet he's itching to finish the tour and get back into the studio to record the new songs.
But, how is he going to top 'Riptide' and his first single, 'Fire And The Flood'? I guess we will find out in a few months.
Support act Holy Holy most certainly won a truckload of new fans while they entertained an already full Margaret Court Arena. Like Vance they have only released one EP and an album. But nevertheless, their confident stage presence made their mature indie music wonderfully enjoyable.
There were three stand-out songs that received the crowd appreciation they deserved: 'History', 'You Can't Call Love l Like A Dog' and the highlight of the entire night, Sinead O'Connor's version of a song written by the late Prince, 'Nothing Compares 2 U'.
The beautiful piece was a very touching tribute to the one of the greatest artists to walk the Earth and left an ache in my throat as half the audience held up their phones as torches during the song: a moment in time I'll never forget.
Vance Joy's setlist
Mess Is MineRed EyeWinds Of ChangeAll I Ever WantedStraight Into Your ArmsFrom Afar / WastedTime Play With FireSnaggletoothGeorgiaBest That I CanRiptideYou Can Call Me Al (Paul Simon cover)Encore:My Kind Of ManFire And The Flood