Brisbane DJ Edwin Morrow passed away last Sunday afternoon. The reaction on social media has ignited embers into a firestorm of memories and adulation.
Edwin's passion for music extended considerably beyond the turntables of his two residencies at The Beat and later, Rockafellas. He was the driving and creative force behind the Adrenalin dance parties, he partnered with Cherryn Lomas to create Australian dance duo 'Sexing The Cherry' and their 1994 charting 'Steppin' On'; as well as contributing musically at Cascade Place — a day centre for people with disabilities.
Jenny Juckel (DJ Jen-E) was a co-resident DJ at The Beat and was Brisbane street press Scene Magazine's dance music writer in the early-to-mid-'90s. She knew Edwin better than most, and so we asked her to reflect on a much-loved and admired individual.
The Brisbane old-school club scene is in shock at the news that Edwin Morrow has passed away. You worked with him, played with him and were neighbours. How did you meet him and could you expand on the different facets of his life that intersected with yours.
I met Edwin in Central Station Records, its first scary inception near Brunswick St train station. It was scary because there was a hell-load of attitude in there. Guys spitting in your drinks when you turned your back, paying you out when you left the shop. But then there was this guy that seemed neutral and approachable. I marched up to him and prefaced my speech with "Take me seriously..." he nodded, gave me his full attention, took me seriously, and told me he would help me become a DJ by teaching me the basics of mixing in the shop, but then I was on my own. Which was so perfect in retrospect.
Edwin on drums! Pic credit: MC Chase.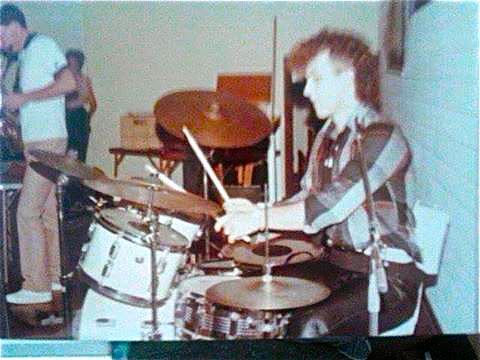 He would defend me while others in front of my face would say "she's not serious mate". I have spoken to many other girls in this industry that he'd helped, he was so pro-female, and not in a benevolent, sexist way. He really inspired true confidence and belief, that we had a right to defy the doubters. I put my head down and mixed, researching the field by going out to The Beat or whatever raves were on — usually with Edwin, Angus and Kesson on the bill.
Edwin was always cerebral in his observations. Having a gorgeously loving view of things (especially the ladies) but also making interesting theories on why this was that and how that means this. For instance, his explanation of my bangin' music taste derived from my German/ Chinese heritage. And I just thought I liked to dance hard.
He was a musician first (a drummer with goth/ industrial influences we both shared — The Cure, Nitzer Ebb, Front 242 etc.) and he always said he was not a DJ, but a muso playing records. I think think this gave him the room to focus on music selection and not get hung up on the technicalities of the mix. As a result, working the room was something he excelled at.
Tell us about Edwin the man. Away from the decks, away from the shop floor. What was it about Edwin that has touched so many people?

He is unique. Loving, caring, nurturing, yet with a punky attitude but never harmful. He loved women in a way that was feminist but embraced their sexuality. I think that explains why the ladies flocked around him. He had a way of making everyone not only feel comfortable and loved, but confident and proud. He was extremely open-minded, non-judgemental, and curious. We both ended up studying psychology and I see that even in those crazy days when it seemed we were babbling shit, there were valuable psychoanalyses going on.
A morning ritual of ours (during the time I unknowingly ended up moving next door to him) we would get a cab home from The Beat after our sets, take out our crates, place them on the side of the street, stand side by side facing the road and fold our arms. We would then have a long conversation summing up the night, making observations.
On one of these occasions I recall down one end of the street a cat was approaching. From the other end, a dog and its owner. We both said, "this will be interesting.." and watched as true to predictions, the cat and dog went crazy. We derived so much joy from this predictably instinctual act. Observing the world and its wonder I think was my favourite and most common pasttime with him. Some mornings I'd go to his and end up having what felt like five or six hour conversations that reached another universe, I distinctly remember having to go through reentry after these conversations to get back to real life. They were intensely amazing.
He thought Keanu Reeves was very handsome. He would party like the rest of us into the wee hours yet would not chew Extra chewing gum because he thought it tasted "bad for you". He used to take those sachets that protect food from moisture that say DO NOT EAT and tell me to eat them.
'Cities That Are Downlaid': A track Edwin & Jen-E made for the Advenjah compilation:
Colleagues and punters are playing all manner of tunes in his memory this week. Tell us about his playing style and what was in his extensive crates.
He liked anything with a harder edge. As I said, he had goth/ industrial influences. One of the first hard tracks we bonded over was the Prodigy mix of Front 242's Religion. When producing with him, he was very patient and let me try all sorts of things that he didn't particularly go for (like the choir sound in Cities That Are Downlaid).
He loved his pianos and I always marvelled at his skills without being trained. It was all passion. Whenever he'd listen to something new, he'd always get into the groove of it by dancing first, rather than waiting for the record to make him dance. I think that is a significant factor in who he was — he projected love into things first to see what came back, instead of waiting to see what was offered.
Edwin struck me as someone who eschewed the spotlight — deliberately low-flying.
Yes! He was definitely like that. Always promoting others before himself. He truly believed that others should have a go in the spotlight. He relished his role as supporter. Having said that though, he was capable of being a one-man show, and anyone who witnessed one of his sets will testify to that. He loved that the crowd would be so accommodating when he took those dark twists and turns during his set. I remember him telling me with much laughter once how this one guy, whilst vigorously dancing on the floor, shouted to Edwin, "Ohh Edwin ... where are you taking us?!".
Vale Edwin Morrow
.
Edwin died from heart failure due to liver complications. His funeral will be held on Monday 24th March, 2014 at 10am at Caboolture & Districts Crematorium & Memorial Gardens 22-36 Tallowwood Dr, Deception Bay
Edwin was the creative force of the Adrenalin Dance Parties. This poster appeared in Scene Magazine on March 2nd, 1994.