With more than 300 live music events expected, Music SA's Umbrella: Winter City Sounds will return to Adelaide this July for a third successive year expanding its offering to include the city's surrounding suburbs.
Designed to extend Adelaide's cultural festival activity beyond Mad March, the two-week Umbrella winter festival (13-29 July) will extend into the outskirts of metropolitan Adelaide with suburban venues partaking and through local council activations.
"Extending the event into the suburbs is a direct response to the overwhelming interest we received from artists, bands and venues to bring the festival to their local communities and to include councils and iconic metro venues," Lisa Bishop, General Manager of Music SA, says.
Event registration is still available online (
click here for more details
).
How do you rate the success of Umbrella: Winter City Sounds over the past two years it has been running?
[Lisa Bishop]
Umbrella has been successful on a number of fronts.
Firstly, it has provided work for musicians and commercial outcomes for venues during a typically quiet period over winter. Secondly, it has received tremendous media exposure valued at nearly $1 million in both local and national media. This is an important point because it means we are building brand equity in the name 'Umbrella'.
Thirdly, it has provided a mechanism for the next generation of music promoters to learn how to deliver profitable, live music events that creatively reflect what it means to experience contemporary music in the middle of winter in Adelaide.
Our numbers are also a measure of success. We've gone from 260 events across 60 venues in 2016, to 300 events across 100 venues in 2017.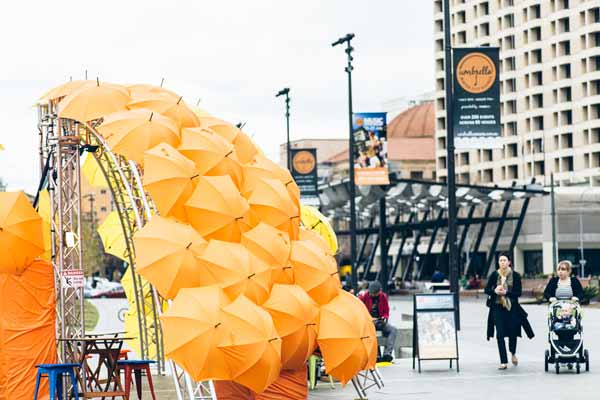 What have been some of the major benefits Umbrella has provided for Adelaide and South Australian music and artists?
Nearly 98 per cent of the Umbrella programme consists of local musicians performing in local venues. Umbrella benefits the local, contemporary music industry by focussing on the talent we have in our city and bringing a very Adeladian experience of live music to audiences.
The event seems to get bigger and bigger every year, how has it grown in 2018?
We don't know yet because the programme isn't finalised and registrations are still open, however we think it will grow because for the first time Umbrella has extended into the suburbs and outside the CBD of the city of Adelaide.
Is there anything new in the programme this year?
The curated programme is always new and will be announced in the June edition of scenestr. We are pretty excited by some of the incredibly creative ideas that have been pitched to us so far.
Are there any highlights from this year's programme you can share?
Not yet. But I can say that there will be a ripper of an Opening Night Street Party on Friday 13 July.
Registrations close soon for artists, events and venues; who should be applying for Umbrella and why?
Anyone who is running a live music event during 13-29 July should register their event and benefit from the massive marketing and promotional campaign being arranged by Music SA.
Registrations are open to artists, musicians, promoters, venues, local council and other locations that host live music.
Umbrella is a great platform for emerging local artists; have there been any 'Umbrella success stories' from bands/ artists who have performed in previous years?
Five of the artists that performed at last year's signature Umbrella event Scouted were this year programmed to perform at Groovin The Moo.
Some of the artists also picked up bookers, were signed by artist managers and secured music publishing deals. Scouted returns in 2018 and once again will showcase 15 of the best unsigned contemporary music acts n Adelaide.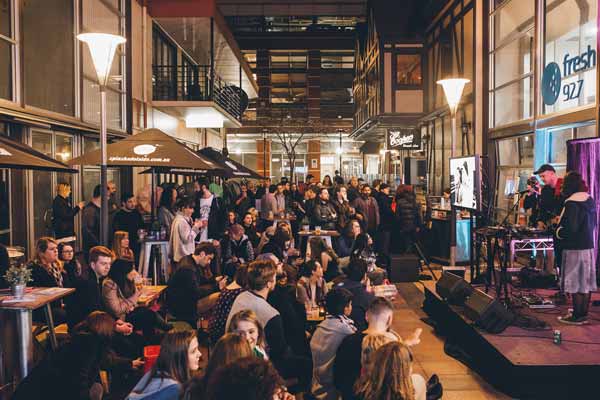 What is the significance of Adelaide being recognised as an official UNESCO City Of Music?
The designation is significant because it gives us access to an international network of music cities all over the world that results in performance opportunities, music business exchanges and songwriting collaborations.
It also enables all the music organisations in Adelaide to work more cooperatively to help build and maintain our mantle as a UNESCO City of Music.
Apart from a great selection of live, local music what else is on offer at Umbrella 2018?
The Indie Con Conference and the national AIR Awards take place during Umbrella, so too does the Guitars in Bars programme brought to you by the Adelaide Festival Centre.
With Umbrella taking place over just a few short weeks in July, what work does Music SA do year-round to help support local music and artists?
Music SA runs the SA Music Awards, provides performance opportunities, promotes local gigs, runs free music business workshops, provides career advisory services to artists, runs school holiday music bootcamps, arranges music video production initiatives and offers nationally accredited courses in music.
Music SA's Umbrella: Winter City Sounds returns to Adelaide 13–29 July.