Labelled hip hop's hottest artist, US rapper/ producer Ty Dolla $ign is coming back to Australia this month on a national tour for his latest mixtape, 'Campaign'.
The tour will be Ty's first trip to Australia since his 2015 shows, and he's being joined by fellow rapper/ producer Kent Jones who will be making his Australian debut.
'Campaign' is the ninth mixtape from Ty and was initially released in September of last year. It boasts appearances from artists such as Travis Scott on '3 Wayz', Future on the title track, and Ty's brother Big TC on 'No Justice'.
Thematically, the mixtape rests on the views of Ty, his family and his friends regarding the US Presidential campaigns of Donald Trump and Hillary Clinton.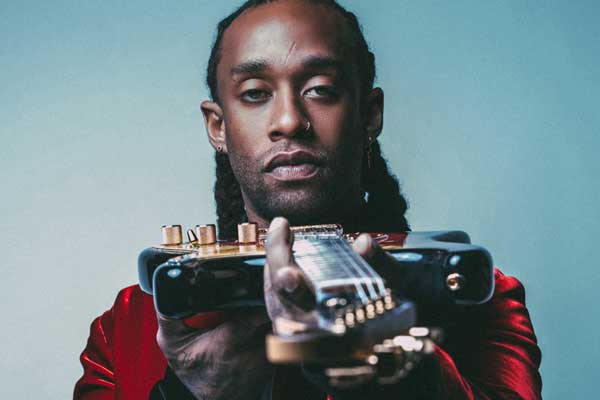 Since featuring on YG's 2010 track 'Toot It And Boot It', Ty has steadily built a reputation as an in-demand artist, working with the likes of Kanye West, Rihanna and even Nick Jonas. He had another smash-hit collaboration in 2016 with the song 'Sucker For Pain', working with Lil Wayne, Wiz Khalifa and Imagine Dragons among others.
'Sucker For Pain' was included on the 'Suicide Squad' soundtrack and although the movie was panned relentlessly, the song has racked up over 300 million views on YouTube.
In 2014, Ty released his first EP on a major label, the 'Beach House EP' through Taylor Gang Records and Atlantic Records, featuring singles 'Paranoid' and 'Or Nah'. In November of 2015, Ty dropped his first, full-length studio album, 'Free TC' which received critical acclaim.
Dedicated to his older brother TC (who now features on 'Campaign'), the album produced six singles: 'Only Right', 'Blase', 'When I See Ya', 'Saved', 'Solid' and Wavy' and paved the way for Ty's current conquest of the hip hop world.
The second single from 'Campaign' was 'No Justice', a song which exposes the harsh reality of the American justice system for many African-Americans, particularly young men. Ty's brother TC is currently serving a life sentence for a murder Ty believes he did not commit; TC provided vocals for the track from prison.
In a 2015 interview with Eric Sundermann of Noisey, Ty compared the situation to the death of a loved one. "Have you ever had a family member die? It's basically that. He's basically dead. It's like hell, almost."
'No Justice' and its accompanying video served as Ty and TC's own protest against police brutality and inherent imbalances with the American justice system. To drive their point home, the video features graphic video footage of several high-profile, officer-involved civilian deaths, including the shooting of Philando Castile and strangulation of Eric Garner.
The theme of 'Campaign' (which Ty prefers to think of a "soundtrack to the election", rather than a mixtape) further highlights Ty's own transition from partying to politics in both his music and personal life, taking a leading role in encouraging voters against Trump and supporting protests against police brutality.
As Ty ascends to new heights both musically and in the realm of social justice, his upcoming Australian tour for the 'Campaign' mixtape will add to Australia's summer of heat.
Ty Dolla Sign Shows
Sun 22 Jan - Metro City (Perth)Wed 25 Jan - ANU Bar (Canberra)Thu 26 Jan - Waves Nightclub (Wollongong)Fri 27 Jan - Eatons Hill Hotel (Brisbane)Sat 28 Jan - Big Top Sydney)Sun 29 Jan - Shed 14 (Melbourne)