We have a habit of thinking that certain instruments are only played in sombre kinds of affairs.
The glockenspiel isn't known for its hard-rocking connotations, after all. And yet, any instrument has the ability to bring joy, to become experimental and theatrical, if given over to the right kind of musicians.
Daniel Holdsworth and Aidan Roberts are the right kind of musicians. Together, they're the talented swots behind Tubular Bells For Two, an epic and hilarious re-imagining of one of the '70s most iconic albums.
But if you've broken out in hives at the thought of yet another dodgy cover band attacking your favourite tunes, never fear. Daniel is quick to point out that this is not a cover band.
Tubular Bells For Two is not just about the original album, it's a theatrical, exciting, tense, live-music performance. "There's an element of circus to it: it's two people playing a one-hour-straight piece of music with thirty instruments to balance between them. Things can go wrong at any minute: it's an almost impossible task, and I think that's what makes it exciting."
If you've ever wanted to see two people trying to play too many instruments at once, Tubular Bells For Two might just be your ideal night out. Though the show is a hit with fans of Mike Oldfield's original work, it's a fun night out regardless of musical taste. "It's a great place to hear this album for the first time, if you've never heard it. If you have heard it before, you get to see it recreated in this rather extraordinary fashion."
From the very first performance, Daniel and Aidan have pushed the boundaries, challenging themselves to achieve more with each show. Rather than the same sound every night, each performance is a one-of-a-kind event, with an ever-present threat that this might be the time they can't complete the show.
Of course, when you're playing 30 instruments in an hour, things never go to plan. From the very first show, it was clear their idea had a life of its own. "When we started performing it, about ten minutes in, people were laughing. And I thought: 'What have we done wrong?'.
"I turned around and Aidan was on the other side of the stage, with one hand still playing this piano part that had to go for another ten to fifteen seconds. When he finished playing that, he had to grab his guitar off the guitar stand.
"The problem was, the guitar was about one foot out of reach for him. It was at that moment I realised this is ludicrous and tense and fun, and we realised that it was actually a really interesting show."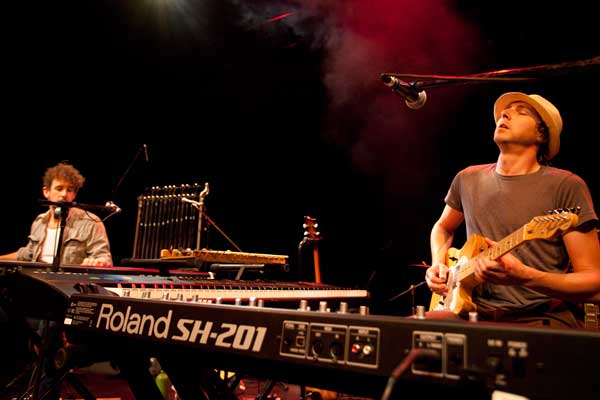 Since that first Katoomba gig, they've played 400 shows, broken a host of instruments (including the iconic bells), and won a string of awards. But though they're a hit with international audiences, Daniel and Aidan love getting back to their home crowds. "It was only a couple of years ago that we finally got to the Adelaide Fringe, so it's really great to come back again.
"Last time we were in a little, wooden box at the back of The Gardens. This time we're in the beautiful Dunstan Playhouse, a beautiful room. So that's gonna be really nice, and probably nowhere near as hot!"
Tubular Bells For Two rock Adelaide Fringe 17-18 February. Click here for the full run of national dates.the full run of national dates.