It had been nearly two years since the Florida-based band, Trivum, graced our shores.
Known for their high-explosive heavy metal show it was a no brainer why they had two nights sold out (well pretty much) at the 170 Russell venue in Melbourne.
Orsome Welles - image © Carl Neumann
Opening the evening (13 April) were local progressive/ heavy rock lads Orsome Welles who provided warmth and light entertainment for what was to come.
Click here fore more photos.
Next up was another Australian band, melodic-death-metal outfit, Orpheus Omega who conjured up a high volume of metal energy in the room. Due to the aggressive performance the crowed swelled, fists and necks were prepared for what was about to come: Trivum.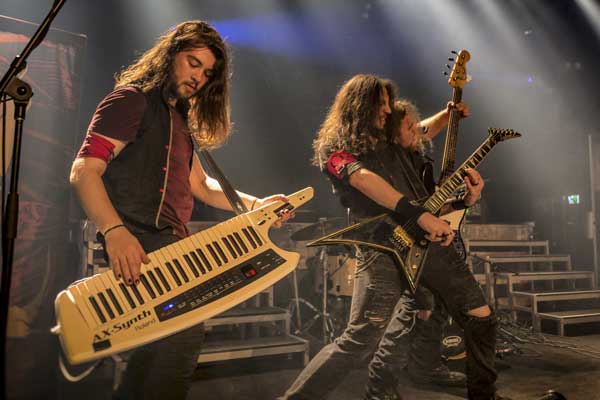 Orpheus Omega - image © Carl Neumann
The stage was set. The drums raised high on the high-risers, stairs either side and the huge 'Silence On The Snow' backdrop draped evenly across the wall. The lights dimmed and the crowd sang along to heavy metal's most senior anthem, 'Run To The Hills' by Iron Maiden.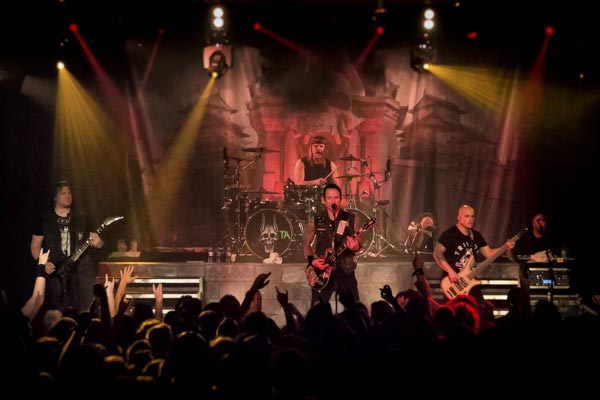 Trivium - image © Carl Neumann
With an explosion of light and thunderous drums (caused by their new drummer Mat Madiro) lead singer Matt Heafy launched into the centre of the stage and smashed his high-energy pulse into the faces of the accepting crowd. It was hell-for-denim there on.
Seriously, Trivum are a class live act. They're in it all the way: it's probably the American stage-hype that takes it a step further than most, and for that they are probably criticised. But who cares? If you're going to make it in live entertainment, you have to be alive and you have to promote and sell yourself, even to your own audience.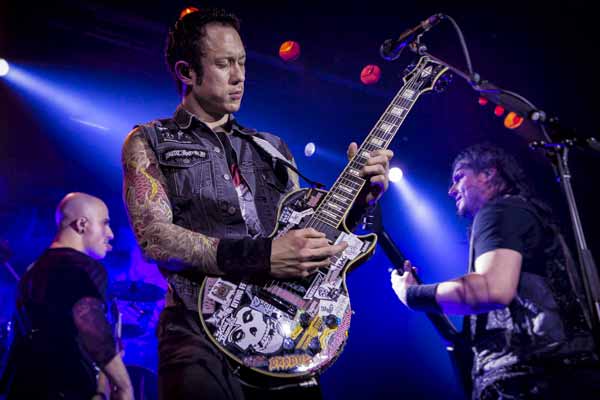 Trivium - image © Carl Neumann
Each of the band members wore Trivum t-shirts and just about every third song Heafy would rave about supporting the band and encouraging the people present to go and tell their friends about what a kick-arse performance Trivium deliver. Fair enough too.
Solid act, solid night. Trivium blasted their best songs for all five albums, old and new.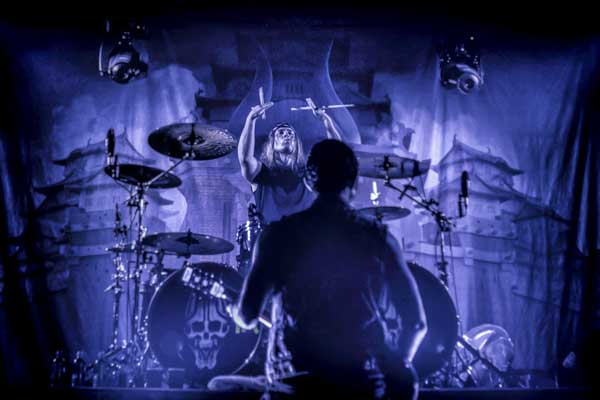 Trivium - image © Carl Neumann
Here's the set list for the night:
Silence In The Snow
Into The Mouth Of Hell We March
Strife
Rain
Blind Leading The Blind
Anthem (We Are The Fire)
Built To Fall
Like Light To The Flies
Dying In Your Arms
Requiem
Dead And Gone
Throes Of Perdition
Down From The Sky
Until The World Goes Cold
Pull Harder On The Strings Of Your Martyr
Encore:
Capsizing The Sea
In Waves
Click here fore more photos.