To celebrate the release of their sophomore EP, 'Snow Globe', Melbourne's Tiny Little Houses are hitting the road for their very first headline tour.
Lead singer, Caleb Karvountzis is chomping at the bit to get the show on the road. "I'm pretty excited and a little bit nervous, but I'm excited to get [the album] out. Some of the songs had been written over a long period of time and then in the last year we've reworked a lot of those as a band."
The six tracks on 'Snow Globe' were originally intended for an album. However, after writing new material for the album earlier this year and returning to the studio, the band discovered a clear variation in sound between old and new. "There's quite a big distinction between some of the newer songs and those on this EP. The songs on 'Snow Globe' feel closer to the first EP, 'You Tore Out My Heart'."
This doesn't mean that 'Snow Globe' fails to surprise. The first single released from the EP, 'Song Despite Apathy', marks a shift in the band's style. "It was definitely a song that us boys were interested in putting out because it is so different to the other tracks we have done so far. It shows a different, lyrical side especially from our last single 'Milo Tin'. It's going a bit deeper."
The frenetic, indie-pop pace of 'Song Despite Apathy' re-emerges on the EP's opening track, 'Medicate Me', and this change in tempo is something that Caleb attributes to the quartet now working more as a band. "I wrote a lot of the songs on the first EP and hadn't had the band around for very long, so when I recorded those songs they were already concrete in their structure and how we played it, because they were basing it off me as a singer-songwriter.
"But then over this EP, because we've been playing this vibe and the band has had more input, they've just become their own thing. So they've got more energy I think in them than the last EP."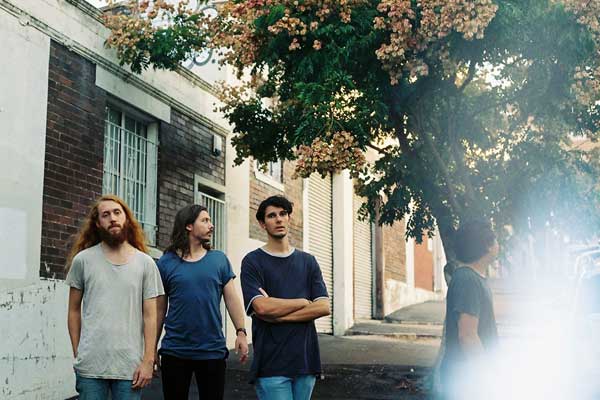 Caleb has enjoyed watching some of his early, solo material evolve under the band, as is the case with the EP's final track 'Lonely People'. "That was the first song I'd written for Tiny Little Houses about four years ago, and I had never really been happy with how it had been recorded. But we came up with this ending for it, so I really want that song to come out because it means something to me."
Another track Caleb is particularly fond of is the cover of Kasey Chambers' hit 'Not Pretty Enough'. "I really liked it when I was young. It just took my fancy. And then recently I revisited it after forgetting about it for a long time and it really spoke to me.
"It really seems like that if a guy had written it, it sounds like an emo-boy song, and I suppose I wanted to do an emo version of that song. There's a fuzziness and that kind of key toy-organ sound that brings back the '90s kind of sound. I thought that was really fun to do."
While the 'Snow Globe' tour set-list is still being nailed down, Caleb plans on revisiting the old and testing out the new. "I think we'll do a pretty good mix of both the EPs and play some new songs [during this tour]. I'm excited to try those songs out because that's the best time to start gauging feedback on how those songs are."
'Snow Globe' is available now.
Tiny Little Houses Shows
Sat 5 Nov - Republic Bar (Hobart)Fri 11 Nov - The Edinburgh Castle Hotel (Adelaide)Sat 12 Nov - Rosemount Hotel (Perth)Fri 18 Nov - Hudson Ballroom (Sydney)Fri 25 Nov - Howler (Melbourne)Sat 26 Nov - The Workers Club (Geelong)Thu 8 Dec - Woolly Mammoth (Brisbane)