There's good news for metalheads still morbidly contemplating a summer without Soundwave as the inaugural Thrash, Blast & Grind Festival gears up for a hot and heavy February national tour.
Thrash, Blast & Grind is a grassroots metal festival spearheaded and curated by two of the headlining bands, King Parrot and Hobart technical, death-metal outfit, Psycroptic.
Drummer for Psycroptic, Dave Haley is one of the event founders and organisers and says it originated from the two bands wanting to tour together. "It first came out of an idea of Psycroptic and King Parrot touring together again," Dave says.
"We're all good mates and we always have a great time with those boys. I was chatting with Youngy [King Parrot vocalist] about that, we decided it was a good idea and from that it spawned into instead of one show, we decided to do a full tour. Then we decide to add a bunch of bands and make it a mini-fest for summer."
The demise of Soundwave as Australia's premier, heavy metal touring festival has opened the field for a new generation of promoters focussing on smaller, niche festivals. "Obviously Soundwave was such a huge and important part of the heavy metal calendar for a long time and it was definitely a shame that it did meet its demise," Dave says.
"That was due to a lot of financial elements involved, but it has left a huge hole in the market. The support it received through the years proves there is such a huge, heavy music following in Australia.
"So I don't think that demand has gone away and hopefully [with] something on a smaller scale, appealing to more of a niche market and the heavier end of music, we can tap into that and expand on the ideas of the festival."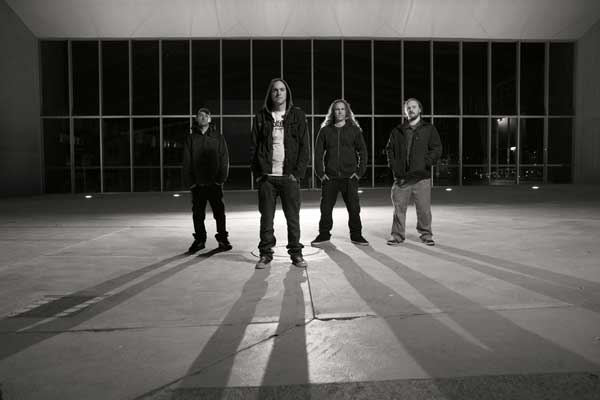 Joining Psycroptic and King Parrot is a selection of bands from the death and black end of the metal spectrum, including Whoretopsy, Black Rheno, and US outfit, Revocation adding a nice, international flavour. "Because this is going to be the first time we do it, we just thought of what our ultimate line-up would be and it was very quick to put the line-up together.
"It only took a couple of days because everyone we asked said 'fuck yeah' and it was done. Everyone was down from the get-go, so it was a good response.
"We asked Revocation and they booked flights the next day. They're a killer band and have a solidly growing fan-base in Australia, so they're a great addition to the line-up; they fit in really well so we're stoked."
In further news from the Psycroptic camp, Dave also reports the band is currently working on their next album, which has been slated for a 2017 release. "We're almost finished the next album," he says. "I guess for us there's been some momentum rolling over the past few years with a fair bit of touring for this album and the spark came back a little for us.
"We have been at it for a long time but we're all excited and still love touring, and writing and recording. We're hoping to get into the studio early next year and then see something come out next year for us."
Psycroptic Shows
Fri 10 Feb - The Triffid (Brisbane)Sat 11 Feb - Manning Bar (Sydney)Tue 14 Feb - The Cambridge (Newcastle)Wed 15 Feb - The Basement (Canberra)Fri 17 Feb - Max Watts (Melbourne)Sat 18 Feb - Amplifier (Perth)Sun 19 Feb - Fowler's Live (Adelaide)