The View From Madeleine's Couch is a Brisbane band with an undying love and affection for Brazilian music.
The heart of the band is formed by Anje West (vocals and percussion) and Kym Ambrose (vibraphone) who met and fell in love in 1998. Their passion for Brazilian music lead them to form The View From Madeleine's Couch. They have since carved out their niche as being one of the vanguards of Brazilian music in Australia. The band also won the Queensland Music Award for World Music Song Of The Year in 2009, for their track 'Bom Fazer'.
Adapting the normally guitar and piano dominated genre of Bossa Nova to vibraphone, they have created a unique place for themselves among their Australian world music contemporaries. They are joined by Andrew Shaw (double bass) for their show The Bossa Nova Sunset Club being performed at this year's Anywhere Festival.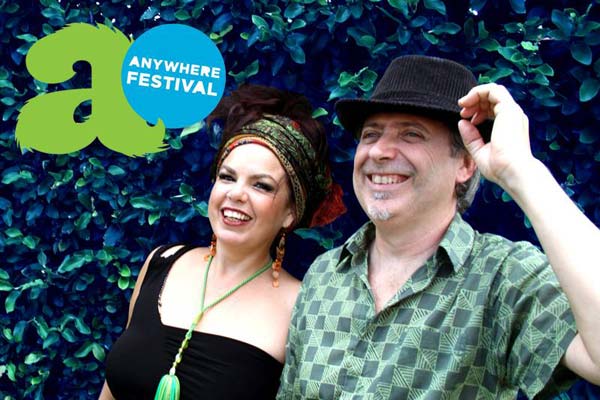 What made you want to be involved with the Anywhere Festival?
A friend did a show with the festival last year and had a great experience with it. I've been thinking about the format for Bossa Nova Sunset Club for quite a while and figured this could be the perfect opportunity to try it out.
How did you decide on a venue to play during the festival – since it can be Anywhere?
Our friends at Australian Modern Design, Chris Osborne and Susan Bennett, own a beautiful mid-century modern home, and they often open it up for public events, plays, comedy shows etc.. They asked us if we'd be interested in doing something for the festival, and we all agreed the venue is perfect for this.
What can people expect to see and hear at your show, The Bossa Nova Sunset Club?
Some of the musical material may be familiar; some well-known bossas entwined with original material, but what will be new for everyone is the approach we're taking by including projected images of Rio in the 1960s, classic bossa nova album covers, and candid shots of the great composers and artists of the times, as well as stories from the era about the composers and performers in the bossa scene, and mine and Kym's experiences through our lives with this music.
Is there a story behind the title?
I'd been sitting with this title for about a year before first using it for our shows at the Woodford Folk Festival last year, and the concept has been bubbling away for a few years. I've wanted to tell these stories for a long time; how this beautiful, complex, breezy, summery music had such a massive impact on the world, not just by influencing and informing western jazz, but the whole lounge/chill scene that followed, which is practically built on bossa nova.
What is it about Brazilian music that captured your attention and made you want to pursue the genre?
It was September 1994. I was singing in a blues band when I first had a proper listen to Brazilian music. I met Kym (Ambrose) through mutual musician-friends, and the music he was travelling with was a collection of Brazilian mix-tapes and compilations, and an album of a singer/ guitarist called Joyce. I literally fell in love with him, and the music all at once. I'd never heard anything so beautiful, and I knew in that first week we spent together, listening to this music every day, that something in my life had shifted. I loved the sound of the language, the melodic lilt and flow of it. To me, it was this glorious thing that came into my life, gave me a bit of a slap about the head and said, 'hey, this is what you're going to do from now on'. And I got a husband out of it as well!
How does working as a husband and wife team benefit (or hinder) your music?
Kym and I have a pretty fluid way of working. We've been together almost 21 years, and the band is 17 this year. We figured early on that it's either going to work, or it's not. Being partners in life or music, it's one and the same for us. We both love this music very much, and I think that's really evident when we perform. What we give each other in life, we live on stage.

Do you bicker much over the writing/ producing process?
Hardly ever (ok, a tiny bit!). We first started writing together during our first trip to Brazil in 2004, when our teacher and mentor, Alberto Farah guided us and gave us the confidence to start composing our own songs. It was thrilling to be creating music together, especially in the place that was the heart of our inspiration. We found a way of writing together that was full of ease and trust. I do get frustrated sometimes because I don't have the same musical language skills that Kym has, so I don't always know how to clearly explain what I want, or what I'm hearing, so there's a bit of push and pull, but for the most part, we want the same thing; to create something we'll enjoy listening to, that in turn, we hope other people will like too.
When we're producing music in the studio, warmth, an honest representation of our sound, and as live and true a feeling as possible is what we want. We've worked with great engineers, and our albums were recorded in a few days, then mixed and mastered within a couple of weeks of that. Neither of us are fans of the drawn-out recording process. Our band members are amazing, some of them have been playing with us almost as long as the band has existed, so there's never a question of rapport and quality of musicianship in the studio. We've always been on the same page when we're producing together.
I understand that when you first formed the band, no one could speak Portuguese. How long did it take before you could sing in Portuguese confidently?
It wasn't until my first trip to Brazil in 2004 that I really got a handle on the language and the accent. Up to that point, I was just learning phonetically from the songs I was listening to, having random lessons and getting some pointers from a local Brazilian musician. Mind you, if you'd heard me in the early days, I probably sounded very confident, (all arse, really!), but my accent was dodgy and I didn't have a clue what I was singing about!
How was travelling to Brazil to play?
Performing in Brazil was an incredible and revealing experience. On our most recent tour, our band was made up of some very well-known musicians in Brazil, especially our drummer, Marcio Bahia, he's almost a household name. He's a dear friend, and was a huge part of us being able to achieve what we did over there. We learned so much from working with our Brazilian band. It was an honour to be able to play with them night after night and be shown the same respect and generosity they would give any other artist they work with in Brazil. Very humbling. What an education we got!
What have been some of your most memorable gig experiences?
One of my favourite gigs ever was our final show at the Bellingen Global Carnival a few years ago. A thousand people just having an absolute blast with us. The energy you get from a big crowd that's right with you in every moment is wonderful. At the opposite end of the scale is a tiny, intimate concert we played at Midrash in Rio for about 12 people. An almost lounge-room sized space, in the round, and as close and warm as you'd ever want a gig to be.
Who on the Brazilian musician front should we keep an eye on?
Some of the musicians we know in Rio who are doing really interesting things are Bambu, Julio Merlino and the Pandeiro Ripique Duo, absolutely awesome percussionists. Ceu is a great singer with some pretty cool stuff going on. There's the usual top 40 slush that you find everywhere on the planet, but Brazil's musical world, should you choose to explore it, is rich with African and indigenous rhythms, European and western influences, crazy jazz, uplifting samba, good rappers, reggae, rock and some very questionable electronic dance music they like to call 'funk'. So not funky!
Anything else we should know about The View From Madeleine's Couch and The Bossa Nova Sunset Club?
Not really, we're no mystery! We've always been an open book when it comes to our passion for Brazilian music. We simply want to share our story with audiences and be able to shine a light on a music form that is beautiful and timeless, and actually has a really important place in contemporary music history. The whole 'elevator music' tag does it such a disservice. We're bringing back the cool and the cred!
The View From Madeleine's Couch play The Bossa Nova Sunset Club at Anywhere Festival, 15-16 May at 9 Burchell Street, Carina.