The Sonics are back in Australia for the first time since 2012 and they aren't showing any signs of slowing down.
With the release of 2015's 'This Is The Sonics' – their first album in almost four decades – the Washington-based garage-punk visionaries are treating Australian audiences to a series of headline shows throughout September and October. While saxophonist Rob Lind remains the only touring member part of the classic Sonics line-up, he is joined onstage by a range of musicians who have previously played with the likes of Link Wray and the Fuzztones.

Before the garage powerhouse takes the stage at The Gov (23 September), the audience is treated to a punchy set by locals Juliette Seizure & the Tremor-Dolls: half an hour of sun-drenched punk with a good dose of retro girl band. It's hard not to smile in the face of handclaps, shimmies and shoo-be-doos, cut through with vocalist/ guitarist Shannon C's raw, snarling vocals.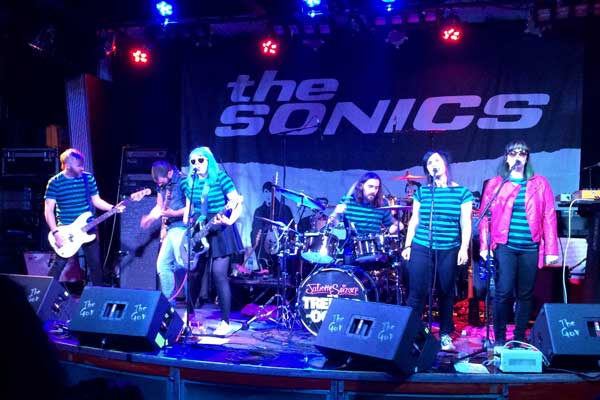 Juliette Seizure & the Tremor-Dolls - image © Timothea Moylan
Next up is Subtract S, whose darker tunes also supported Buzzcocks' 40th anniversary show in Adelaide earlier this year. It's a unique blend of atmospheric electronic and a rougher, indie-rock sound, characterised by the switching of lead vocals between band members. A steady dance beat underpins the whole shebang and gets the audience moving.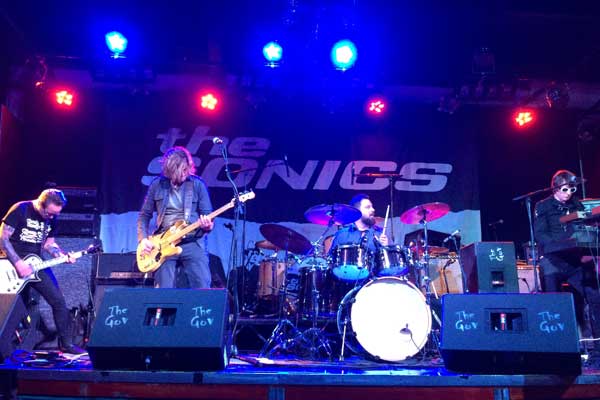 Subtract S - image © Timothea Moylan
It's a relatively small crowd that's gathered around the stage to greet The Sonics when they make their entrance. However, what it lacks in size is made up for in enthusiasm, reflected back by the band. From the opening riff of their distinctively fuzz-laden Richard Berry cover 'Have Love, Will Travel', the band rips through an energetic set comprised of hits from 1965's 'Here Are The Sonics' as well as newer material.
Bassist Freddie Dennis takes on the role of original vocalist Gerry Roslie, faithfully screaming and howling his way through every song.

The band's characteristic snatches of raw sound are peppered with stories shared by Rob Lind, whose excitement to be back in Australia (following a stint on 2012's Dig It Up! Invitational) adds to the show's warmth and intimacy. He promises one last song before launching into frantic, sax-driven favourite 'Psycho', which transforms the front row's swinging into a sweaty moshpit.
The Sonics - image © Timothea Moylan
With the crowd begging for more, The Sonics return to the stage and tear through the sinister proto-punk groove of 'Strychnine' and first ever single 'The Witch'. The Sonics bow a smiling and gracious farewell to the satisfied crowd. They've given a performance that perfectly captures the raw-edged sound that inspired and influenced generations of musicians to come.