"What are you listening to?" "The Shins. You gotta hear this one song, it will change your life, I swear."
My mind fixated on the iconic promise Natalie Portman made to Zach Braff in 'Garden State' as the band humbly entered the stage at Brisbane's QPAC (6 December).
Few members greeted the audience with the odd wave or two but for the most part, they dived straight for their instruments.
Click here to read our recent interview with The Shins.
As 'Caring Is Creepy' pierced the air I was instantly struck by James Mercer's vocals; his raspy tones have always been recognisable though listening live, they were particularly raw, particularly striking.
The ensuing track choices made for a pleasantly strong start; 'Australia' bouncy and warm as always, brimming with innocent and hopeful optimism, while 2017 single 'Name For You' effortlessly asserted itself among The Shins' top shelf of tunes, cheers of recognition adding another element to the song's intricate sound layering.
Crowd interaction was kept short and sweet; James Mercer introduced himself and his band singling out the drummer and the keyboardist: "This is their first time in Australia."
They dived into 'Kissing The Lipless' and 'The Rifle's Spiral', opening tracks of 2003's 'Chutes Too Narrow' and 2012's 'Port Of Morrow' played back to back, an intentional pattern in the set list that felt particularly thoughtful.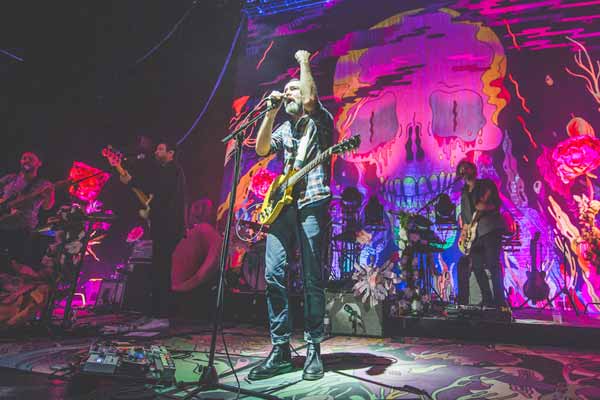 The Shins at QPAC (Brisbane) 5 December, 2017 - image supplied.
'Cherry Hearts' was introduced as "another new one", despite only being the second 2017 pick, a quiet and polite acknowledgement of fans' preferences to see the favourites. Like 'Name For You', it's heavily embellished with various instrumentation, the band vaguely steering into electronic territory.
"How incredible does that guitar sound?" James Mercer smiled, the acoustic strumming of 'Gone For Good' echoing across the theatre; they maintained the slow tempo with 'Heartworms' underdog 'Mildenhall', honest and compelling lyrics stealing the limelight: "Started messing with my Dad's guitar, taught me some chords just to start me off, whittling away on those rainy days, and that's how we get to where we are now."
'Saint Simon' stayed true to the kooky recording, similarly whacky 'Painting A Hole' a suitable follow. I was delighted when 'Phantom Limb' surfaced, 'Wincing The Night Away' my indisputable pick of The Shins' five records, before the ever-empowering 'Simple Song' proved to be a promising close.
Despite my unforgiving attitude in the past, the encore was in fact my favourite aspect of the performance. They brought with them three violins for a stunning, orchestral-like rendition of 'The Fear', plus an excellent albeit surprising rendition of 'Sleeping Lessons', one that smoothly transitioned into Tom Petty's 'American Girl'.
Though as it did in their discography, 'New Slang' stole the show; the track is textbook definition 'understated', band members showing zero sign of exertion, seemingly drifting through the piece though each contributing their parts to produce an unforgettable track, "one that will change your life, I swear".
I exited the theatre head swimming in the high of the encore, though soon, more questionable aspects of performance began to rear their heads. Acoustics wise, QPAC has NEVER disappointed me; though whether it be the venue or an equipment issue, James Mercer's beautiful lyrics were strangely muffled.
Despite my initial thrill to sit and listen, to fully absorb their music, to properly take it all in, the seats didn't quite suit the performance and made me question just how much a standing, dancing fan base might have added to the atmosphere.
At times the band felt a little awkward, and while the crowd's immobility played its part to negatively contribute, their 'newness' as a group (James Mercer being the only original member) was occasionally apparent, some songs lacking in coherency.
Even still, if the listeners noticed they certainly didn't seem to mind, rewarding The Shins with a spectacular standing ovation at the end of the show that was well-deserved for numerous reasons.
The band's impressive discography is practically faultless, in my opinion, each album consistently strong and impossible not to like. They've stuck to their strengths, without being 'safe', all while progressing each record with ambitious experimentation, without being brash.
Although off-key once or twice James Mercer's vocals are undeniably admirable, he boasts a range so broad you could close your eyes between songs and wonder whether the singer had switched entirely.
I admire that as a composer he's had nothing to hide over the course of his career, bravely taking five records and filling them with vulnerable and honest emotion. The man was an open book on stage, his kind nature instantly apparent, and his genuineness made for a very compelling read.