Get a real-life taste of New Orleans when jazz sensation The Hot 8 Brass Band come marching into town next year on their first ever Australian tour, including a slot at WOMADelaide 2017.
The group formed in the mid-'90s as a second-line parade brass collective that fuses traditional New Orleans jazz with contemporary hip hop and funk styles.
Founder and sousaphone (tuba) player, Bennie Pete says the band can't wait to bring their parade vibe to Australia. "It'll be our first time in Australia," Bennie says.
"We'll do what we do best, entertain. We'll open up, welcome everyone to New Orleans, to our city and our music, and hopefully we'll get a chance to do some meet-and-greets so we can meet some good people of Australia.
"The show comes with a big part of our heart and greeting the audience; we try to keep our repertoire big so we can just issue it out to the crowd."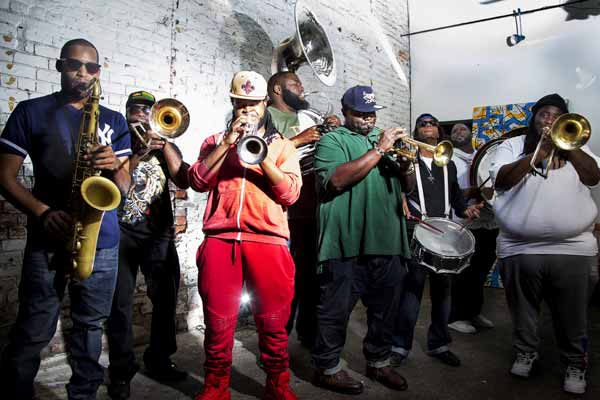 The story of The Hot 8 is a saga 20 years in the making, their long journey to success marred by tragedy; over their career, the group has lost no less than four members to street violence. Formed in 1996 from the remnants of two other brass groups, The High Steppers and Looney Tunes Brass Band, The Hot 8 were decimated along with their city in the chaos of Hurricane Katrina.
Ten years on, Bennie reflects on his unlikely journey across the world. "It's a dream come true," he says. "You can imagine us being kids in high school, sitting in the park practising different styles of music, hanging out with older musicians and dreaming of being able to travel the world and have people appreciate our music because when we first started, we were making a lot of noise.
"So a lot of people have said they can't wait for us to come over; they're roaring for us to perform so that's a beautiful thing, real touching. People howling and screaming, and by the time our set is over they still want us to play one more tune, two more tunes. It's a dream; sometimes I catch myself crying and having tears of joy."
As a parade band, The Hot 8 like to bring a big, party atmosphere with them wherever they go.
Bennie says when they play live, they want to let the audience experience the vibe and energy of a real New Orleans street carnival. "You might be heading somewhere [in New Orleans] and have to pull over because there's a parade going on and you wind up a mile away from where you were and you're like 'oh no, where'd I park my car?' because at that moment in time, you got lost in the music. It's beautiful.
"It's better for us to come from New Orleans than all of you come to New Orleans, so we try to paint a picture of the city and its vibe to bring that feeling to the venue or festival or wherever we are.
"We try to create the same feeling in every city; come take a walk down New Orleans."
The Hot 8 Brass Band Shows
Wed 1 Mar - The Triffid (Brisbane)
Thu 2 Mar - Solbar (Sunshine Coast)Fri 3 Mar - Tanks Art Centre (Cairns)
Sat 4 Mar - Girrakool Blues Festival (Central Coast)Wed 8 Mar - Oxford Art Factory (Sydney)Thu 9 Mar - Badlands Bar (Perth)
10-13 Mar - WOMADelaide (Adelaide)
Wed 15 Mar - Brunswick Music Festival (Melbourne)