Wild abandon, frenetic energy and live chickens are the lasting impressions I have of The B-52's 1990 gig at Brisbane's Festival Hall.
No less irrepressible 27 years on, America's leading new-wave party band, The B-52's, are returning down under this February to headline their second
A Day On The Green
Australian tour.
Formed in Athens, Georgia, in 1976 by Fred Schneider, Kate Pierson, Keith Strickland, and brother-sister pair, Cindy and Ricky Wilson, The B-52's startled the post-punk underground with their genre-defying sound. A blend of dance-rock, funk, pop, punk and surf-rock served up in a kitsch package of beehives and extra-terrestrial sonic tones, the band have enjoyed enduring success for four decades.
The B-52's cult following started with the underground success of their first single, the garage-rock party classic, 'Rock Lobster'.
Talking with Tennessean music writer, Dave Paulson, in front of a packed audience at Middle Tennessee State University (MTSU) last year, Fred said: "Our management didn't understand [our music], our record company didn't understand it, Top 40 radio didn't get it. But alternative radio and college radio – as they still do – embraced it. And our tours got bigger and bigger."
Before long, mainstream media had picked up on The B-52's distinctive vibe, and the band started receiving invitations to perform on live television.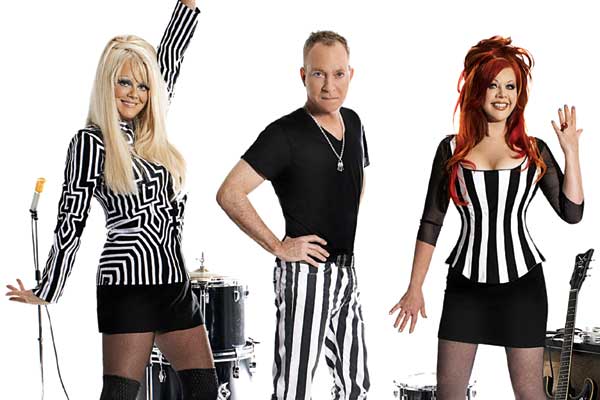 Talking to Billboard in January 2015, Kate revealed that the band's persona and appeal stems largely from their first 'Saturday Night Live' performance. "I guess it was 1979 or '80… I just remember we were so scared, and I think Ricky said to us before we went on, don't smile. Let's not smile because we look more punk that way or something, but it was actually because we were scared, terrified, of live TV.
"And people just thought, oh they're from out of space, they're sort of robotic and the performance was so sparse but really captivating and unique. So a lot of people say that was the turning point of their musical life. When they saw that it was like, 'what is it?'"
The band continued to capture the imagination of the world with the release of their follow-up album 'Wild Planet' in 1980. Glazed looks and sci-fi inspired get-ups made way for frenzied go-go dancing and retro psychedelia, and the album delivered the band's second Billboard Hot 100 chart entry with the track 'Private Idaho'.
Their third album 'Whammy!' followed in 1983, before tragedy struck in 1985 when Ricky, one of the band's driving creative forces, passed away from AIDS-related pneumonia.
After taking time off to grieve his loss, the band returned to the studio as a quartet and recorded 'Cosmic Thing', an album that would propel them to stratospheric heights with the hit songs 'Deadbeat Club', 'Love Shack', 'Roam' and 'Channel Z'.
Discussing the making of 'Cosmic Thing' with PopMatters in December, Cindy said: "Ricky was in the room with us, in a way, when we were writing that. It was a way for us to get together and be nostalgic and healing. It's amazing to me, to this day, how successful that record was."
Released in 1989, 'Cosmic Thing' reached multi-platinum status, largely off the back of 'Love Shack', a song that Fred revealed almost didn't happen in his MTSU interview. "I just insisted," he said. "I thought it would be our biggest hit ever."
He was right. With lyrics that rival Grease's 'Summer Nights' as the best-ever dancefloor sing-along (who can resist joining in with Kate's 'bang, bangs', Fred's incredulous 'You're what?' and Cindy's climactic, 'Tin roof, rusted'?), 'Love Shack' spent eight weeks at #1 on the Australian charts, and won the band numerous honours, including Best Single of 1989 by Rolling Stone and Best Group Video by MTV.
After touring extensively for 'Cosmic Thing', the band released their most overtly political album 'Good Stuff' in 1992, followed by 'Time Capsule' in 1998 and the band's most recent offering, 'Funplex' in 2008.
Four decades on, Fred, Kate, Cindy and Keith have mastered feeding The B-52's machine while also indulging in other solo projects.
Fred has released two solo albums and has also worked on a side project, The Superions, which sees his camp, quirky lyrics continue in songs like 'Fruitcake' from the 2010 Christmas album, 'Destination… Christmas!'
Platinum blonde Cindy, who took a hiatus from the band to raise her family after touring for 'Cosmic Thing', debuted her first solo EP 'Sunrise' last year along with a multimedia show titled 'Change'.
Lead guitarist Keith stopped touring with the band in 2013, however remains as a songwriter and will record with the band in the future. "He loves it. He's just over it. And that's his prerogative. But we keep in contact, and he has a happy, happy life in Key West," Cindy told Left Magazine in November, 2016.
Flame-haired Kate, who leant her vocals to other '90s hits such as Iggy Pop's 'Candy' and R.E.M.'s 'Shiny Happy People', released her debut solo album 'Guitar And Microphones' last year, which was produced in part by our very own Sia, who co-wrote all but one song. Kate also owns and operates two retreats with her wife, Monica Coleman, who she married in Hawaii in 2015.
With all bar one member of The B-52's identifying as LGBT, it comes as no surprise that the band joins the ranks of artists such as the recently departed David Bowie, Prince and George Michael in influencing society's perceptions on sexuality, gender and diversity.
Talking to AfterEllen in 2014, Kate said: "I think aside from being gay, one of the things The B-52's wanted to accomplish was for people to embrace their difference and encourage people to be who they are and accept themselves."
Expressing similar sentiments in her interview with Left Magazine, Cindy said: "The perk of being in the band is when people come up to you and tell you how you helped them through really hard times, being different, being gay, or just being an outsider. It's helped them to go with it; it's okay… just work with it. Have a good time and be yourself. And stand up! To me, that's the best thing about it all."
The B-52's 2017 A Day On The Green tour coincides with the band's 40th anniversary celebrations and sees them headlining alongside fellow '90s hit makers, the UK's Simple Minds. "It has been seven years since we have toured Australia and we are just thrilled to be returning!" The B-52's said in a ADOTG media release.
"Yes: we'll be coming back to 'wonder down under' on an amazing tour with Simple Minds. Come party with us!"
The B-52s And Simple Minds Shows
Thu 2 Feb – ADOTG @ Kings Park and Botanic Garden (Perth)
Sat 4 Feb – ADOTG @ Rochford Wines (Yarra Valley)
Sun 5 Feb – ADOITG @ Leconfield Wines (McLaren Vale)Tue 7 Feb – ADOITG @ Margaret Court Arena (Melbourne)
Thu 9 Feb – ADOTG @ Hordern Pavilion (Sydney)
Sat 11 Feb – ADOTG @ Bimbadgen (Hunter Valley)Sun 12 Feb – ADOTG @ Sirromet Wines (Mt Cotton)