Gympie Music Muster may be best known for its annual world-class showcase of country music, but a closer look at the programme reveals so much more for the intrepid festival-goer looking for their next weekend escape.
Now in its 37th year,
Gympie Music Muster
has become one of the town's proudest modern traditions, last year attracting over 22,000 visitors to enjoy the full breadth of country hospitality over four days.
So what keeps generations of Muster-goers returning year after year? More than a music festival, what makes the Muster a defining event of the Gympie region is the avid spirit of community that brings out the very best in the town and its residents.
Nearly every aspect of the Muster's infrastructure and execution is handled in-town by local contractors and merchants, making it one of the biggest fundraising opportunities of the year.
"The festival was founded on giving back to the community," Program Director Jeff Chandler says, "and we've kept that going because the heritage is that rather than have a whole bunch of service contracts for various services that are required such as cleaning or bar work, rather than have all commercial contractors a lot of that goes back to community groups.
"It could be a local football club, school or a service club and they get paid for carrying out the work that would normally go to a commercial contractor. That way that puts the money back into the community."
2017 Gympie Music Muster
Not only iconic, the Muster has become a shining example of what regional festivals can achieve for their communities, with over $15 million raised for local charities and groups since it began. Last year alone, the event contributed more than $6 million to the Queensland economy.
While the musical performances are a clear drawcard for the fans of country music, even the most adverse to the genre will find something to love about Gympie Music Muster.
Click here to purchase tickets to 2018 Gympie Music Muster.
Whether it's sampling the smorgasbord of food and drink on offer, learning to play the harmonica, soaking up some bush poetry or simply enjoying the spirit of mateship in the picturesque surrounds of Amamoor Creek State Forest, Gympie Music Muster is an all-in-one festival experience.
And just because you're in the outdoors doesn't mean you have to skimp on quality or comfort, with five-star camping facilities offering every luxury including bars, food stalls, baristas and more.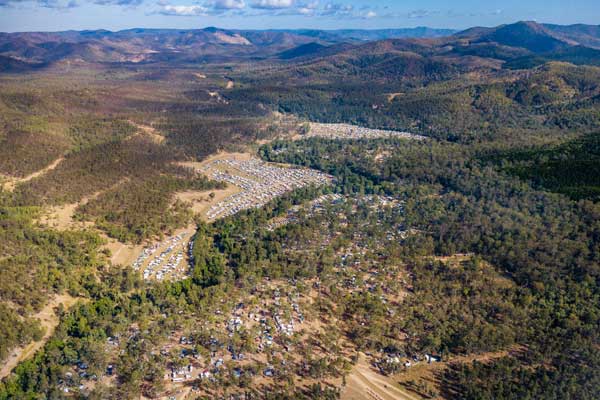 Camping is free at Gympie Music Muster
For those wanting to get their hands dirty, the Muster wholeheartedly encourages active crowd participation in the extensive range of workshops, shows and activities also on offer. Learn how to succeed and prosper in the music industry with the special panel 'The Business Of Music – How To Thrive In A World Beyond CDs', join in a songwriters session or enjoy a jam with some of the country's top guitarists.
In 2018, Gympie Music Muster is proud to support the Australian music industry by programming a line-up of 100 per cent homegrown talent and featuring hundreds of performances across five stages covering genres such as country, bluegrass, folk, blues and rockabilly.
Click here to read the 2018 Gympie Music Muster line-up.
Capping off the full festival programme is the true heart of the Gympie Music Muster itself, the Muster Talent Search, which has nurtured emerging talent and helped launch the careers of Mark O'Shea, Drew McAlister and Brooke McClymont among others.
Gympie Music Muster is the quintessential Australian entertainment experience that brings together music and mateship like no other festival, celebrating the true spirit of country Australia and the resilience of our regional communities.
2018 Gympie Music Muster is on at Amamoor Creek State Forest (Sunshine Coast hinterland) 23-26 August.