Wow what a night it was at Fowler's Live with Suicide Silence (8 September). You couldn't have planned for a better atmosphere in Adelaide for one of America's great deathcore bands.
With the massive thunder and lightning storm that rolled in just before doors opened, it made for an eerie feeling for those who where outside waiting for the doors to open.
Click here for more photos.
Disentomb opened the night and managed to set the small crowd on the path to Suicide Silence with their crowd interaction and stage presence. They managed to pack in a lot for a 30-minute set, but it was enough to get the crowed up and moving.
Next came Graves, and after such a disastrous start to their trip from Melbourne to Adelaide they still managed to make the stage and thrash it out with the best of them. The band's attitude was great and the crowd really picked up on the vibe they brought and continued to build the momentum that was coming at everyone like a freight train.
Then came the last warm-up band of the night (with a gig like this they aren't really warm-up bands, they are more like multiple billings) Boris The Blade. These guys were absolutely brilliant and had the best reaction from the Australian bands on the bill. With the noise and movement coming from the pit, you couldn't tell there was only 100 or so people in the crowed.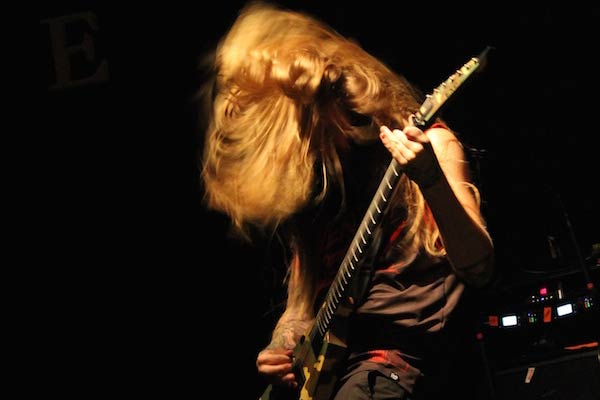 Suicide Silence - image © Shayarah Brown
At last it was time for the band that everyone was there to see. It was Suicide Silence time. With the tour titled 'Straight Out Of Hell', you would have to say they lived up to that title. Suicide Silence were great and had the crowed engaged from the opening riff.
Hernan 'Eddie' Hermida is a brilliant frontman and has so much energy to burn that at times he paced the stage looking like a caged animal ready to pounce. He had the crowd eating out of the palm of his hand. It was great to see that he took a moment about halfway through their hour-long set to pay homage to Mitch Lucker and what he brought to the band before his passing. They then played their first single ('You Can't Stop Me') after Mitch's passing.
Suicide Silence - image © Shayarah Brown
Suicide Silence stacked their setlist with both old and new songs and the crowd loved it. In fact, there was one guy who kept crowd surfing just so that he could get close enough to be able to sing along with Eddie on the microphone. There where a few moments during the show that got a laugh from the crowd; one being that Australian fans are better than the Japanese fans, who tend to have their hands in their pockets and then clap politely at the end of each song. According to Eddie we are brutal and the cheering and screaming really makes their day.
The lighting that they had was right for the atmosphere they were trying to create, but wasn't timed right for the songs that where being played. Some of the crowd did complain a little that it was hard to see the band properly.
Even though the crowd wasn't as big as some other bands that have played at Fowler's Live it didn't take away from the energy that was in the venue. It may have had something to do with the fact that it was an all-ages gig and the younger crowd really did get into it. Suicide Silence are everything that you would expect them to be live and more.
Click here for more photos.