In preparation for the release of their second album, Victorian rockers Stonefield hit the road to preview tracks live, with their first stop at Brisbane's Woolly Mammoth.
It's a wonderful sight to see bands grow. Watching as they harness the scrappy energy they burst in with, eventually developing into stronger units is one of the great journeys offered by going to live gigs. Stonefield are one of those rare bands who have allowed the public to watch their growth from a young age, having taken out Triple J's 'Unearthed High' competition for underage artists.
Six years later, the band is well out of high school and gearing up to release their second album, and have showcased at Brisbane's Woolly Mammoth how tight a live band they have become in that time.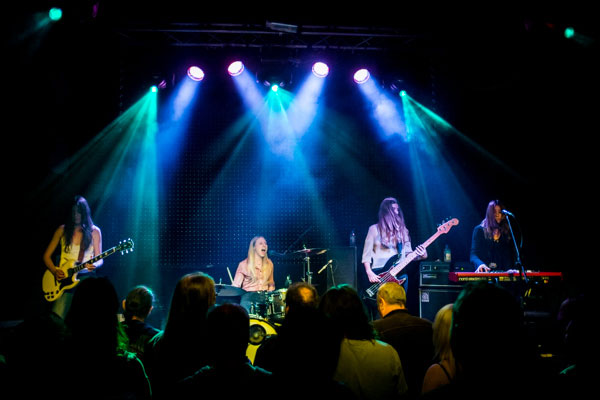 Image © Lachlan Douglas

Opening the night was Sunshine Coast group Pop Cult. Much of their music fell into what could be described as 90s-esque slacker indie-rock, much like The Lemonheads or early Flaming Lips. Straight off, the group showed a gift for hooks which was far from slacking, with the opening number featuring a catchy vocal hook accompanying the singer's raspy vocals. The Flaming Lips comparison proved fitting, with the band closing with a pair of psychedelic numbers, and showcasing that Pop Cult are just as adept with their grooves as they are their melodies.
Click here for more photos.
Next up was Perth band Verge Collective. The scrappy young band bounced across the stage as they played their bright tunes with shouty vocals. Their garage pop tunes are very upbeat, with lyrics of detailing life in suburbia shouted in strong Aussie accents making them even more fun, especially on their debut single 'Our Place'. It was their stage presence which ultimately made them so enjoyable, with the band appearing to genuinely be happy to be there, and the audience happy to be in their company.
After a quick set-up of strobes, lighting, and smoke machines, Stonefield entered the stage, opening with a lengthy instrumental jam which let Hannah Findlay shred on her guitar. It was a huge introduction to the band's set which made the Woolly Mammoth's namesake animal appear small. The amount of stagecraft and energy the Findlay sisters put into their set felt arena-sized – they were definitely paying attention when they supported Fleetwood Mac on their Australian tour last year.
Stonefield launched into newer songs from their upcoming album. The newer songs showed a new direction for the group's retro hard rock, with subtle elements of psychedelia adding a new-found depth to their music. One such highlight of their new tunes is 'Midnight', which sees Hannah's guitar stepping back to chime in the background, while Sarah's keys take the lead. 'Midnight' stands out in a set of rock songs, showcasing soft and dreamy side to the band, but still featuring the soaring vocals of Amy.
Image © Lachlan Douglas

Old favourites occupied much of the show, but somehow sounded different. Songs such as 'Put Your Curse On Me' and 'Through The Clover' rocked harder than they ever had before. Hannah's guitar playing sounded meatier; Amy's multi-tasking saw her howling while pummelling her drums; Sarah explored new directions on her keys; and Holly stood strong, with her bass becoming the backbone of the band. The girls already had great chemistry before – possibly due to shared DNA – but they felt tighter as a unit. They have matured into riff machines who can turn a crowd into a blur of head banging.
Stonefield have come of age, and they are ready to tower above Australia's live music scene.