This past weekend Adelaide was treated to the Stonecutters mini festival.
Spread over two days (16-17 September), the historic Queen's Theatre was filled with an assortment of Australia's best up and coming rock and punk bands, featuring the likes of The Bennies, Dune Rats, Grenadiers, West Thebarton Brothel Party and Hightime.
Day 1
Starting off the night were Adelaide locals Larsen, who provided the early birds and the slowly growing venue their grunge, alt-rock tunes. Although the crowd may have been unfamiliar, Larsen won them over with their familiar sound and a cheeky Nirvana cover to be safe.
Hyder Seek vocalist and guitarist, Bec Stevens, took to the stage alone unaccompanied by the normal, four-piece that makes the band whole. This seemed to be an unexpected and last minute occurrence. However, her minimalist and emotional renditions of the songs captivated the crowd who were fully behind her.
International guests Rozwell Kid came over from America to tour with The Bennies. Their over-the-top performance, top-quality sound, harmonious, duelling guitars and comical banter between songs created a well-received recipe for success, winning the fans who had never heard their name before.
Alex Lahey, who has been riding the wave of her new EP 'B-Grade University', got the crowd moving and mouths active, singing-along to new and old songs, 'You Don't Think You Like People Like Me' and 'Ivy League'; even treating fans to new song 'Everyday's A Weekend'.
Local Adelaide heroes and all-round ska legends, Hightime took the stage and completely owned it as if it were their own, headline performance. The crowd went insane and came aggressively alive for the first time. Overall, Hightime were obvious favourites of the night, and perhaps the weekend, leaving the crowd wanting an encore after their too short, 30-minute set.
High Tension had a tough act to follow, but gave it their all blasting their punk-rock-metal fusion into the Queen's Theatre. Frontwoman Karina Utomo's powerful presence captivated the crowd as she took to the centre of the mosh pit with a circle of loyal followers sharing the mic with her. High Tension managed to successfully cement their performance by the final song 'High Risk High Reward'.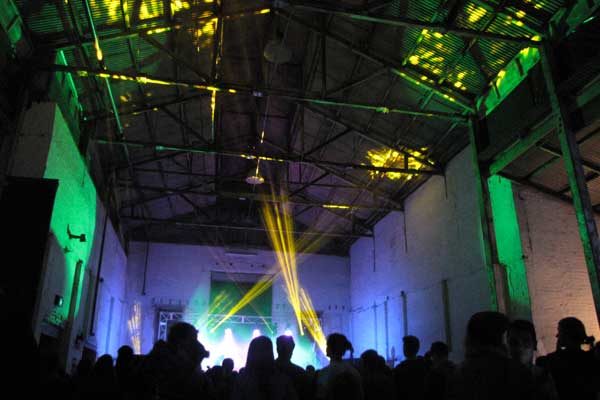 Stonecutters 2016 - image © Thomas Jackson
The Hard Aches got the loudest response from the crowd with their addictively catchy sing-alongs reminiscent to The Smith Street Band. The unique, two piece of guitar, vocals and drums leaves a reserved silence that is only complete with the crowd's voice roaring back every lyric.
The Bennies ended the first night with an hour-long set of party rock anthems. Their new album, 'Wisdom Machine', has taken the band to new heights and it's great to see them on the road to the success they deserve. The band kept their closing, hour-long set list filled with classic, sing-along hits and a good chunk of favourites off the new album till everyone in the crowd was voiceless.
Day 2
Day two was opened by Adelaide alternative, punk-rock band Pemberton and West Coast punk-rock four-piece Alex The Kid. Both bands got the few, timid, early comers and keen, hungover first-day punters active and moving to warm them up. Adelaide locals Battlehounds provided mellow, desert-rock grooves similar to Queens Of The Stone Age and Kyuss. Battlehounds bring a fuzzy-distortion beat that is impossible not to tap your foot along to.
Three-piece Young Offenders killed it with their unique sound that can be only be described as a combination of Rancid, The Libertines and Arctic Monkeys. Singer, Kyle Landman's English accent gives the band a distinctive influence that's similar to a hybrid between Pete Doherty and Rancid's Tim Armstrong. Complemented by jazzy basslines and heavy hitting, high-tempo drums Young Offenders are a band to keep an ear out for.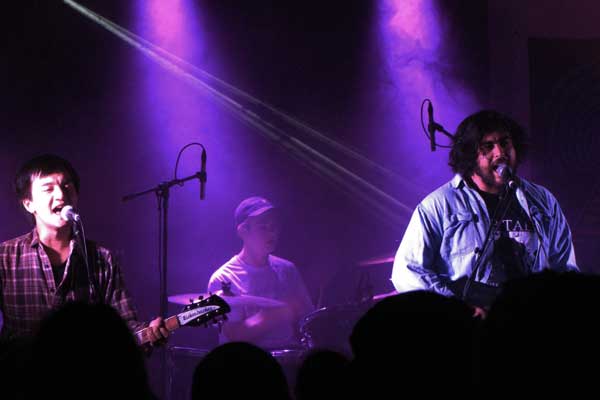 West Thebarton Brothel Party - image © Thomas Jackson
Adelaide's highest rising favourites, West Thebarton Brothel Party took to the stage with five out of seven members. Regardless, the band brought their garage-rock hits as loud as ever adding in a dose of crowd surfing and stage climbing to raise the electricity in the room.
West Thebarton Brothel Party - image © Thomas Jackson
Adelaide's greatest export, Grenadiers filled the room with their classic, punk rock. Their 2015 album, 'Summer', filled most of the 40-minute setlist much to the crowd's pleasure. However, the band treated Stonecutter's to a taste of their new album, playing two new songs, which are taking a more melodic direction similar to their new hit single, 'Live Fast Diabetes.'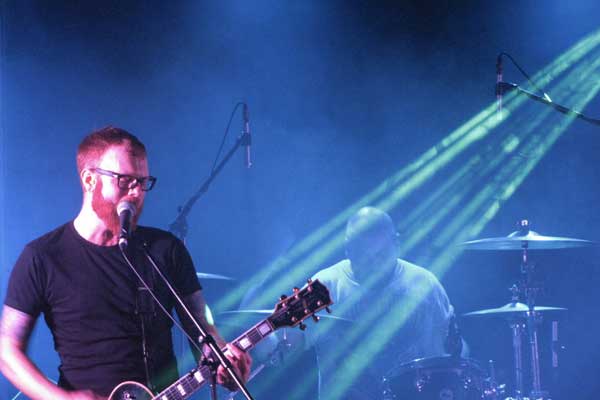 Grenadiers - image © Thomas Jackson
Dune Rats closed the night off with an hour-long headlining set to the most active crowd of the weekend. Playing everything from favourites 'Red Light Green Light', 'Bullshit' and then an unexpected and ecstatically received cover of the Violent Femmes 'Blister In The Sun', Dune Rats left the venue with smiles on their faces. Even if you don't like their music, how could you not fall in love with their stage antics.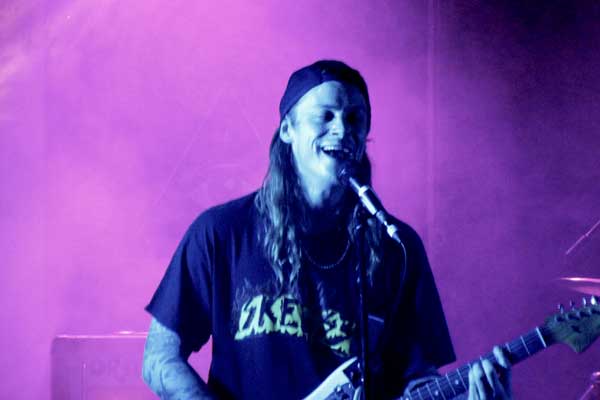 Dune Rats - image © Thomas Jackson
All in all, Stonecutters was a weekend to showcase our best and brightest Adelaide acts, high rising Australian rockers and provide newcomers with a fan base to win over. It's a pleasure to experience a boutique festival in an under-used antique venue in the heart of Adelaide.
Dune Rats - image © Thomas Jackson
The only downside is Stonecutters is only once a year. Adelaide is in dire need of more mini festivals and Stonecutters is curing our famine.