With the recent release of their sixth album 'Hydrograd', Iowa rockers Stone Sour filled Eatons Hill Hotel (29 August) in Brisbane with confetti guns, air dancers and a horde of cheering fans.
Opening the show was Bare Bones, a solid, energetic Sydney punk band who prepped the crowd with a short, fist-pumping set leaving the crowd wildly cheering for the main act.
Click here for more photos.
And boy, did Stone Sour deliver. Just after 9pm, the lights dimmed to a dull green and red, and the band took centre stage owning the room with one explosive performance after another.
Mohawk intact, Roy Mayorga bashed the hell out of the drums as daredevils dived into the mosh pit with 'Taipei Person/Allah Tea'.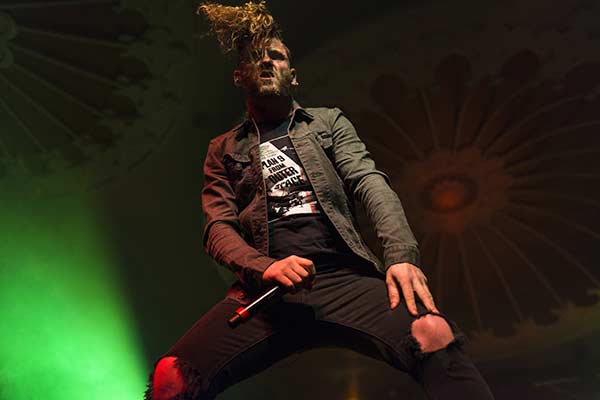 Stone Sour - image © Gemma Traynor
Both Josh Rand and Johnny Chow remained pretty chill for the entire show, Rand standing to the right of the stage displaying his master skills at rhythm, with Chow cruising up the back. And while lead singer Corey Taylor delivered an impeccable performance, lead guitarist Christian Martucci snuck in to steal the limelight, buzzing with enough energy to power the show on his own.
The highlight of the night came when the lights dimmed and Corey took centre stage, captivating audiences with his deeply moving solo version of 'Bother'. This shift from heavy songs to power ballads allowed for more interaction with the audience and a chance to showcase the softer side of the band.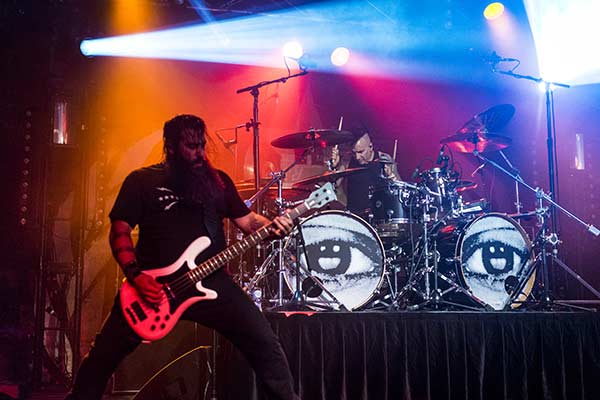 Stone Sour - image © Gemma Traynor
This section of the show ended with a slew of fast-paced tracks and intense headbanging, getting back into the grit and grime of Stone Sour's heavier songs. The crowd screamed their lungs out with hit after hit as Stone Sour played songs spread across their entire back catalogue, and almost severed their vocal chords with the much-anticipated killer track 'Hydrograd'.
Later, the air dancers returned with 'Gone Sovereign', 'Absolute Zero' and 'Fabuless'.
★★★★☆