Steel Panther are no strangers to our shores, making regular appearances at the now-defunct Soundwave as well as numerous headlining tours.
Despite having seen them for almost all of their Adelaide shows, their combination of sheer musical chops, ridiculous onstage personas and hilarious songs about cheap drugs and easy women never ceases to entertain me, or seemingly anyone else in their ever-growing fan base.
Click here for more photos.
Touring off of their acoustic album 'Live From Lexxi's Mom's Garage', it gave us devoted fans another excuse to tease our hair, don our spandex, and bust out our best '80s rockstar impressions.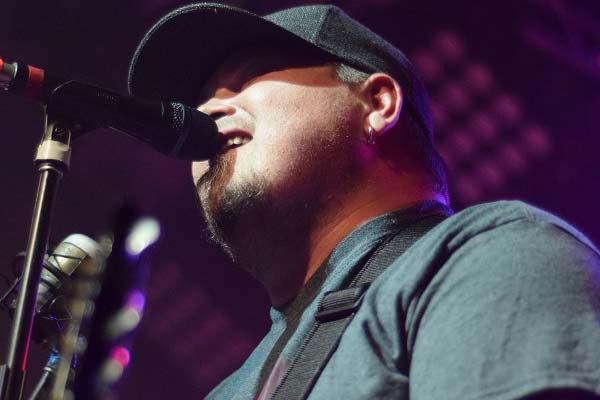 Black Stone Cherry - image © Jordan Bird
Opening the evening was Kentucky's Black Stone Cherry and their whiskey-tinged blend of groove-laden southern rock. Though a curious choice to open for Steel Panther, the audience treated them as well as any headlining band, packing in and rocking out to their hard-hitting bluesy rhythms and duelling guitars courtesy of Chris Robertson and Ben Wells.
Their highly energetic show captured the attention of punters all the way in the back row, with guitarist Wells and bassist Jon Lawhon running back and forth across the stage while drummer John Fred Young belted his skins hard enough that his kit needed adjustments after almost every song.
Black Stone Cherry - image © Carl Neumann
Black Stone Cherry's show ended on a high note, closing out their set with their own take on Motörhead's 'Ace Of Spades', to roars of approval by the audience.
Outwardly, Steel Panther may appear as a band out of time, as a group that never outgrew the over-the-top antics and excesses of the Los Angeles glam-metal scene circa 1985.
Steel Panther - image © Jordan Bird
In reality though, they are perhaps the greatest parody band to exist, with members Michael Starr, Lexxi Foxx, Satchel and Stix Zadinia never once having broken character, even in interviews. Their hilarious stage personas caricature the paradox created by legitimate '80s bands such as Mötley Crüe, Poison and Twisted Sister, in which their overtly macho personalities were displayed through their outwardly feminine appearance.
Steel Panther has a number of advantages over these bands in that not only do they not expect to be taken seriously, they also have astonishing musical talent and a sense of humour so offensive, depraved and abhorrently sexist that they could leave Seth MacFarlane blushing.
Steel Panther - image © Jordan Bird
Much like the glam-metal bands of their supposed heyday, Steel Panther know exactly how to work a crowd, striking ridiculous poses for fans (otherwise known as Fanthers) and photographers alike, and easily coaxing sing-alongs to hysterical tunes such as 'Just Like Tiger Woods', 'Fat Girl (Thar' She Blows)' and 'Party All Day (Fuck All Night)'.
Almost every song was spaced apart by banter between band members, conflicting stories on how the band started, and constant references to Lexxi Starr's borderline mental disability, all of which left the audience nearly doubled over in stitches.
Despite the overall lack of seriousness to both the songs and the band themselves, one should not mistake this for a lack of talent, as Steel Panther is comprised of consummate musicians. Whether it is one of Michael Starr's pitch-perfect high notes or any of Satchel's face-melting guitar solos, not one note was noticeably out of place the entire night, which was surprising considering how many female members of the crowd could be found onstage (topless or otherwise) at any one time.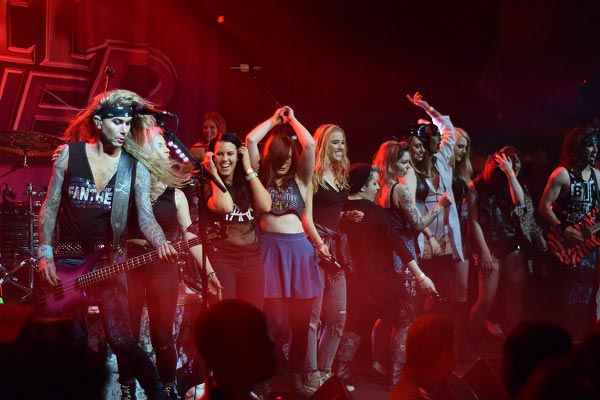 Steel Panther - image © Jordan Bird
Whether it was the harem of 15-odd scantily dressed women who found themselves onstage for '17 Girls In A Row', 'Gloryhole' and 'Eatin' Ain't Cheatin', or the girl who was promptly embarrassed by Satchel for playing with her phone onstage ("Put your phone away! Snapchat fucking sucks!") during the acoustic 'Girl From Oklahoma', there always seemed to be excess people onstage.
Energy levels were high – both in the packed audience and onstage – for the entire show. The band members were clearly revelling in their warm reception, with Michael Starr even proclaiming Adelaide to be their favourite place in the world to play (until Lexxi mentioned that he had said exactly the same thing in Melbourne, at which point he was quickly told to stop talking).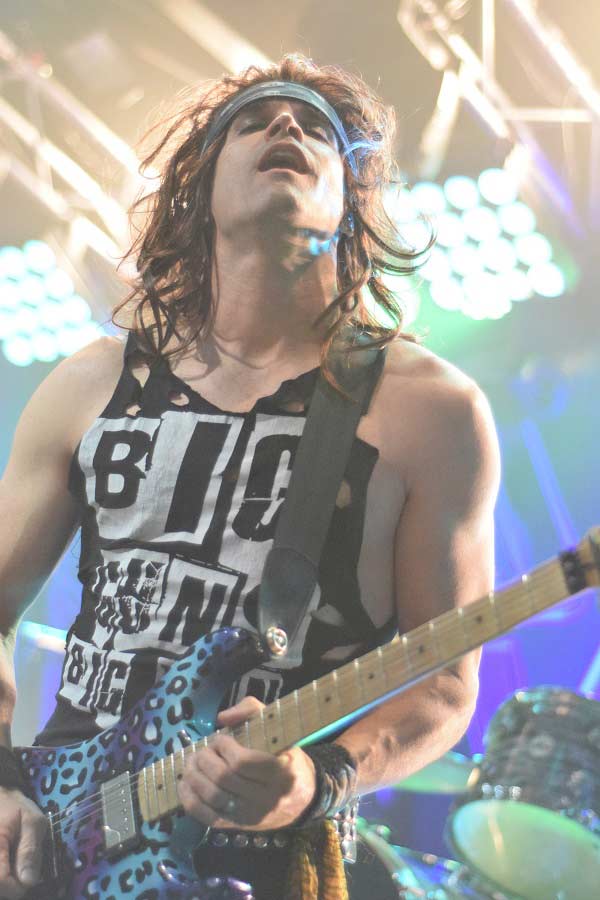 Steel Panther - image © Jordan Bird
When it comes to Steel Panther, whether you are a fan of glam metal or not is irrelevant, their live shows are packed with enough humour, undeniably catchy songs and impressive musical ability to be able to see past the obvious flaws of the genre and simply enjoy the experience.
This is not a band for the easily offended, but for all of us Fanthers, we will eagerly await the next opportunity for them to, as Satchel so eloquently put it: 'Rape your fucking eardrums!'
Click here for more photos.