Paul Janeway has come a long way from preacher to gritty, soul singer.
While he spent his early teens in his family's nondenominational church, he now gets his kicks on stage as the lead singer of St Paul & The Broken Bones. After raising the roof at the Byron Bay Bluesfest last year, the band are returning, bringing their new album, 'Sea Of Noise', and infectious '60s, soul-fire grooves with them.
The Broken Bones are known for their leaps and bounds during their live shows… literally. "I get into a very odd zone [on stage], and my actions are unexplained in a lot of ways," Paul says.
"It's a very bizarre thing. I call it method acting... I might do a similar thing from night to night, but not the exact same. It makes the show interesting for others, and makes the show interesting for me.
"We played Byron Bay last year, and at one point I threw off my jacket, threw it at our bass player, got in the mud in the crowd, rolled around in the mud. It ruined the suit.
"But, at the same time, you feel the moment, and I think that's the beauty of music, it's the beauty of performance, art, the whole thing. You capture that moment. To me, it's controlled chaos. There's certain moments that bring it out in me. God only knows!"
'Sea Of Noise' is the follow-up to their 2013 debut, 'Half The City'. With a new direction and new influences, Paul says the band has expanded their sound. "Our approach [to writing the record] was a little different.
"The second record was a little more cerebral. It was a lot more thought out. And so, for me, I had time to think about the lyrics, think about where the music was going. It was about being able to evolve.
"With 'Half The City', we kind of had to do what we had to do. We had three or four days to record it, and that was it. So, it's not very long to write it.
"We got to work with Paul Butler, who produced the second record. He was great. He bought into the vision that we had for the record. I think he was great at fleshing out the idea, and putting the focus on the record in a good spot."
Playing in a six-piece band might seem like a lot of work, but Paul manages to channel the energy and tranquillity through his long-time friendship with Broken Bones bassist Jesse Phillips. "Me and Jesse have been best friends for a really long time.
"So, we've always made music off and on. I mean, Jesse was the best man at my wedding. We're very much friends outside of music. But our musical relationship started when we made a little EP in Birmingham, Alabama, and we decided to see where it [would go].
"Jesse is a social butterfly, so he'd get all the players," Paul says. "The players would all come in, and what was crazy was that some of these guys were coming in and we were like 'oh, oh, I think we're starting a band'. But not on purpose. It just kind of happened that way.
"So we were like, 'well, we have these songs, I think we have a band now. Let's see what happens.' And so, here we are."
Paul says his gospel background is a definitive influence on the Broken Bones' style, especially the differences between the first and second album. "I think vocally it has influenced me," he says.
"I mean, the first to second, then second to third record will always be different. I dare say I'm not a professional, although I do make a living out of it. But I've got to work on my voice.
"For me, [gospel] has a heavy influence on my approach to things and kind of my approach to singing and writing. There's a lot of religious imagery used in our music and that will always be the case, I think, because that's where I'm most comfortable.
"It's what I can most relate to. It's got heavy influence on the performance, because performance can be so raw and emotional, so it certainly has an influence there. Everything feels like I'm doing it for a higher purpose. And to me, music in general is a spiritual activity. It's translating that into our show."
Paul says playing live shows are not only to show-off their crazy antics, but also for the audience. "I was talking about this the other day with one of my bandmates," he says. "Because we play a lot of shows together… if you're going to give people a performance, you've gotta give them all you've got. You can't half-ass it. The moment I walk on stage and see the audience it's like 'alright, time to do it'."
New fans of their music are often surprised by their Roger Elbert attire and Etta James sound, which Paul finds amusing. "Don't judge a book by its cover! A lot of our music is what we grew up with and has a heavy influence.
"And to be fair, as we move on we're moving into modern times, but for us the moment we wrote the music we realised it was our comfort zone. And R&B, old-school R&B, that's a comfort zone."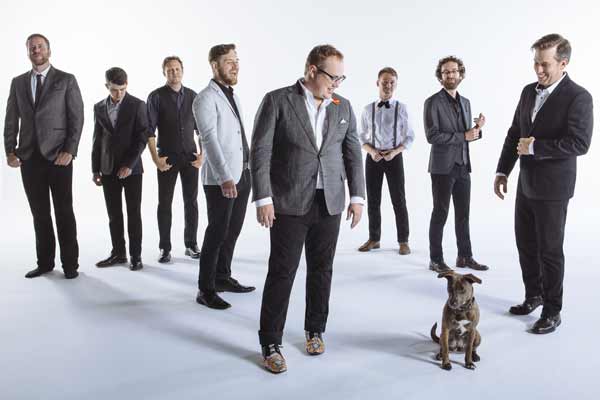 The band have enjoyed wowing audience at Coachella and Lollapalooza, infecting audiences with their southern soul and genuine passion to perform. "Coachella is a lot of fun… we're probably the least cool people at that show. Even in the audience. A lot of cool people there.
"But it was a lot of fun. Lollapalooza was alright. I love Chicago. Playing festivals in general is a lot of fun for us just because what we do kind of punches people in the face initially and it grabs attention at times. So that's fun. We really enjoyed that.
"There are some days where I think 'I don't know if I can get to that level tonight', but it hasn't failed yet. Some shows are easy. Like the first show in Byron Bay in Australia last year, we played an amazing show. The audience was just amazing. And it's one of those things where that's easy to get up for."
Paul says St Paul & The Broken Bones will be returning to the studio very soon, with new material on the way. "We're working on new stuff [and] I have new stuff where I'm a featured singer.
"There's a lot of balls out there rolling and I don't really know when they'll be revealed or when they're not going to be revealed. When we go to LA in a couple of days there'll be a few producers, so we'll see how that goes.
"I still have a strong writing bug. I'm almost at the point now where I know conceptually where the next record will go, so that's where I'm at. I do think eventually I'll have to tap out and stop for a little bit. But for now, I'm still at the point where I've still got something to offer."
St Paul & The Broken Bones Shows
Wed 12 Apr - The Triffid (Brisbane)13-17 Apr - Bluesfest (Byron Bay)Wed 19 Apr - Metro Theatre (Sydney)Thu 20 Apr - 170 Russell (Melbourne)