In the three years since releasing their third album, 'Sunday Gentlemen', Sydney hip hop duo Spit Syndicate have barely had time to catch their breath.
"We've had little breaks here and there but for the most part we've been trying to go as hard as possible," Nick Lupi says, "because we realise how important it is to have momentum and to constantly stay out there and active.
"Something that's become a lot clearer to us in the past few years is this is what we do, this is what we're good at and what fulfils us, so we've got to go hard with it."
In 2014, the double S teamed with Horrorshow, Jackie Onassis and Joyride to create the One Day collective, releasing their album 'Mainline' to widespread acclaim. Not yet content with their achievements, Nick and partner-in-rhyme Jimmy Nice have been simultaneously touring and writing material for a forthcoming record.
The result is their new single 'Know Better', released earlier this year. Nick says that although it has been a challenge performing and writing at the same time, the process has allowed the pair to review their new songs in a live setting before they're released. "As additionally stressful as it's been trying to do shows in this time as well, it's also a nice break and very encouraging," he says.
"You play shows and meet the people who are big supporters of our music and really believe in Spit Syndicate, so it puts a little more wind behind your sails."
For their recent June tour in support of 'Know Better', Spit Syndicate upped the ante by adding a live band to the mix. "We got a new, live set-up, which involves a live band," Nick says. "It's not a full band but we've got live keys, guitar and samples, and as a result of the new, live set-up it required us to put in a fair amount of time rehearsing and making sure it sounded good.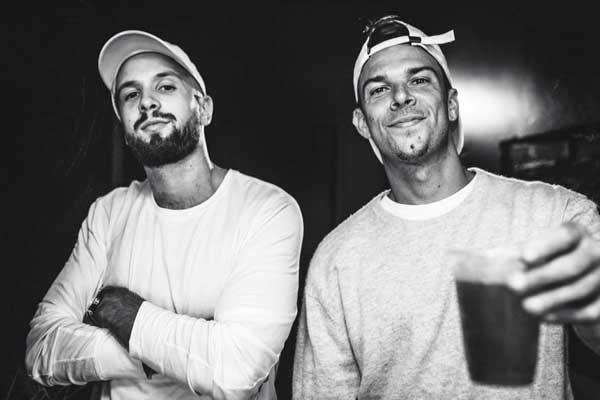 Image © Facebook
"For the shows to have gone as well as they have it's been a really good feeling, especially for us because we're in the final, album-finishing mode which can be pretty stressful and draining."
Eight years on from their 2008 debut, 'Towards The Light', and Spit Syndicate have cemented a loyal following that the duo feel indebted for their success, reciprocating their support by maintaining a personal connection with their fans. "We really make a point after our shows to go to the merch stand, thank people and sign stuff until there's no one there," Nick says.
"Sometimes we'll be there for an hour and even after that, if the venue will let us, we'll have some beers at the venue with fans. We really make a priority of kicking it with people and thanking them, not just playing the show then going back to the hotel. We really like to connect with the people that believe in our music."
With the as-yet-untitled album expected for release later this year, there's no shortage of opportunities to see Spit Syndicate live in action. While the 'Know Better' tour has now wrapped up, Nick and Jimmy next hit the stage at
Shakafest
on the Gold Coast alongside Dune Rats and Drapht. "We're pretty excited for this one," Nick says.
"It's potentially the best or funniest name for a festival I've come across. I believe it's pronounced 'sha-ka' [the 'hang loose' hand gesture personified by Hawaiian surf culture; think 'shaka brah!'].
"That was my interpretation of it and given the line-up, I daresay the Dune Rats throw up the shakas pretty often, and so do we for that matter. We're really excited about it and stoked to be asked to play that line-up to be honest."
Spit Syndicate perform as part of Shakafest at the Miami Tavern (Gold Coast) 27 August. SS also play Summernats 30 6 January, 2017 (Canberra).