Sleepmakeswaves have been on a constant touring cycle since their most recent release, 'Love Of Cartography' in 2014, having hit Adelaide three times since its release (and will play once more before the end of the year supporting Cog).
One may expect such constant touring to either burn out the band or result in disinterested fans due to overexposure. Thankfully, neither of these happen to be the case, with an eager crowd packing into The Gov (5 August) to once again bask in their magnificence.
Click here for more photos.
Local post-rockers Stranger Things Have Happened were a perfect fit to warm-up the audience. Largely instrumental save for a handful of sparsely used dual vocals courtesy of guitarist Caleb Williamson and bassist Brendan Willson, their songs often had a similar structure and sense of melody as sleepmakeswaves.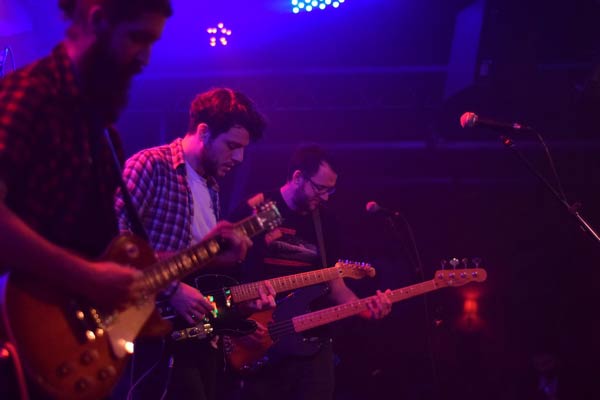 Stranger Things Have Happened - image © Jordan Bird
Despite the meandering nature of many of their songs, with alternating time signatures and occasional shouted vocals, their songs always came off as upbeat and, dare I say, borderline danceable, a rare feat for a post-rock band.
Perth's Tangled Thoughts Of Leaving are one of the more distinctive bands to bear the post-rock/ post-metal label, largely due to their strong emphasis on keyboardist Ron Pollard's incredible musical abilities. Hiding behind a large bank of keyboards, Pollard provides the majority of texture and melody in TTOF's compositions, while the strong rhythmic force of drummer Behn Stacey and bassist Luke Pollard drive their bleak, expansive tracks forward.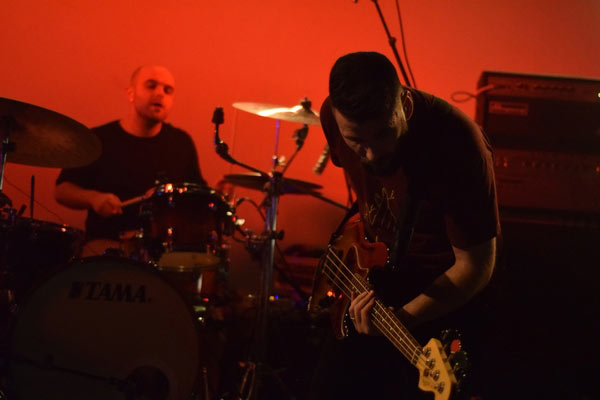 Tangled Thoughts Of Leaving - image © Jordan Bird
Their stage presence matched the dark mood apparent in each of their songs, almost entirely silhouetted against a blood-red backdrop, the features of each member were barely visible. This facelessness seemed to mimic their music, in which individual instruments were not always easily distinguishable, with each part contributing to the dense waves of noise that was the whole.
However, it was hard to ignore the intense energy of Ron Pollard, who flailed and head-banged relentlessly against his keyboards with an intensity that called many of Nine Inch Nails' past keyboardists to mind.
Indianapolis' The Contortionist were up next. The musical ability of this band is undeniable, a complex mix of atmospheric rock, progressive metal and, occasionally, deathcore, all fused together with the jazz-influenced basslines of Jordan Eberhardt (ex-Scale The Summit). Much to my delight, the majority of their set was lifted from their latest album, opening their set with the double header of the gorgeous 'Language I: Intuition' and the crushing 'Language II: Conspire'.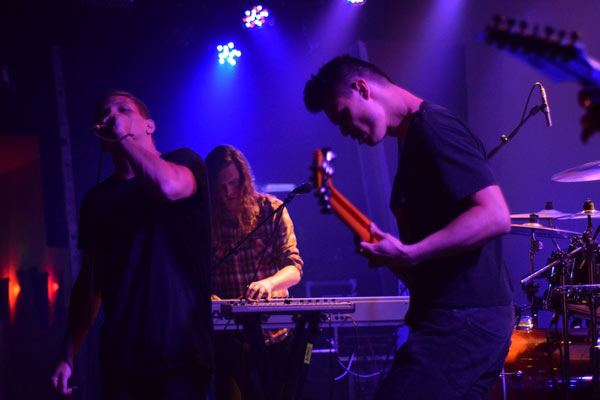 The Contortionist - image © Jordan Bird
Despite the issues with Lessard's voice, The Contortionist still managed to put on a thoroughly compelling show, annihilating the audience with the skull-shattering 'Oscillator' before closing their set perfectly with the beautifully thoughtful 'The Parable'.
This 'Traced In Constellations' tour marks the end of sleepmakeswaves' touring cycle for their 'Love of Cartography' album, before the band returns to the studio to finish recording their as-yet untitled third LP. Guitarist Otto Wicks-Green had previously stated that as well as being a farewell of sorts to their latest album, this tour would also be used as an opportunity to delve into their back catalogue.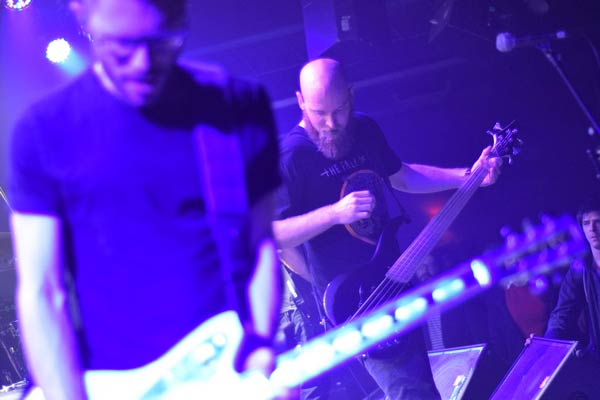 sleepmakeswaves - image © Jordan Bird
As well as providing the clamouring audience with astounding renditions of more recent tracks such as 'Great Northern', the setlist reached as far back as their 2009 split EP with tour mates Tangled Thoughts Of Leaving. This led to some of their more obscure songs being played, such as 'Keep Your Splendid Silent Sun' and 'We Sing the Body Electric'.
It is a wonder that despite how explosively energetic sleepmakeswaves can often appear on stage (especially during some of their more intense tracks like 'The Stars Are Stigmata'), their execution is almost always, completely flawless. Founding member Alex Wilson wields his bass like a weapon, swinging it wildly back and forth, while new guitarist Daniel Oreskovic throws himself around the stage, thrashing frantically at his instrument.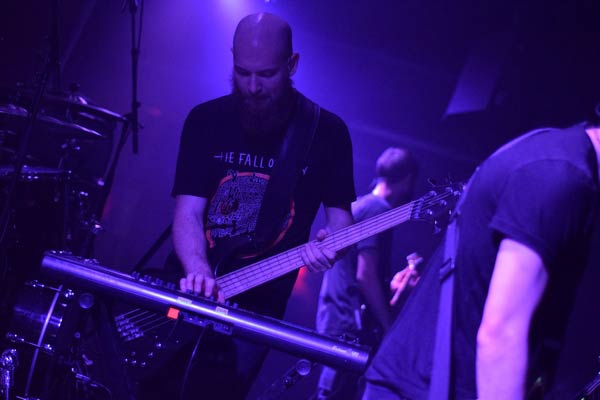 sleepmakeswaves - image © Jordan Bird
The unquestionable highlights of the show were the cuts from their debut album, with its title track '…And So We Destroyed Everything' proving to be the centrepiece of the entire evening. This sprawling and undeniably beautiful 12-minute opus took on a new level of intensity and immediacy, with its peaks and lulls becoming even more dramatic in a live setting, its deeply textured waves of noise crashing into and through the astonished audience.
Their closing track 'A Gaze As Blank And Pitiless As The Sun', also off their debut, provided the perfect finale, alternating from intense walls of sound to peaceful plateaus and back again. The audience, entirely captivated by this point in the set, stood in complete silence as single notes rang out from Oreskovic's guitar, no cheering or applause, the crowd was borderline hypnotised.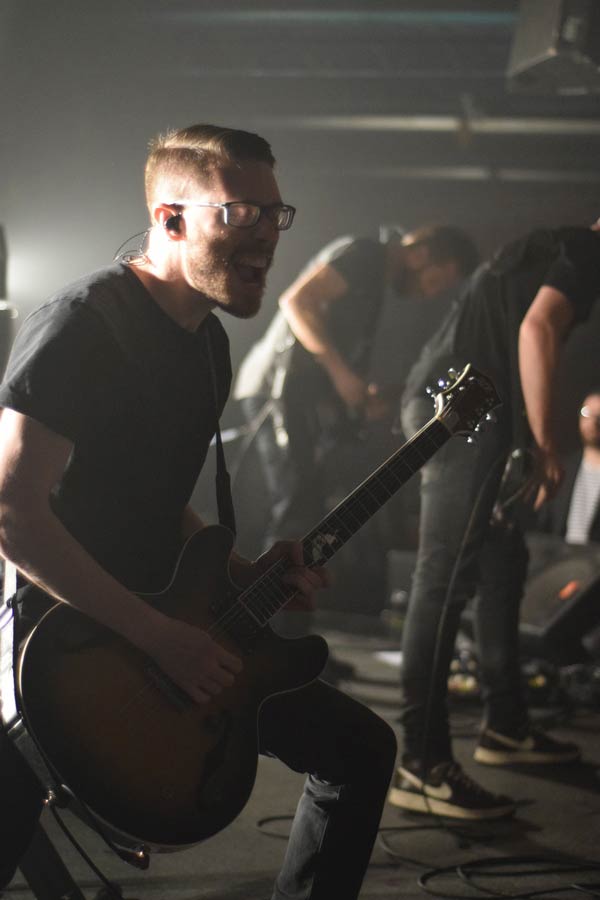 sleepmakeswaves - image © Jordan Bird
It's miraculous that an instrumental post-rock band can gain such a following in a society dominated by disposable, three-minute-long pop songs and miniscule attention spans. Despite this, sleepmakeswaves continues to flourish and continually prove they are one of the most unique and compelling acts in the genre.
Click here for more photos.