Texan music-maker Shakey Graves has shaken up his Americana roots on his 2018 album 'Can't Wake Up', a record that saw him undergo a necessary artistic metamorphosis.
"Something that I really needed to do with this record was broaden my own horizons and again remind myself that anything is possible," Shakey says.
"Building that record was so much fun, and the band that has slowly accumulated around me we've become better friends and are much more of a band than we ever have been because we've been playing together for a few years now.
"It's honesty really nice to have new material because since 'And The War Came' came out in 2015, I was just having to dig backwards into old songs I had if I wanted to put new material in, and I was just getting worn out playing the same stuff. I felt like I was growing out of my clothes a little bit."
The clothes analogy is apt when you consider a tweet Shakey posted in December 2017 about new music that read: 'Next album. New sound. Sell your suspenders.'
For 'Can't Wake Up', Shakey says it was important to him as an artist that he showcase facets of his diverse musicality listeners may not have heard him explore.
"It was mainly that I knew what kind of music that I enjoy and the sort of strange stuff that I make that I maybe don't show to the general public, but that was kind of the problem – that I didn't really feel like I had ever shown any other side of the coin," he explains.
"I was worried that if I didn't go ahead and make a slight change in what was going on that it would be harder to do it down the road, and honestly it was getting to me. It's very easy to get in your own head no matter what you do and I was certainly doing that.
"I was having a kind of crisis of conscious of 'do I stick with what works or do I trust my gut?', and I did a little bit of both. I had to talk myself down to [realising] it's not that far; just because something sounds different doesn't mean that the whole world is different."
Released in May last year, 'Can't Wake Up' has had Shakey on the road almost constantly over the past ten months. After being at the beck and call of a strict touring schedule, Shakey says this year is about relieving some of that pressure.
"I've taken a little bit of a step back, just to get back to what I love doing the most, which is just not knowing what I'm doing I suppose, making things up as I go along," he says.
"It's a relatively new thing in my life to actually have plans a year out, and it was maybe two years ago I started to freak out where I was planning things two years ahead in my life, which is great – on one side it's comforting to know you have things in your future.
"But at the same time, I kind of enjoy making things up as I go along and that's where a lot of my music came from. It comes from not knowing what's next around the bend and then discovering it, as opposed to laying everything out so well."
The free-form approach is a strategy that has served Shakey well as he's carved a comfortable niche for he and his music, making him a popular performer wherever he travels.
This April his travels bring him back to Australia for Bluesfest as well as theatre shows in Melbourne and Sydney. Shakey says Australia became a tour destination for him long before the UK and Europe.
"I feel lucky enough to have played [Bluesfest] once before, and honestly I went to Australia and New Zealand before I even went to Europe, which is not how I feel that works out," he laughs. "Somehow I went down under before any of that."
This time Shakey will be performing with a four-piece band as well as throwing in a bit of his much-loved, one-man band schtick. Even with a stack of new music in 'Can't Wake Up', Shakey says fans can expect to hear songs from across his extensive back catalogue. "I sort of don't believe in just touring an album," he says.
"I know it's important but as a music fan I think everybody knows that people get a little bummed-out... I still like to play some old stuff anyway. The way I usually approach it is that I'll do both, so it's kind of a retrospective of everything I've done so far."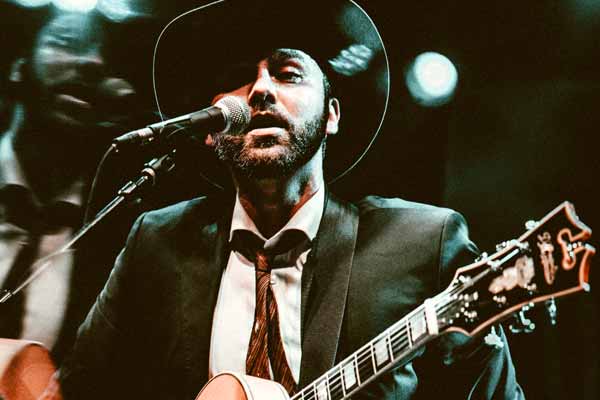 Shakey will also be spending some time getting up-close and personal with fans at the sideshows in Melbourne and Sydney. "Those are some of my favourite shows," he says.
"I've spent far more time playing small clubs than I have giant festival stages so to a certain degree it's a fish-in-water, that's where I'm comfortable."
More than a singer-songwriter, Shakey Graves is a real, live folk hero in his home town of Austin, Texas, where in 2012 then mayor of the city, Lee Leffingwell, declared the ninth of February to be 'Shakey Graves Day'.
Each year, from 9-11 February, Shakey offers his music as well as previously unreleased material on Bandcamp on a pay-what-you-want basis, with proceeds donated to the Kids In Need Of Defense (KIND) organisation.
Apart from the community service it provides, Shakey says it's his way of giving back to all his fans that have supported him and helped build his career. "Every year I put out a release of B-sides and stuff, maybe material that didn't make it into another release, and this year it was really fun because sometimes it's going through really old tapes," he says.
"We had put in so much work on this last record and went through so many weird variations of things, so it's a nice check-in for myself to go back and listen to all the hard work that we put in over the past few years.
"I'm all about having a relationship with my fans... I take it as an opportunity to give back because I feel really grateful for the support."
Shakey Graves plays Bluesfest (Byron Bay) which runs 18-22 April. He also plays The Factory Theatre (Sydney) 22 April and The Corner Hotel (Melbourne) 23 April.