Maybe it was the pulse of heaving bodies joined in dance. Or the music punctuated by tribal beats. Or perhaps it was the feeling of euphoria at being witness to something ground-breaking.
Either way, at SAFIA's show at The Tivoli Theatre (7 October), I had the distinct feeling of tumbling down the rabbit hole and landing in Zion. And just as the walls of Zion shook and trembled in 'The Matrix', so too did those at this sold-out Brisbane show. There to celebrate the release of their debut album 'Internal', the Canberra three-piece kicked off the set with album track 'My Love Is Gone' and the crowd response was immediate and visceral.
Click here for more photos.
While Australia may have enjoyed past successes in the electronica dance scene, SAFIA's offering is different. Yes, their sound covers all the traditional bases of trance, drum & bass, jungle and industrial, but it has one thing that sets them apart. Soul.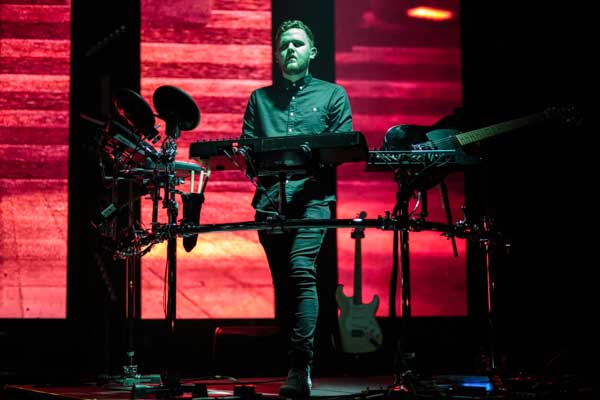 Image © Ophelia Symons
Slower tracks, 'Make Them Wheels Roll' and 'Listen To Soul, Listen To Blues' showcased Ben Woolner-Kirkham's operatic, almost mournful vocals. His sound has always reminded me of Hamish Cowan's of Cordrazine: an opinion shared by many, not least the gent dancing next to me who was adamant that Woolner-Kirkham was in fact Cowan.
Image © Ophelia Symons
The setlist was a perfect fusion of SAFIA's diverse styles, moving effortlessly between the darker, dirtier, tick-tock beat of 'Counting Sheep'; the carnival notes of 'Over You'; to mellower dance tracks like 'Together, Locked Safely'. 
Anthemic hits 'You Are The One' and 'Take Me Over' raised the roof, with the golden lighting illuminating fans held aloft, be it atop shoulders or overhead on the art-deco balcony.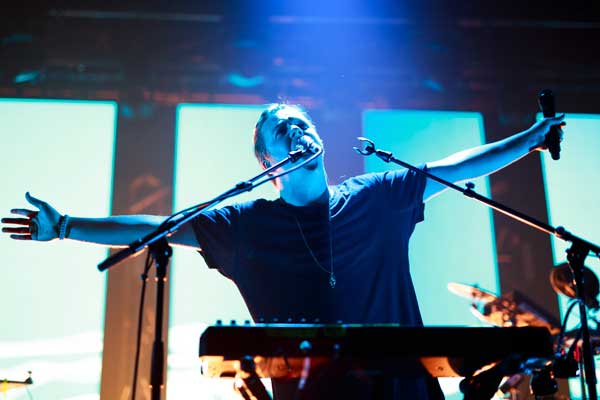 Image © Ophelia Symons
The view was enough for Woolner-Kirkham to declare The Tivoli one of the most beautiful venues in Australia: "There's so many of you, it looks beautiful. I wish you could see you right now."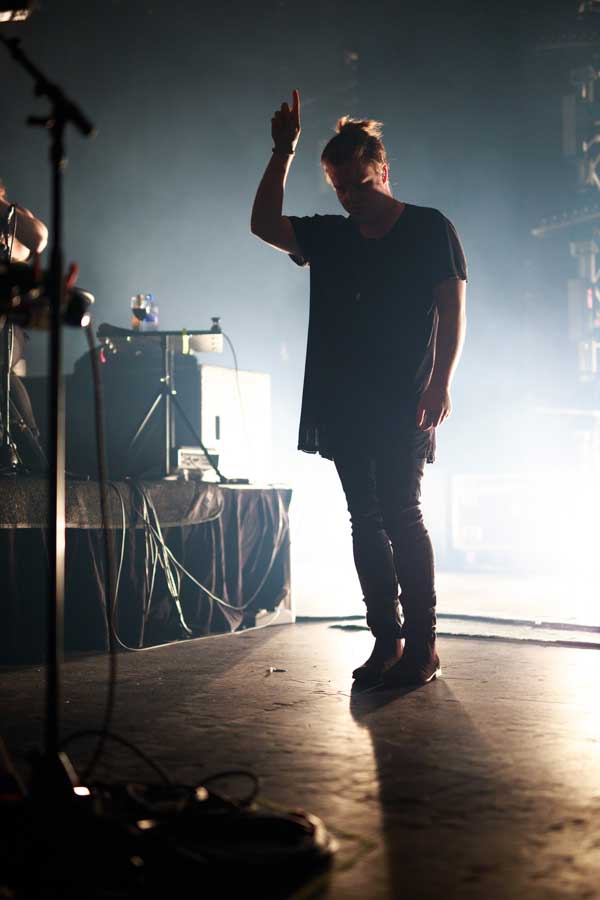 Image © Ophelia Symons
Marred only by a technical glitch that halted the encore temporarily, SAFIA's show was unbelievably on point for a band so new to the music landscape. I'm glad I got to see them at The Tivoli, as I strongly suspect that the next time this Canberra export embarks on a national tour, quaint theatre venues won't contain the crowds.
Click here for more photos.
SAFIA Tour Dates
Fri 14 Oct - Odeon Theatre (Hobart)Sat 15 Oct - Festival Hall (Melbourne)Fri 21 Oct - Metro City (Perth)
Sat 22 Oct - Thebarton Theatre (Adelaide)
Sat 5 Nov - This That Festival (Newcastle)Thu 17 Nov - The Tivoli Theatre (Brisbane)
Fri 18 Nov - Enmore Theatre (Sydney)27-29 Dec - Southbound Festival (Busselton)28 Dec-1 Jan - Beyond The Valley (Lardner)
Sun 1 Jan - Field Day (Sydney)