The first time I saw Rudimental perform was late last year when they supported Ed Sheeran at Suncorp Stadium. So brilliant was their set, that when I heard that they were coming back to Brisbane to perform their own show at The Riverstage, I knew I had to see them in full headliner flight.
At their core, Rudimental are a UK quartet, however on this tour they are an eight-piece, supported by vocalists Thomas Jules and Bridgette Amofah, trumpet player Mark Crown and Beanie on drums.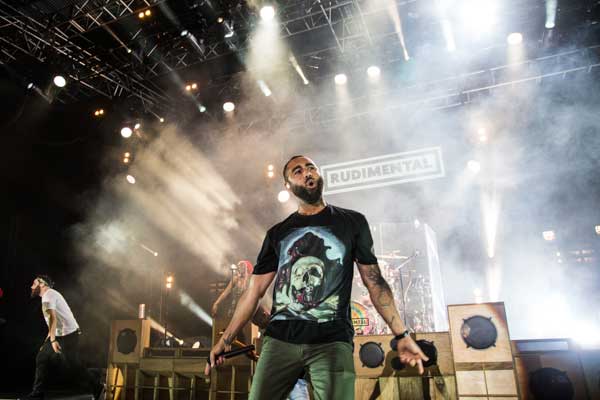 Image © Elliott Sauvage
Any punters worried about whether Jules and Amofah could do justice to songs recorded with the likes of Ed Sheeran, Will Heard and Emeli Sandé would have quickly had their fears allayed, as the duo kicked off the show (7 May) with flawless renditions of 'System' and 'Right Here' from last year's album, 'We The Generation'.
Click here for more photos.
From there the octet delivered a perfect blend of reggae, house, pop, soul and funk. 'Baby' brought an irrepressible pop beat that one could not help but bop along to, while tracks such as 'We The Generation' and a cover of Damian 'Jr. Gong' Marley's 'Welcome To Jamrock' delivered a heady reggae vibe that pulsed through the crowd.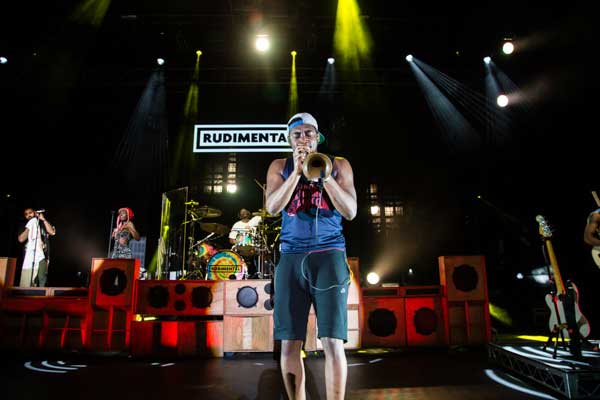 Image © Elliott Sauvage
A Rudimental show is about more than just the sound though, it is about the camaraderie and high energy on stage, and a better time I could not have witnessed as the band bounced and ran on the spot in unison. The vocalists too brought the moves, with Jules bursting into a spot of breakdancing and moonwalking while Amofah paced the stage with a bootylicious strut.
Not to be outdone, frontman DJ Locksmith (Leon Rolle) brought old-school rave energy to the show, building up song and crowd momentum through his boundless energy and rousing calls to action. Whether the instruction was to clamber atop complying shoulders for the track 'Free' or to get down low in preparation for the explosive chorus of 'Bloodstream', the crowd was more than happy to comply.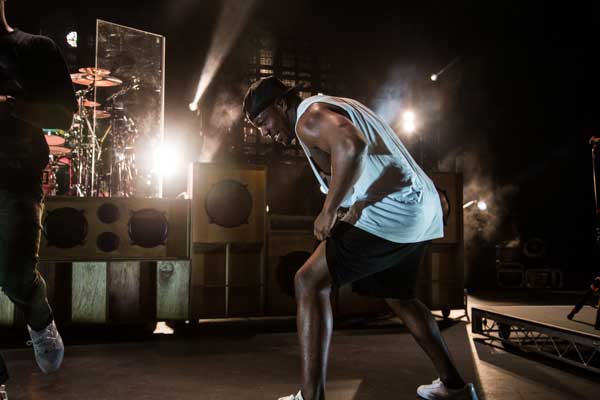 Image © Elliott Sauvage
Almost an hour into the show, I had all but given up on Essex-born singer Anne-Marie making an appearance, but as 'Rumour Mill' started, out she bounded, an infectious bubble of understated cool. The first artist signed to Rudimental's label, Major Tom, Anne-Marie treated the audience to 'Do It Right', the first track from her unreleased album, before accompanying Jules on 'Love Ain't Just A Word' where he proved rap was also a part of his repertoire.
'Feel The Love' was the last song of the official set, and it started and ended with Rudimental declaring their love for Brisbane, a feeling the crowd reciprocated with the uplifting of hands forming hearts.
Image © Elliott Sauvage
A laidback beat reminiscent of Massive Attack signalled the first song of the encore, 'Give You Up' and then it was time for the grand finale. Concert goers want shows to end on a high, and that is exactly what this crowd got, as Amofah's powerhouse vocals tore up 'Waiting All Night'. A thunderous drum solo by Beanie shut down the set.

Crowds generally drift away after a show, but as Earth, Wind & Fire's 'September' blasted from the speakers, many in the crowd hung back to enjoy one last dance. With a goofy grin on my face, I stood and watched people dance with unbridled joy either in their spots or as they made their way toward the exits. Strangers exchanged smiles and laughter rang out in the night.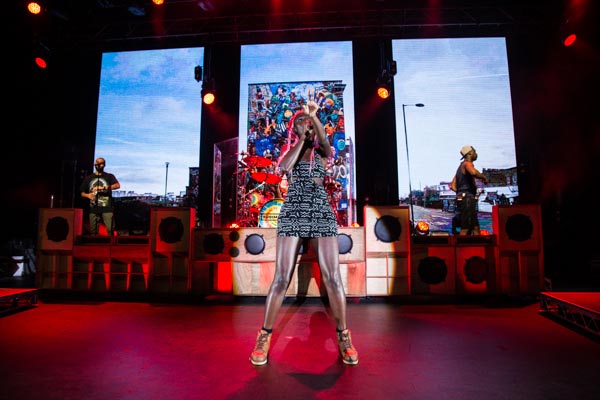 Image © Elliott Sauvage
Rudimental had asked if Brisbane could feel the love. The answer was an undeniable yes.
Click here for more photos.