Any band that stays together for a decade is admirable.
But despite a few line-up changes, Revocation, a death-metal band from Boston, are still going as strong as ever.
With their sixth album, 'Great Is Our Sin', released last year and the band readying themselves to take their intense show on the road in Australia next month, bass guitarist Brett Bamberger is, in his own words, psyched. "[The album has] got cleaner singing and an edge to it but also some new, softer parts that are pretty cool. I think it's our greatest effort to date."
Fans of earlier songs like 'Dismantle The Dictator' and 'No Funeral' will find familiarity, but according to Brett, won't be regurgitated the same ideas. "The whole idea when you're mixing art and business is to progress and listen to what the people want.
"You want to push your skills in terms of songwriting and technical ability with each release, so that the fans that have been supporting you have something new to look forward to. You don't want to put out the same, old thing."
Along with lead vocalist and founder Dave Davidson, guitarist Dan Gargulio and Brett, the group is joined by a new drummer Ash Pearson and a guest performance from ex-Megadeth thrash legend Marty Friedman. "[Marty] has been very influential in Dave's playing and a big reason all of us are doing what we are doing.
"Dave did a collaboration with him before and we wanted a guest on this album. He's a killer player and a killer dude."
Whatever the personnel, Brett stresses the need for unity with a project like Revocation. "We're a band that tours a lot. We spend a lot of time in close quarters and playing our songs live, so we need to get along well and understand each other in and out. It's very important to be on the same wave-length in our band in particular."
With their sufficiently bad-ass looks, it might come as a surprise to know that you can't always judge a band by their image. "We're all nerds, that's for sure," Brett laughs. "I think all the death-metal dudes are nerds to be honest. You've got to be a pretty big geek to be sitting at home, getting good at your instrument.
"There's a certain degree of anti-social behaviour there and some nerdy study and learning new techniques and applying them to your own craft. Death metal comes off as this brutal genre, but even the hardest partiers on the scene do their homework and geek out on it. That's what keeps it going."
For Brett, it is impossible to separate his art from real life or know where the genre is headed in 2017. "I don't know what the hell is going to happen with anything in 2017. "I've been absorbed in politics more than death metal, so I'm scared about what the world is going to do, let alone death metal.
"I've spent time out in Europe and seeing all the tensions and everything, it just seems fucking crazy. I like the older, brutal stuff so I hope that comes back in 2017."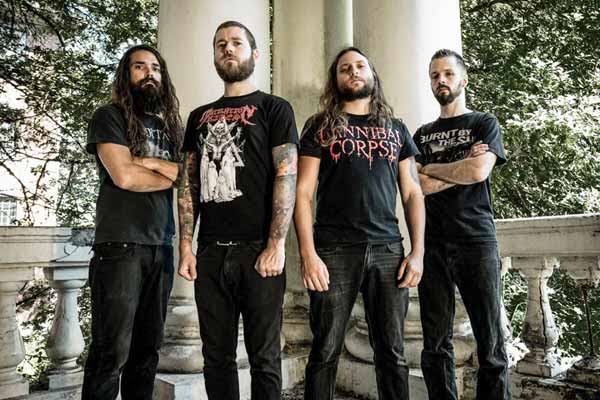 Still, it's not all gloom and doom. "When we toured with the guys from Beyond Creation, they rekindled our wild flame because they were so hyped being in Europe.
"I remember waking up being naked on a bus with eight other naked dudes and butter, milk and wine all over the walls! Who knows what happened?"
Revocation Tour Dates
Fri 10 Feb – The Triffid (Brisbane)Sat 11 Feb – Manning Bar (Sydney)Tues 14 Feb - The Cambridge (Newcastle)Wed 15 Feb – The Basement (Canberra)Fri 17 Feb – Max Watts (Melbourne)Sat 18 Feb – Amplifier (Perth)Sun 19 Feb – Fowler's Live (Adelaide)