Being the support act can be a tough gig. You hope people will arrive early, and even if they do it's often a battle to coax them from the back of the room. Unless, that is, you're in the business of rockabilly.
Well before the headlining act took the stage at The Gov (25 September), there were plenty of bowling shirts and polka dot headbands.
After the Saucer-men opened proceedings, Pat Capocci showed a little more stagecraft at the head of his snappily-dressed trio and played the part well, his one-liners backing up a classic rockabilly set.
Click here for more photos.
The crisp sound was driven by a muscular, rhythm section and the supports shared a drummer who kept both sets tight while the crowd warmed up with some great swing dancing.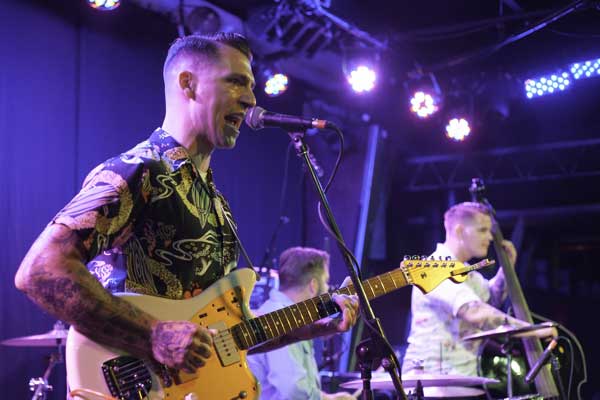 Pat Capocci - image Ross McNaughtan
Those who took advantage of the dancefloor were the smart ones, as once the venerable Reverend took the stage it was standing room only. Prowling out like a cartoon wolf, his huge teeth formed an improbably large grin that was accompanied by a dangerous snarl one minute, a knowing wink the next.
Reverend Horton Heat - image Ross McNaughtan
An extended intro to 'Baddest Of The Bad' allowed the trio to find their groove before they went old school with a tribute to Heat's Dallas roots. Their cover of Gene Summer's 'School Of Rock 'n Roll' was straight-up rockabilly and when that was followed by a slow, swinging 'In Your Wildest Dreams', it seemed that maybe age was finally catching up with the Reverend Horton Heat.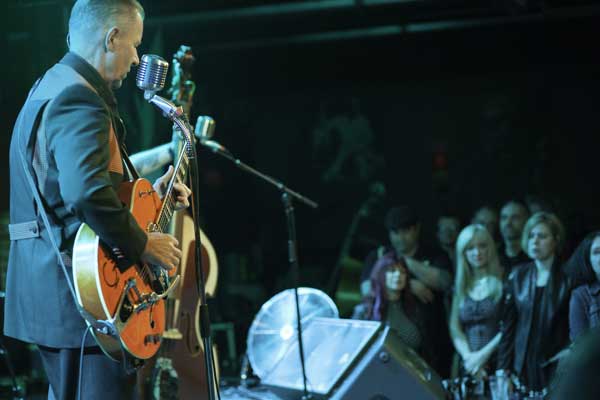 Reverend Horton Heat - image Ross McNaughtan
Any such fears were soon put to rest, as the trio proceeded to remind everyone present why psychobilly is so named. 'Jimbo Song' was more shouted than sung, a '90s-punk throwback propelled by manic energy and there were plenty of willing partners to sing-along. Throughout their set the trio would continue this pattern of dragging the crowd in with a few, slower melodies before launching into full-throttle mode. Somewhere between the two extremes is where the band really found its sweet spot.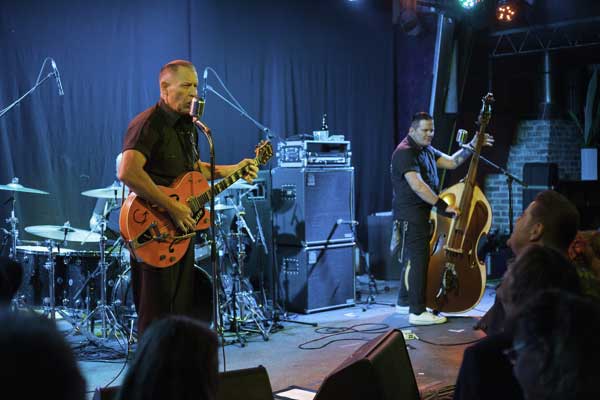 Reverend Horton Heat - image Ross McNaughtan
The Reverend's most recent album is a few years old now, but he played a few songs from 'Rev' and 'Smell Of Gasoline' struck the perfect balance between high-octane fun and a darker, moodier pace. The band recognised that, reprising the song at the end of their set as a snarling beast brimming with venom and if they'd riffed on that one tune for an hour it would have been worth watching.

There's a reason most gigs don't feature a four-minute drum solo, and this one meandered towards the end. There was one last hurrah for 'Folsom Prison Blues' and that was that. The house music came on, everyone stated drifting away and then someone changed their mind backstage, so we were treated to a brief version of 'CC Rider' before it really was time to head home.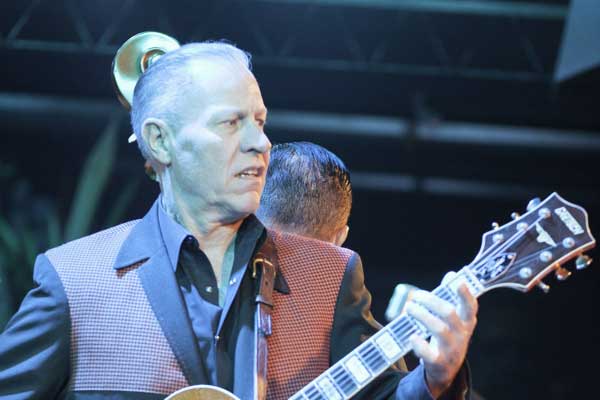 Reverend Horton Heat - image Ross McNaughtan
Throughout the night there was just one constant. The Reverend Horton Heat is a slightly unhinged creep who thoroughly commands your attention.
Click here for more photos.