Who would have thought being in a crowd packed like sardines, surrounded by sweaty men screaming "arsehole" repeatedly would be such a great way to spend an evening?
Thanks to Brisbane institution Regurgitator (Quan Yeomans on guitar, vocals; Ben Ely on bass, vocals and Peter Kostic on drums), the crowd who came to The Zoo (14 October) were treated to a night of irreverent entertainment. Appearing on stage resplendent in matching animal-print suits (the bold yellow and black of a tiger); the 'Gurge kicked their set by launching straight into fan favourite 'I Sucked A Lot Of Cock'.
Click here for photos.
Next came the aforementioned 'I Will Lick Your Arsehole', which brought everyone into the zone to have fun and thrust themselves headfirst on the road of nostalgia.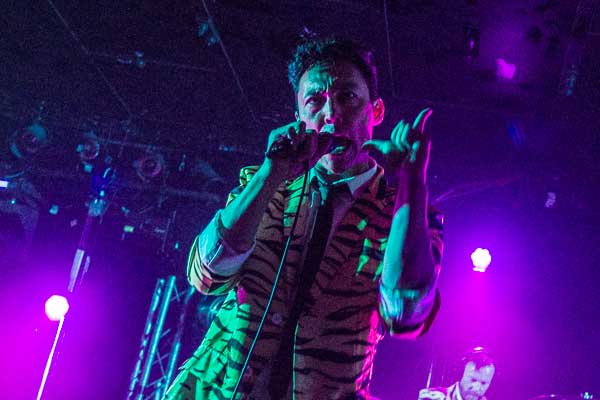 Regurgitator - image © Tamaryn Bremner
Regurgitator – who released their debut album 'Tu-Plang' way back in 1996 – have well and truly emerged from their 'hiatus' and in the past month have set off on their 'Human Distribution' tour, with the promise of new music to come in the new year. The only thing to show they had slowed down a little as the years have advanced was Yeoman taking liberal swigs from his carton of coconut water, when normally at a rock show you'd expect the frontman to be brandishing a stubbie of beer.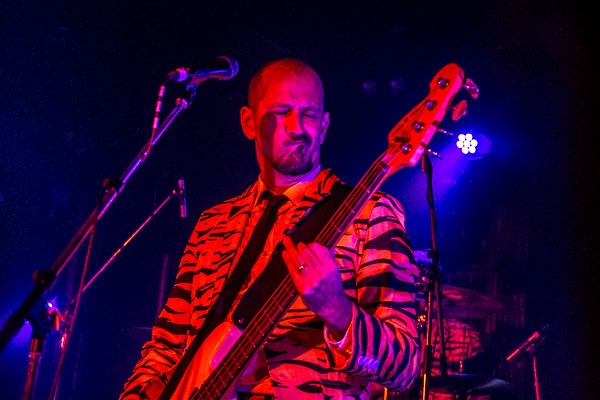 Regurgitator - image © Tamaryn Bremner
A band who have never been shy in making statements, they touched on politics throughout the show, but their greatest statement has been their decision to donate a portion of each ticket sold throughout this tour to Melbourne-based charity, the Asylum Seeker Resource Centre.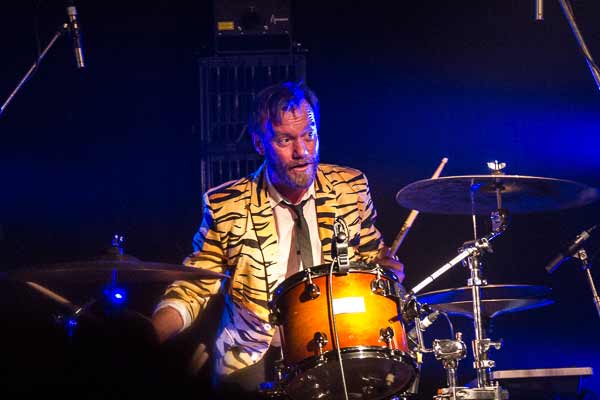 Regurgitator - image © Tamaryn Bremner
The night itself was an all-Brisbane affair with firstly Pleasure Symbols and then Jeremy Neale providing the support. Musically, both acts showcased the vast spectrum of acts operating in this city with female duo Pleasure Symbols (Phoebe Paradise, Jasmine Dunn) showing full commitment to a downtempo, droning synth, Joy Division-inspired vibe; while Neale had a number of friends in tow to play some indie pop.
Neale, who has been cultivating a growing fan base with his toe-tapping tunes, showed an ease on stage and played a number of his better known tracks including 'In Stranger Times' and a cracking cover of 'Errol'.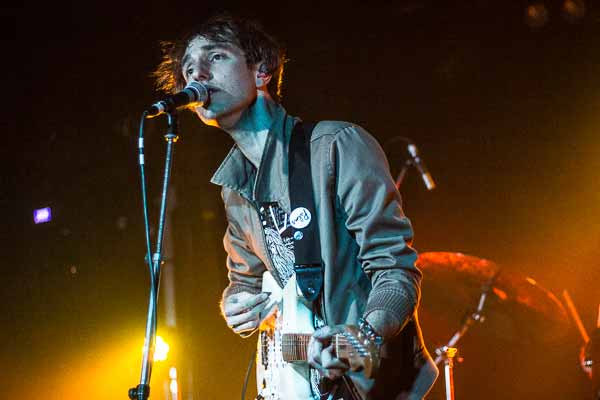 Jeremy Neale - image © Tamaryn Bremner
Known for their sense of fun on stage and their fusion of genres (rock, hip hop, electronica, pop) on their records; the latter part of the performance from Regurgitator showcased a heavier sound. A quick costume change out of their suits into matching denim vests was undertaken before the band returned to the stage to hurl themselves into 'Track 1', 'Kung Foo Sing', 'Born Dumb' and 'I Want to Be A Nudist'.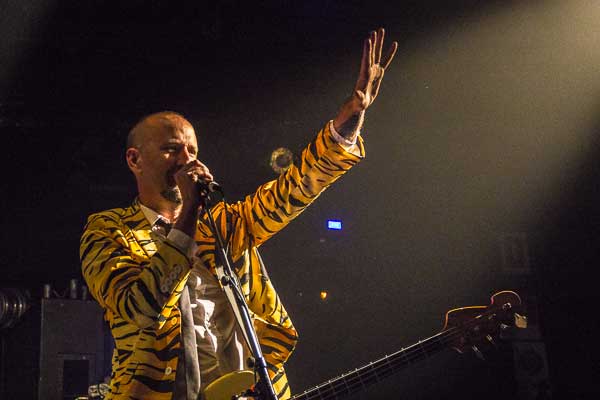 Regurgitator - image © Tamaryn Bremner
Happily, their energy did not waver as they powered through a hit-laden set list that pleased the fans, something which is set to continue through the remainder of their tour.
Click here for photos.
Regurgitator Shows
Fri 21 Oct - The Metro (Sydney)
Sat 22 Oct - UC Refectory (Canberra)
Thu 3 Nov - Howler (Melbourne)Fri 4 Nov - The Prince Of Wales (Melbourne)
Sat 5 Nov - The Gov (Adelaide)
Sat 26 Nov - Live At The Orchard (Perth)