Perfect Stranger is a stage name for Israeli electronic musician Yuli Fershtat. His Facebook page states: "Enjoy the music and what's in between!" LOUD are one of the most interesting groups in the world trance scene today.
Kobi Toledano and Eitan Reiter have been producing high quality and original electronic music together since 2006, blending old-school roots with cutting-edge fresh new sounds. Refusing to adhere to fashions and formulas they have been paving their own road in the world of electronic music with their own special musical say.
Both LOUD and Perfect Stranger are playing
Rainbow Serpent
later this month. So we thought it 'perfect' to ask them to interview each other.
Kobi interviews Yuli
What is the current track that you're working on?
I am finishing a track called 'Manifestation'. I am really excited because of two reasons – it's the first solo (not a collaboration or a remix) track I have done for almost three years or even more. Secondly, this track has a sample about manifesting your future that I really feeling connected to. And it sounds really, really nice. I am starting another new track today though, and it's a remix of 'Lose Senses' – sound familiar to you Kobi?
Tell us the most crazy memory/ moment you'e had during one of your many Australia tours?

I've had quite a few crazy moments down under, so the choice is tough – I think I'll go for the one that can be told in minimum of words. In the hysterical festival that was renamed to be MUDtreya back in 2010 (Maitreya Festival) there was a seriously bad storm on site. It was so cold and severe the music had to be stopped completely and all the electricity turned off. That didn't, by all means, stop one very fit looking chick from walking in a very decisive way (as if she knew where she was aiming to get) through a knee high mud river, in nothing but a golden bikini. Priceless!
Who is, in your opinion, the new trance act that you think we should be listening to?

Sorry but I don't really follow new acts on the scene. There was one that blasted me away at Foreverland Festival in California. A guy from Spain, performing his own creations really, really well with an awesome energy. It was my best experience dancing at that festival. Hypnoise is his name and I think he will rock many dancefloors on the summer European festival season like S.U.N Festival. Check him out.
What are your plans for 2015?

Sit on my butt and make genuine Perfectly Strange music on my own!
New, recommended plug-in?
I highly recommend all the plugins from Vengeance Sound stables. You have to buy them as there are no unofficial versions out there. They are simply fabulous. Some of them aren't new but there are so many, but the best are very fresh including 'Glitch Bitch' and 'Tape Stop'.
Eitan Interviews Yuli
What was the last non-electronic album that you enjoyed and why? (It can be a new one or an old one that u have just brought back to life by listening to again)

I am currently listening to some '90s Israeli rock and pop that I used to like a lot and found that I LOVE it still today (specifically Natasha's Friends and Ehud Banai). I also blasted Trentemøller's 'The Last Resort' because today is a special day - this evening we gonna go and groove to Trentemøller live in the Fillmore Theatre San Francisco. This is the same venue that hosted The New Yardbirds at the end of the '60s (yet to become Led Zeppelin) – I am drooling!
You recently left Israel for the Bay Area (San Francisco). Has it affected the way you write music or the kind of music you write?

I relocated my HQ to Berkeley almost 1.5 years ago. My life literally had changed from one side to the other. The only 'same' thing that remained in my life is the dog, I guess. Moving a music studio is a complicated thing. Moving it to a totally new place with new atmosphere and energy makes it even more complicate. I think my 'year off' is over and I am back to work more or less at full throttle (life here is more laidback so I needed time to adjust). The really new thing for me is that 90 percent of my mixing is now done with headphones. I wouldn't have believed the results I am getting with them if anyone told me years ago that I would have to trade my studio for headphones.
You have quite a big name as a DJ in Australia. Why do you think they connect to your music over there? Do you feel the same about the crowds there?

It's not a secret the land of Oz is definitely my favourite place to perform and party, and has been for 20 years - before I was writing any electronic music at all. It's just a very accepting and embracing crowd. They come to hear music, have a dance, a laugh and take the piss out of each other and all that in a super-friendly way. My sets are normally quite unexpected and change through a few genres when I play there and it adds to the fun I guess. In any case, I am super happy to be part of that Aussie fun every, single time.
Do you still find yourself dancing?

Not when you play, that is. Yes but unfortunately this has become quite rare and last year it was an effort only extended to a couple of festivals. I am, however, expecting to wiggle my tail quite a lot at Rainbow Serpent Festival.
Favourite PS track? Is there one that is really close to your heart?

I can't really. It's not up to me. I love and hate them all too much.
Yuli interviews LOUD
Kobi and Eitan, how did it all start for you and who was the artist that suggested you make chillout music back in the day?
Kobi: The LOUD project started somewhere in mid 2005. We met through a mutual friend (Oren Mizrahi) who knew us and thought that the combination will be a good fit.
Eitan: It started when we met through a mutual friend in 2005 - Rainbow Serpent will celebrate ten years for LOUD. And I think, somehow, that you remember Yuli when I gave you a CD of our first Loud tracks at the third Empire party in the south of Israel. The CD also had some of my early chillout tracks that appeared later in my first Eitan Reiter album, 'Aleph Zero'. I think it was the track 'Coffee' that grabbed you - you told me chill music is the way to go. Then again, Loud were only just starting to produce trance together so hopefully we have gotten a bit better over the years.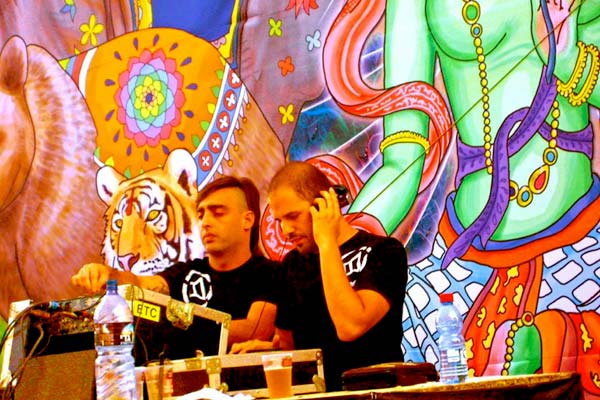 Image © Facebook
Perfect Stranger is one-man band, so I have always wondered how easy is it to keep up with two or more people? You also live in different parts of Israel – how do you make it happen?

Eitan: It's not hard, and can also be very helpful - you get inspired from working together. We have two studios, so it's always refreshing as well.
Kobi: Actually it's not that complicated. Eitan lives in Herzliya and I live around Haifa (one-hour ride). We talk every weekend and make plans for the next week. We've got two studios, so it is more refreshing and inspiring.
Share with us the most bizarre experience you've had at a festival over your many years of activity.

Eitan: To many bizarre events we have had! It's hard to think of only one. I always have trouble with this type of question after so long in this industry - nothing seems bizarre anymore, and thank god for that btw!
Kobi: In the trance scene nothing is bizarre...
Do you often dream about the tracks before making them?

Eitan: Not really. Sometimes I daydream about tracks or get ideas while in the shower or whatever but at night - very rarely.
Kobi: I don't remember my dreams. As you know, there is always the common musician's recurring dream where you are at a party playing and you should play the next track, but somehow things do not work out the way you planned, then the pressure rises and there is panic, but in the end it all works out and everyone keeps dancing.
Rainbow Serpent is almost here. You've been there before - tell us what makes this festival so outstanding?

Kobi: The only time Eitan played at Rainbow I played somewhere in Europe, but I have heard so much about this festival from so many people - I can't wait.
Eitan: I have been to one Rainbow. The vibe was amazing and I was dancing most of the time. It's one of the events for me (like Burning Man and a few others) that doesn't feel like I'm at work. I'm there as a DJ but can be one of the crowd. Thanks to that I experienced some crazy sets there - I remember DJ Koze especially well. And the Rainbow crowd was just amazing; so much love everywhere.
When you perform, Eitan moves his right hand clockwise and anti clockwise parallel to the ground. Kobi stands sideways and moves his right hand up and down as if he is dribbling a basketball. Do you do this on purpose?

Eitan: LOL! I guess it's the whole representation of our music with the kick, bass and straight stuff that's supposed to gets bones dancing. It's uplifting and the round-and-round sounds are supposed to make you confused and mad. The balance is important or otherwise it gets to cheesy hahaha.
Kobi: :) Hahahahaaaa…….I have no idea what you're talking about...
Some bird whispered in my ear there is an album in the making and it's actually almost done. Please tell us more.

Eitan: Most of the album is a surprise. We think it's maybe our best one yet (it's our fifth). It was very hard to figure out how we would evolve our sound after the fourth album 'No More X', which we were super happy with. But nature finds a way and it just happened. That's the great thing about being a musician - always discovering new places to go with our creativity. Oh yeah, and the first track of the new album is about Australia!
Kobi: There is still a LOT of work to go and we are pretty happy with what we have up until now. We can promise people some truly deep tribal adventures to come.
A few words to your numerous fans down under.

Eitan: Can't wait!
Kobi: See you soon mates!
Perfect Stranger and LOUD play Rainbow Serpent Festival, which takes place in Lexton on 23-26 January. Perfect Stranger also heads north to play the tenth anniversary Earth Frequency Festival at Ivory's Rock, south east Queensland on 13-16 February.