Hot dang! Adelaide's Deep South Festival is right around the corner.
As the event heads into its fifth year, they welcome back the husband-and-wife darlings of Americana-folk, Hat Fitz & Cara. "We love the Deep South Festival," Irish-born vocalist and percussionist Cara Robinson says.
"This will be our third time playing Deep South and it's just fantastic because everybody there is totally on board with the festival atmosphere, and it's nice in the sense that when you get there everybody is together, everything is placed pretty close to each other so there's a festival vibe throughout.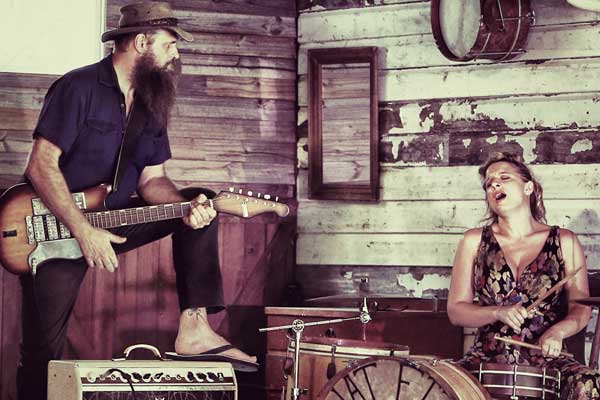 "You get to see the musicians, hang out with the artists and there's a real family vibe. It's really beautiful and the people who run it are great; they're very relaxed but very professional. I love the way you can get so close and you can see every band without worrying if you've missed something. It's lovely and we're looking forward to coming back."
Clearly excited for their pilgrimage down south, the Queensland couple are also celebrating the release of their latest album, 'After The Rain'.
Cara says the new album is the closest she and Hat have come to defining their sound, which lies somewhere in a sun-drenched field of Americana, folk, blues, gospel, soul and alt. country. "We're pleased with the songs and we're pleased with the engineering and production, which was done by Govinda Doyle who's behind Angus & Julia Stone's number one, 'Big Jet Plane'. It was a long, lengthy process, because we stared in January and went in to record it and it's been really long going.
"What we do together, the overall sound is guitar, drums and vocals, and that's generally it; it's quite a raw sound. I guess you could say we've brought our individual lives of music together and travelled together and found our sound. We're still finding our sound I guess, but we're getting closer. You could say that this album is the closest we've gotten to what our sound is."
Outside of Australia, Hat Fitz & Cara have discovered considerable success travelling the folk music festival circuits in Canada.
They recently returned from their most recent Canadian jaunt in August as well as a tour of Europe. "We love coming back to Canada," she says. "They've really opened their arms to us and we just love the people. Our audiences there are growing from strength to strength and they're really supportive, kind of like Australia."
In addition to Deep South Festival, Hat Fitz & Cara will embark on a national tour for 'After The Rain', which will mostly feature songs from the new record, as well as some old tunes, all performed with their trademark raucous, foot-stomping, hootenanny style. "Because the album is released, there's going to be a lot of new material, some old stuff but the majority of what we're doing is going to be new.
"So Deep South is going to be the launch for the album, playing it live, so we're looking forward to that. There's a few songs on there we've kept that have a more stomping vibe to them, then there's a few songs that draw you in lyrically, hopefully, in the sense you listen and it takes you away for a moment. That's what it's about."
Hat Fitz & Cara play Deep South Festival at The Gov (Adelaide) 26 November; they also headed to the 2016/ 17 Woodford Folk Festival.Click here to view the duo's string of stand-a-lone shows.