This month Chakra Efendi and his band will embark on their first east-coast tour of Australia.
The 18-year old from the Sunshine Coast has featured on Triple J with his latest single 'Don't Go', and he is planning to move from Nambour to Brisbane when he begins his music degree at the Queensland Conservatorium.
It was only three years ago that Chakra and his lead guitarist, Jack Higgins, started a surf-punk band "back when that was a thing," Chakra says.
It was originally an attempt to build strength back in his wrist after he broke it in a skateboarding injury. Even as a younger kid, Chakra has always loved music. "Ever since I was about nine or ten I knew that I wanted to be a musician," Chakra says.
"I first started off producing, making instrumentals… I never thought that I'd get into singing, so it's really weird now that I'm relying more on my voice rather than my production ability."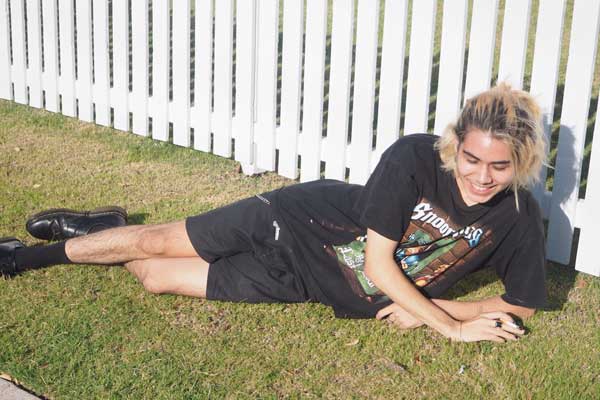 In case you were wondering, yes, his actual name is Chakra and it is not the name of the band. "My Dad is Indonesian and my Mum has always been fairly spiritual," Chakra says.
"She was really into the aligning of chakras when I was born, so that's kind of how that came about."
After years of recording songs in his bedroom on his laptop, Chakra is looking forward to being able to use the recording studio at the Conservatorium. "I'm hoping that my music career kicks off before I finish it, so I can just drop out and do music, but who knows what's going to happen in three years," he says.
"I'm in it for the connections that I'll make while I'm doing the degree… I'm sick of recording in my bedroom."
Chakra's single 'Don't Go' was released last year and channels indie-rock vibes with soft-guitar rifts and an old-school meets new-age sound. You should also know he is completely self taught and has never had a singing lesson. "It's probably the only song [that I've written] that people actually like," Chakra says.
"When I first started recording in my room I didn't actually know how to sing, so I've only just started to learn and get better at it."
Chakra is really excited to be going on his first interstate tour. "I'm really excited to be breaking into New South Wales because I've never played anywhere other than Queensland," Chakra says.
"We have a fair few friends down in Sydney now who come along to our shows, so hopefully I'll get my name out there more and release another EP and see where it goes from there."
Chakra Efendi and his band play The Bearded Lady (Brisbane) 16 February.