Bandintexas are not a band from Texas, nor are they banned from travelling there.
They are a Sydney quartet reigniting the glory of '90s all-girl rock groups like Hole. Blasting onto the scene with their debut, 'The ABCD-EP' in 2013, the ladies return this year with a full-length album. "The plan will be [to release it by the] end of August and start of September," vocalist Kelly Jean says.
"We want to escape the cold months and have some music coming out when the sun is starting to come out again, so to speak, and we'll have some film clips before then as well."
"We realise our name is stupid but it's too late to change it."
Largely defying categorisation, Bandintexas walk a line somewhere between rock, punk and pop. Kelly says the upcoming album constitutes a snapshot of the band's growth and development since their inception. "We had always been jamming and writing all the time," she says.
"I do think the sound of the band naturally starts to change. These songs have actually been recorded over a period of time; some of these songs were recorded two years ago, some of them were recorded more recently, so there's a bit of a gap between some songs on the album and some of the newer stuff that will go on there.
"Initially what I think we were writing was different to the EP in that it was this pop-energetic kind of music and we felt like our sound had changed a lot. More recently a couple of the songs that are going to be on there are a little bit darker in their themes... I think the album will be a good mix of some upbeat, colourful pop sounds which the EP wasn't."
The upcoming album is currently untitled; by Kelly's own admission, creating band names and song titles is one of Bandintexas' weaker points. "Our name gets mixed up all the time," she says, "so there was the potential idea of having it as 'Bandintexas', then 'Bannedintexas' because we get called that all the time so we thought maybe that would be a smart idea so people can find it.
"There's been a few ideas going around [for the album title], but I feel like it's hard to agree; it's a bit like a band name. There were a few suggestions of a silly name, because our last EP's name was silly: 'The ABCD-EP'; there was talk of calling this one the 'LMNOP'. Turns out we thought we were being original at the time, but it's been done."
Which brings us to the centre of the shrubbery maze: why are they called Bandintexas? There's a funny story about that, as Kelly kindly explains. "We couldn't agree on a name and when we finally agreed on one, a band in Texas sent us some threatening e-mails saying: 'this is our name, we're going to sue you, don't ever try coming to America'.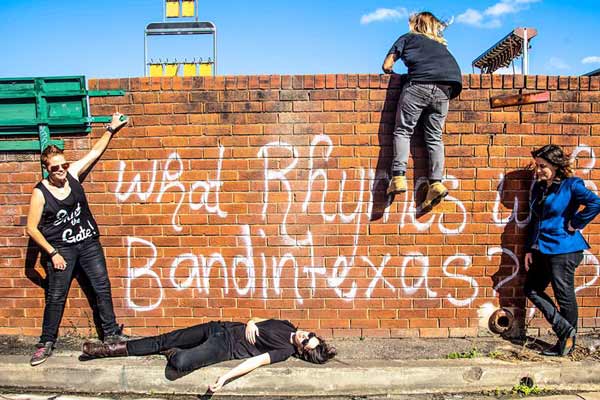 "They were from Texas, so I was like 'ah fuck, let's just call ourselves Shitty Little Band In Texas, because it had taken so long to get to the name and then it stuck. Obviously we didn't keep the 'shitty little' part... We realise our name is stupid but it's too late to change it."
Bandintexas hit the stage at Dicey Riley's in Wollongong later this month to show off some new material alongside White Knuckle Fever and Hey Lady. Kelly says that night they'll also be introducing a revised line-up for the band they plan to stick with for the foreseeable future. "We've had a couple of changes in our band, which is probably what's slowed a few things down for us, so there's going to be a couple of changes on stage for that night.
"They'll probably be permanent I'd say, just with people moving away and relationships over time. I don't think we'll sound any different but it will be a new experience for us, so we're really excited."
Bandintexas play Dicey Riley's (Wollongong) 20 May.