Crushed velvet, denim jackets and blunt bangs, the eclectic mix gathered at Sydney's Enmore Theatre last night (1 May) was testimony to the eclectic and inclusive nature of the night's headliners, Portugal. The Man.
By breaking into the mainstream with last year's 'Woodstock' record, though their eight studio albums young, Portugal. The Man can enjoy a more mainstream and eclectic audience. And that's a word that was passed between band and crowd all night – 'enjoy'.
Before Alaska's premier indie-rockers hit the stage, however, they had invited Uncle Allen Madden, a Gadigal man from the Eora nation, to provide a Welcome to Country, a gesture that provided additional weight to the band's reasons for pulling out from their scheduled appearance on 'Sunrise' amid their issues with the programme's recent statements about Indigenous youth.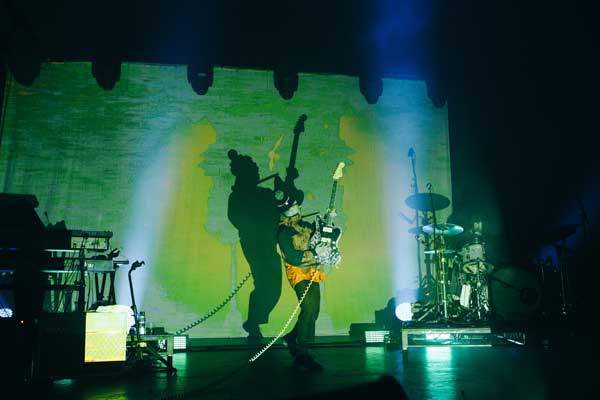 Portugal. The Man - image © Pat O'Hara
A beautiful gesture to pay homage to the traditional custodians of the land upon which the venue sits. The set that followed proved Portugal. The Man can be both political and powerful on and off stage with no concern whatsoever.
Click here to read our recent interview with Portugal. The Man.
For a newcomer to the stylings of Portugal. The Man, the unexpected opening covers of Metallica's 'For Whom The Bell Tolls' and Pink Floyd's 'Another Brick In The Wall Part 2' respectively seemed an odd choice given the usual psychedelic sounds of the group, but their execution of the two classics was brilliant and a pleasant surprise to hear.
[Ed's note: the band open most of their shows with Metallica's 'For Whom The Bell Tolls'.]


Portugal. The Man are a band that play with an easy fluidity and take to the stage comfortable in their positions and with each other. That unity and tightness of sound bounced back into an audience who were equally as unified in their appreciation and equally as dynamic in their grateful and encouraging cries.
Portugal. The Man - image © Pat O'Hara
Portugal. The Man enjoyed instant fame after the release of their single 'Feel It Still', the infectious lyrics cementing a placeholder for the band in indie and pop, and as the band broke into that hit song, not a body wasn't shuffling and grooving in the venue, sweaty and satisfied with the harmonic offerings of the evening.
It was a night filled with an equal blend of classic covers, industrious instrumentals, shimmying jams and unique material.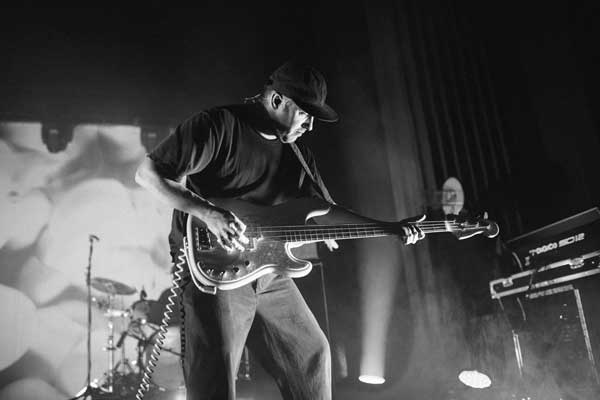 Portugal. The Man - imahe © Pat O'Hara
A three-song encore of 'Noise Pollution', 'Hip Hop Kids' and 'Holy Roller (Hallelujah)' was in no way self-indulgent on their part, but an opportunity for some profound thanks to the audience from vocalist and bassist Zachary Carothers, closing a breathtaking show that was an audio assault and a visual sensation, and generated political power.
Click here for more photos from the show.