Lining up in the rain isn't a fun idea to most, although knowing you'll get to witness a sold-out show (21 August) for San Diego's Pierce The Veil... you'd consider the rain a price to pay.
Storm The Sky provide local support for the show, opening the stage with flowers surrounding the mic stands; quite similar to the leafy stem that crawl around the stage equipment of Byron Bay's In Hearts Wake. Will's fashion sense is reminiscent of someone along Brunswick Street, but that didn't stop him belting out the vocals for the entire set! Lyrically, their new album 'Sin Will Find You' hits home with a personal feel. Their new sound gave off a slightly heavier vibe than The 1975.
Click here for more photos.
Loyal fans were seen emotionally throwing the words back to Storm The Sky when they played some of their older songs, although it was evident the change in band line-up when Daniel left has affected how the screaming vocals are sung live. Regardless of that, they do bring our local talent justice and provide a quality set for the night.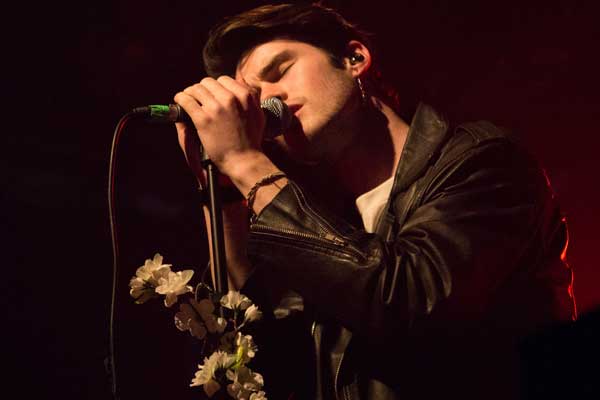 Storm The Sky - image © MPH Photography
Beartooth came out all guns blazing, gesturing everyone to get moving; they start with a fan favourite, 'The Lines', which got a circle pit moving. Switching it up to 11, they smash out 'Aggressive' from their new album, much to the delight of the venue flooded with happy punters.
With a flurry of hands placed in the air by fans who'd hadn't seen Beartooth before tonight, Caleb brought the heavy to them with another new track 'Hated'. Generating the crowd into a giant circle pit, Beartooth showed that they're are the current champions of metalcore.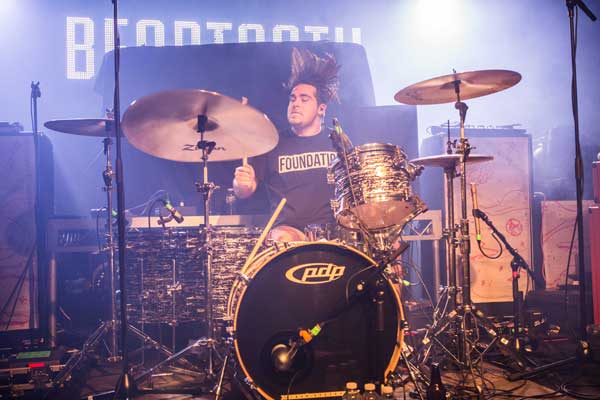 Beartooth - image MPH Photography
Caleb Shomo had full command of tonight's audience and as seen by the movement they generated, a lot of fans of Beartooth were present in the building. 'In Between' was a great choice for the crowd to participate in singing in unity back to Beartooth, nothing could fault the set tonight and it was evident through their performance that they'll be around for a very long time. Finishing on 'Bodybag', tonight had a high-standard set and it wasn't going to drop with the next two bands either.
Silverstein are a band that have been around a fair while, yet their sound still sounds fresh and exhilarating. Once on stage they brought the thunder down on 170 Russell, melting faces with the heavy guitar riffs. The crowd showed how much they appreciate Silverstein, while keeping themselves moving in the mosh pit.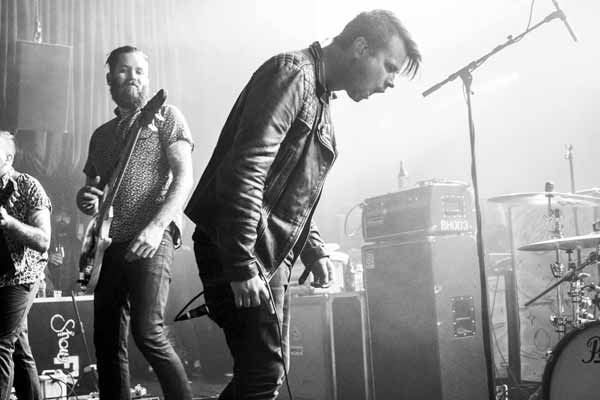 Silverstein - image © MPH Photography
During the opening song Caleb of Beartooth came out for guest vocals, bringing his heavy, signature scream to the stage. Cracking jokes calling Beartooth 'Silvertooth' they got a good laugh from 170 Russell. Turning it up a gear with 'Massachusetts' Silverstein show they don't give anything but 100 per cent in all their performances. The energy on stage was nothing short of insane as they burst through the heavy riffs and breakdowns.
Before Pierce The Veil started I noticed they'd sold out of the majority of their merchandise. A sign replacing where the merchandise was read: 'Sorry we are sold out of so many designs. Australia really loves PTV! We will have more tomorrow.' This sold-out show was proving to be an action-packed bill of excitement and energetic pop-hardcore.
Pierce The Veil - image © MPH Photography
Opening a box with a glow of light, Pierce The Veil entered the stage to cheers and screams. That was soon drowned out by the crisp, guitar tunes of their opening track 'Dive In'. Confetti lit the room up as their light show bounced off the continuously moving crowd.
Pierce The Veil - image © MPH Photography
With green and purple lights, they ripped into another fan favourite and eclipsed their crowd with happiness. Smiles on their faces they brought the energy of an arena show to the sold out 170 Russell. Noting that it had been years since they'd been in Australia, Pierce The Veil let the audience know they were really happy to be here tonight and that the next song, 'The Divine Zero', has a positive message behind it. "Follow your dreams and don't wait for it to happen, chase it!"
Bringing a girl on stage to sing to, Vic Fuentes started singing 'Bulletproof Love' and the crowd joined in, singing to the lucky fan on stage named Eliza. Changing the mood a bit, Pierce The Veil mentioned their next song, 'Kissing In Cars', had never meant to be released. It was meant for a wedding of a good friend of theirs. Bringing the acoustic guitars and tambourine in, they serenaded the crowd with the acoustic medley.
Pierce The Veil - image © MPH Photography
'Bulls In The Bronx' went off with a bang, summoning crowd surfers from all corners of the globe. One in particular jumped from someone's shoulders. Finishing with the crowd favourite 'King For A Day' (minus Kellin Quinn from Sleeping With Sirens), united the audience.
Once more, Pierce The Veil have shown our Australian audiences how much they love touring down here with not one, not two but three Melbourne shows! A stacked line-up has made it a night to remember.
Click here for more photos.