A show melding classic house music with a live orchestra is akin to two musical worlds colliding. But with British tastemaker DJ Pete Tong at the helm, it's a gamble that has paid off.
What started in 2015 as a one-off show at London's Royal Albert Hall as part of the BBC's famed Proms festival has since spawned a UK number one album, 'Classic House', a string of sold-out UK shows, and exposed a younger generation both to the joys of orchestral arrangement and to timeless tunes that have shaped the modern, electronica scene.
Flanked by British conductor Jules Buckley and the 65-piece Heritage Orchestra, BBC Radio 1 DJ Tong will visit Sydney and Melbourne in November for two massive shows; an ode to the sounds of Ibiza.
Derrick May's 'Strings Of Life', the late Robert Miles' 'Children' and Fatboy Slim's 'Right Here, Right Now' all feature, as the champion of underground dance music re-imagines tunes synonymous with the White Isle, live on stage.
"My biggest motivation for doing this project has been to prove how great these tunes were and how much they mean to people," Pete explains.
"It's been a major learning curve; firstly, you have to pick the right tunes. I focused on classic Ibiza tracks that had attempted to create orchestral parts and string arrangements when they were made back in the day.
"I'm not sure if Frankie Knuckles ever imagined a 65-piece orchestra performing 'Your Love' when he produced it, but I'm so happy I have been able to make that a reality. Jamie Principle said to me he would be super proud."
Working with the progressive Heritage Orchestra – which has previously worked with the likes of Aphex Twin and The National – is comparable to driving a formula one car, Pete explains. "It's super charged DJing… except of course I'm not playing the tracks.
"The Orchestra recreates every part of every track and I in effect play along with them and add to that. I can signal Jules to loop sections of the tracks and create special breakdowns."
What's been reaffirming for Pete – whose Essential Mix On Radio 1 remains the standard for proper, new electronic music – is that while many people might place classical composition in the 'oldies' basket, crowds at shows have suggested otherwise. "The first wave was dominated by those that used to go out when they were younger but have been slowed down by work, life and starting families; but never stopped loving the music.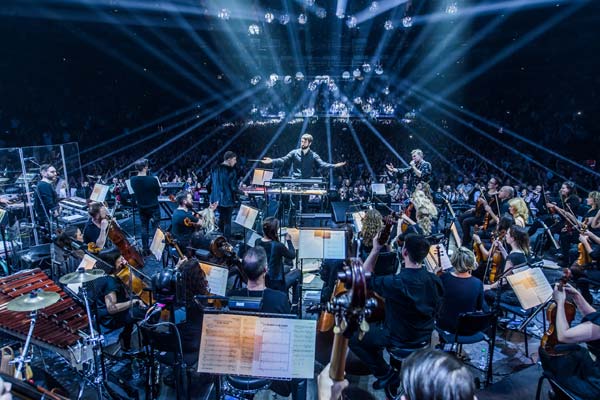 British conductor Jules Buckley and the Heritage Orchestra
"I think the success of the shows and the album has now started to attract a younger audience that are seeking something fresh."
A long-time visitor to Ibiza, Pete is current enjoying a new summer residency, beachside at Blue Marlin; he believes the island remains 'unique' despite growing crowds and commercialisation. "It's always evolving and changing," he says.
"It still has a big influence on the scene globally. [Ibiza venue] Hi has obviously shaken things up a bit and provided something new; they have many nights doing well there including Black Coffee's new Saturday and Eric Prydz on Thursdays, [while] DC10 is doing well and Solomun is smashing it."

Pete's move to the US a few years back provided him a unique perspective on the bulging EDM bubble, and while he believes the US scene is now in transition he notes its underlying strength. "My focus has always been trawling the underground for the next big thing and putting the spotlight on it," he says.
"There are many new acts moving straight to the live arena, so it's an interesting time from an A&R perspective. I think Odesza and [Australia's] Rufus / Rufus Du Sol will have big years in the US market."
Pete Tong Shows
Wed 1 Nov - Qudos Bank Arena (Sydney)Thu 3 Nov - Sidney Myer Music Bowl (Melbourne)