Arriving to Qudos Bank Arena on Friday night (9 February), it was hard to deny the pulling power of Paramore.
There was a sea of black t-shirts and fiery red hair stretching as far as you could see. Even with the threat of rain, Sydney fans queued for hours, hoping to get that coveted barrier position; you've really got to admire their commitment.
The night kicked off with New York band Bleachers taking to the stage and while it was very clear who the crowd were there for, there really wouldn't have been a more appropriate support band for the tour.
Click here for more photos from the Sydney show.
Opening with their single 'Shadows', Bleachers delivered a bouncy, pop-rock laden set that seemed to drip with emotion and teenage dreams.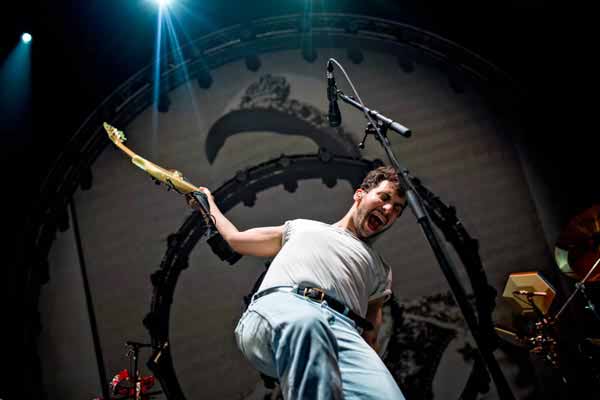 Bleachers - image © Erika Owens
With two drummers, a saxophonist and a number of guitarists, the energy on stage was intoxicating; it really was a shame that the majority of the crowd were too focused on Hayley Williams' Twitter feed to see what was unfolding right in front of them.
In an attempt to get the audience more involved, lead singer Jack Antonoff prompted the crowd to get on each other's shoulders, to really give the show a 'festival vibe'. The showmanship continued as Antonoff dragged the saxophonist onto mid-stage and waged a battle of the riffs, resulting in a five minute back and forth between the two performers.
While it was great to see brass instruments getting the recognition they deserve, it became quite tiresome and seemed to distract from the overall energy of the set. Maybe next time they'll spend less time on their 'battle of the bands' and more on polishing their production and really perfecting that Bruce Springsteen look.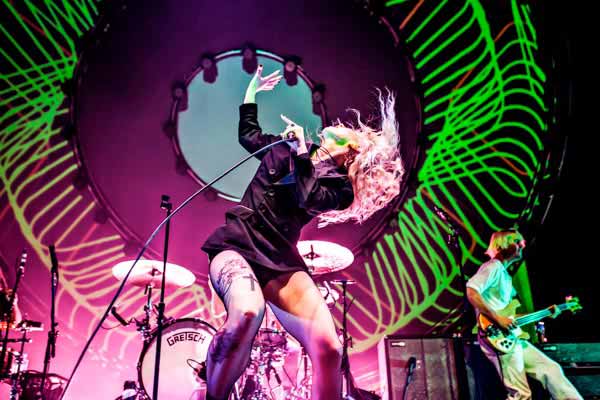 Paramore - image © Erika Owens
When the time came for Paramore to emerge, the stadium was practically heaving with excitement and pent up angst. Bursting out to the sounds of their fifth album's first single, 'Hard Times', Paramore reminded their fans they're so much more than their early 2000s emo roots.
With a mixture of old favourite and fresh singles, fans were thrown between a number of albums, showcasing their progression as a band.
For anyone who has never witnessed the insatiable energy of frontwoman Hayley Williams before, it really is a spectacle. Bounding across the stage, she seemed to feed on the crowd's energy captivating the attention of even the most reluctant boyfriends in the audience.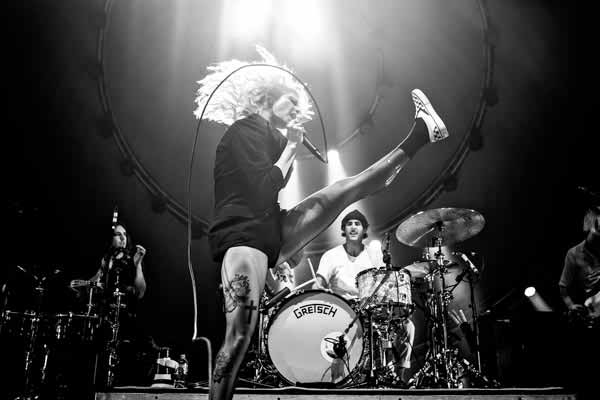 Paramore - image © Erika Owens
It was hard to not be captivated by Williams; her pageantry and sheer talent made for a show that united die-hard fans and fresh faces in the heaving moshpit.
While 'After Laughter' presented a more optimistic outlook for Paramore, they seem to take a swipe at the intensity of their super fans through the track 'Idle Worship'. Williams sings of the pressures of being put on a pedestal and spent the second half of the track laying across centre stage as frantic dialogue continued to play out the speakers.
While the message seemed to be lost on some of their screaming fans, the track truly was a spectacle in itself.
Paramore's set read like a love letter to old flames and future flings. Upbeat but cynical, hopeful yet haunted; it was hard to look past such an emotionally intricate set.
Their latest album, 'After Laughter', seems to highlight the bittersweet nature of our relationships and how we interact with each other. It's tracks like 'Fake Happy' that the audience can really begin to see how Paramore's sound has progressed into something more genuine and reflective of their growth as a band.