After an extensive six-month tour around Japan, the USA and Europe, Nattali Rize will once again grace Australian shores to perform at the Island Vibe Festival in October.
Known for her work fronting urban roots band Blue King Brown, the now internationally-based artist launched into the solo-music scene in 2015, after releasing a number of heavy-hitting, reggae-influenced tracks. Having toured alongside the likes of SOJA, Michael Franti & Spearhead, Katchafire and Julian Marley, Nattali has been exceptionally received by audiences around the world, using music to express her strong social-activistic opinions.
You'll be performing at the Island Vibe Festival on Stradbroke Island late October. Are you excited about the gig?
Yes we are. Island Vibe is one of the only predominantly reggae festivals in the entire country. Trust me, coming from a tour in various countries around the world where there are endless reggae festivals, it's important to me to be able to be present, give strength, and energy to those few shows that embrace, promote and amplify reggae music and culture in Australia.
Island Vibe advocates multiculturalism, minimising our environmental footprint, and soul and reggae music. Any thoughts here?
It only makes sense to us as evolving human beings, to be ever shifting our actions in line with our awareness and consciousness especially when it comes to being involved in activities and festivals that create a snapshot environment of harmony, unity and oneness. Festivals can be powerful in creating a taste of what life could be like everyday of the year, in terms of celebration of art, community, music and creativity. Human beings are creative beings, so to be locked into work or systems that don't support or enhance your innate creativity, is to be kept from your full potential and the full potential of what this life experience could – and should – be like.
You've been touring constantly over the past six months, both internationally and nationally. What are the highlights so far?
When I think about it, I just feel warmed. The shows from Australia to Japan, USA and Europe have all been upful [Jamacian slang] and inspiring. We have shared energy with so many people from across many different countries, but at every single show we knew and we could see that we are all one family. Man-made borders may separate us physically, but they can never separate us spiritually. Performing over the past few months has cemented that even more for me… I feel at home among our global family, so for me the highlights have been simply those free and pure moments of conscious connection with our audience both on stage and walking in the crowd. Music is a healer. Music is the unifier.
How hard did you work to develop an international fan base?
Me and my five-piece band are on a constant wave of building and growing our mission and movement towards full freedom, through music. Our works are constant because at this time there is only one focus, those of us who incarnated to create frequencies for shifting paradigms are here to work hard and fast. There is rest, but it is surrounded by preparations for the next missions… There is now. That's what we have, that's what we're working with. Now.
You're a known social activist. What environmental and human rights issues are you most passionate about?
I'm passionate about real freedom, full freedom. The internal human evolution is the real revolution. There are many interconnected issues that we focus on throughout the road to higher consciousness, where we finally start seeing each other for what we truly are, light and energy. I'm currently running a collaborative global fundraiser for a West Papuan collective called Rize Of The Morning Star, who use music, multimedia and the arts to raise awareness about the ongoing situation of brutality and violent oppression by Indonesian forces in West Papua.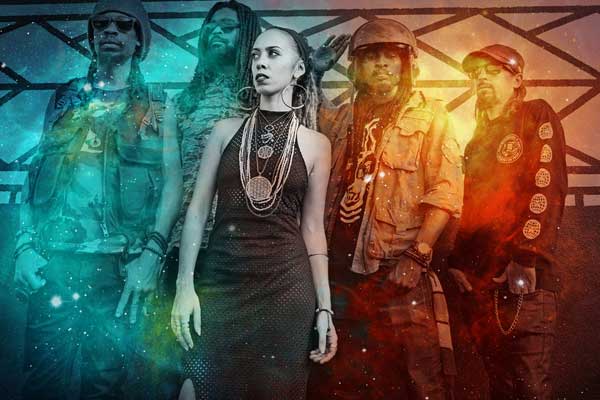 Do you believe music is an effective method of communicating these issues?
This is a fact. If music wasn't a powerful messenger, then why would musicians be targeted, and their music suppressed like what happened to The Black Brothers from West Papua? They sang songs of freedom, it inspired and empowered the people, and because of that they had to flee West Papua and seek refuge knowing that it was not safe for them to stay under Indonesian occupation. Music brings about change through energy. We can't see, but we can feel it. There is intention in it, in every beat, every strum, every lyric. And when you add that to any message of truth from the heart, it becomes an unstoppable and potent force.
Bob Marley is perhaps one of the greatest examples of that. His music is literally everywhere around the world, and it's because people feel it, even in the smallest most remote villages, Bob is there. His music continues to change the world and inspire generations of not just musicians and artists, but all people.
What's the one key message you hope to express in your music?
That we are the creators of our own destiny. That we have been enslaved in a very persistent system of illusion and deceit, but that we alone have the power to reclaim our freedom. Freedom from mental slavery, from being slaves to a monetary system and to world systems that foster and perpetuate division, fear and competition. The key message is this: the real revolution is the evolution of your consciousness, of your mind. So free your mind and you will free your life, and inevitably free us all, as we are all connected.
How has your time performing with Blue King Brown shaped the solo musician you are today?
It has been a huge part of my growth as an artist and a musician, and it still is. Blue King Brown have done some great things, and continue to be an important voice in a music scene where conscious music is a very small per cent of what gets played on radio. BKB are a band of skilled musicians, everything and anything I do after that has a very high marker to reach to be as good and as powerful as them, which is right. It has set a high standard, and because of that my shows are forced to be as strong and as globally renowned, otherwise I wouldn't be doing it.
How would you describe your sound?
New era rebel frequency.
Can fans expect any new music in the pipeline?
Yes. I'm currently finishing up my first solo album, due to release worldwide first quarter of 2017.
Plans for the future?
Taking the mission to those parts of the world we haven't visited yet, while returning to those we have visited, creating new music for ourselves and our outer-national community. Rise. Grow. Learn. Love. Repeat.
Nattli Rize performs at Island Vibe Festival at North Stradbroke Island 28-30 October.