I'll be honest Montaigne, I didn't know much about you before the gig. Although the moment you bounded on stage at The Triffid in Brisbane (5 August), band members seated neatly in tow, I instantly decided I liked you.
Her nerves were palpable, voice shaky; it was refreshing to see a professional musician waver in the face of their 9-5. 'What You Mean To Me' was a warm start to the setlist; she bounced from left to right, running her hands through her hair and over the hands of her fans in the front row.
She maintained the pace and tone with 'Someone Greater Than Me', before easing immediately into her debut album title track, 'Glorious Heights'.
Montaigne turned to the audience, addressed us like an old friend, talking us through the ins and outs of her mind while writing 'Lonely': "I wasn't sure whether I liked him, or whether I was just bored and wanted company." The crowd seemed a little stunned when she split them in two, asking one half to sing one faction of the chorus and the other to chime another.
She spoke again, rattling off her chain of thoughts without restraint: "I wrote this song when I was 17," she said, "I was dealing with unrequited love, final exams, body-image issues and fitting into society's standards of 'beauty'." 'Lie To Myself' then set the precedent for a string of heart-wrenching, sombre songs.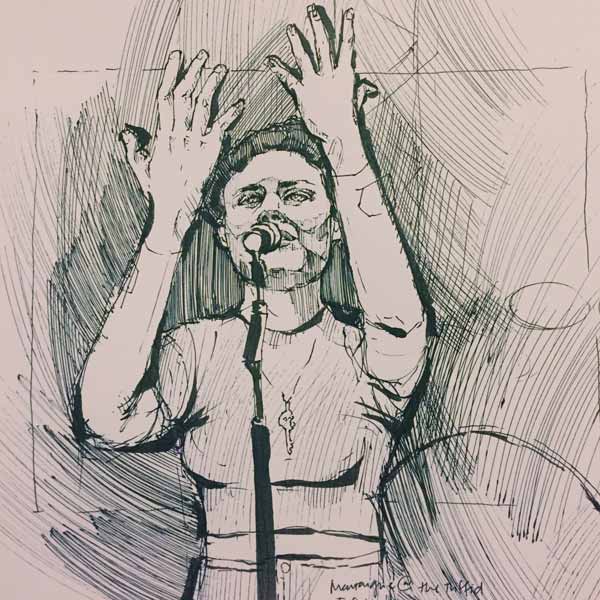 Image © @Sketchygigs
Without a word, Montaigne launched immediately into the haunting introduction of 'A Cinematic Plea For An End'; her vocals were soft and harrowing, a beautiful contrast to her usual trill. The lights dimmed entirely for 'Consolation Prize', inhibiting all senses other than sound.
The band departed for her two new tracks; she picked up the acoustic guitar and showcased 'Please You', a tune with lovely verses, fleshed out with staccato guitar strumming and gentle singing; though the chorus sounded a little forced; she played the instrument with too much vigour, belting out the lyrics.
Montaigne demonstrated her multi-instrumental talent by taking the piano next, promptly warning, "I'm not very good at it, prepare for me to be sh*t," before showcasing 'Attention', a song she described as one she "hopes will make it on her next album".
Momentum picked up with 'I Am Behind You' followed by 'Come Back To Me', Montaigne chuckling: "No more emo stuff, upbeat emo stuff now instead." Fan favourite 'Clip My Wings' was fantastic, flawlessly performed; the track achieved a high rotation on both Triple J and commercial radio and it's easy to see why. The song could be her best work yet and feels true and genuine to her character.
2017 single 'Because I Love You' made its appearance. "This song's about a guy who wanted different things to me, and now he genuinely thinks he's the messiah." She sounded eerily comparable to Marina and the Diamonds here; I couldn't help but wonder whether that was where her inspiration stemmed from.
She closed the set with words of absolute appreciation, finishing with another Marina and the Diamonds-esque track 'In The Dark', then encoring with 'Till It Kills Me'. I find it fascinating that an artist whose songs are so heavily embellished with bells, whistles, rings and tings, so evidently shines most in her lyrics. Montaigne's words are stunning, an awe-inspiring combination of honest, relatable and poetic.
After listening to the variability in her music, I wonder whether Montaigne quite knows what kind of musical direction she wants to embark on yet. The theme of each track is usually heavy, triggered by heartbreak and ache, though the words are encased in loud, bubbly, pop music.
Montaigne's musical career is only on the brink of beginning, and there's no denying that she has an exceptional amount of talent. Her vocal range is extraordinary and her stage manner (whether upbeat or solemn) is so infectious either way, you can't help but feel exactly what she's feeling.
I'll be honest Montaigne, I didn't know much about you before this gig. Now, I just want to know more.
Click here for photos from Montaigne's recent Adelaide show at Adelaide Unibar (28 July, 2017).