After creating music together for almost 30 years, dream-pop psychedelic rockers Mazzy Star embark on their maiden voyage to Australia playing exclusively at Sydney Opera House (11-13 June) as part of the Vivid Live Festival.
I'm unsure about what we did to deserve the gift of these three, exclusive performances by Mazzy Star - the first shows in a five-year hiatus for the band after an almost three-decade existence.
But I'm certain you won't hear anyone witnessing these iconic shows over the next three nights complaining about the privilege.
Added to the bill as last-minute support is the one and only Gareth Liddiard of The Drones and Tropical F#$% Storm fame.
Click here for more photos from the show.
It's been 25 years since Californian band Mazzy Star touched our hearts with their album 'So Tonight That I Might See', amid an emerging, noisy, grungy era of music.
They offered more melancholic and hypnotic tunes with a wistful tone to accompany hauntingly ethereal vocals and let's not ignore that slide guitar.
Tonight (11 June), we gracefully bear witness to the first ever Mazzy Star performance on Australian shores – a bucket list item we lost hope of ever fulfilling.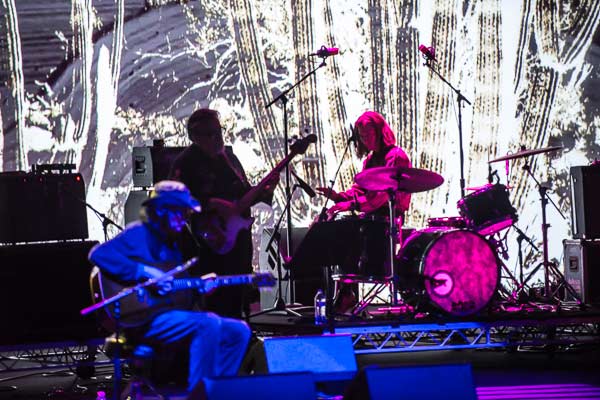 Image © Kim Rudner
The band takes to the stage under the backlit glow of backdrop projections. This is a band renowned for their modesty and singer Hope Sandoval's documented shyness and penchant for no spotlight on her, literally, preferring to play in near darkness for the entirety of the set.
The ambiance of this lighting arrangement lend itself perfectly to the rustic, background imagery of landscapes and cacti accompanying the aural satiation the audience experience for the evening.
We could have been under the desert stars watching this performance as Mazzy Star bring humility and magic in their grand debut on this world-class stage.


Along with the show's late start, this lack of lighting may well have not been to everyone's taste with somewhat of a mass exodus after the timeless 'Fade Into You' was played halfway through the set.
The band's most well-known song from the iconic break-up album of the '90s, 'So Tonight That I Might See', has graced countless soundtracks throughout the years and appeared during poignant on-screen moments and in such shows as 'Rick And Morty' and 'The O.C.'.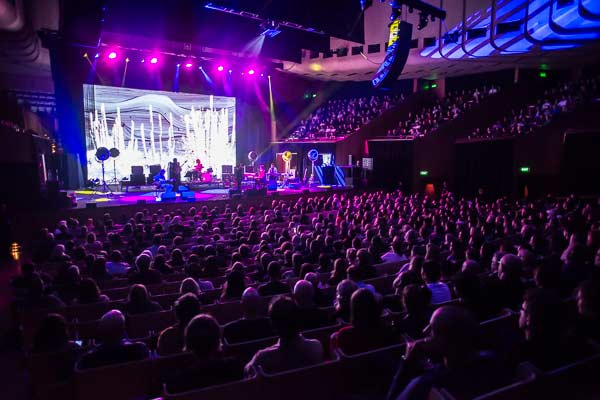 Image © Kim Rudner
The early leavers didn't plan their timing very well as the band launched into their extended, guitar-driven psychedelic title and closing track of aforementioned album, which was undoubtedly a highlight of the night and a shift of pace.
A diverse crowd was in the house tonight including touring band The Brian Jonestown Massacre (
click here to read our review of their Brisbane show last Thursday
) and 'Game Of Thrones' actor Sophie Turner with fiancé Joe Jonas.
If tonight wasn't indulgent enough, fans earlier this month were gifted the release of a new EP, 'Still', featuring the quintessential vocals and slide guitar, to coincide with these three shows to bask in until the next dance – hopefully less than 17 years wait this time for another Mazzy Star album.
Thank you Mazzy Star, so lovely to have you back.