Matt Corby brought a warm evening of soul and colour to the Brisbane Convention & Exhibition Centre on Friday night (5 April).
It was the first and only seated show of the tour, which allowed the packed crowd to truly absorb and hear the music. That's not to say it stopped a few excited, young fans from standing up in their seats and grooving along despite the disapproval of security.


The impressive sound system of the Convention Centre did justice to Corby's wild voice and the ecosystem of soulful sounds that he'd composed into 'Rainbow Valley', his most recent album.
Corby was joined on stage by a team of musicians. There were two keyboardists, bass guitarist, a guitarist, drummer, two backing singers, and a bit of flute here and there. While Corby himself was rotating through his keyboards, synths, guitars and didn't shy away from hopping on his own drum kit to spice things up.


Matt Corby - image © Creation Saffigna
It was a token of Matt's growth as a musician over recent years. He's come a long way from the solo singer/ guitarist vibe he had going way back when, evolving steadily into the rounded multi-instrumentalist craftsman he is now.
Corby has always had a ridiculous voice that needs not be mentioned. What's interesting is that he is now blending it with his own flavour of what I would call Australian neo-soul.
The set was laden with sexy organs and synths, and some of the places he took his voice were reminiscent of Erykah Badu. It's an infectious move that makes the music smooth, sexy and worthy of a boogie while still maintaining a warm, soulful feeling.
There was a particularly awesome moment where he did a mash-up that began with his song 'Elements', an ominous number that has a particular key progression that struck me instantly as quite Radiohead-like.
My suspicions were confirmed when he seamlessly transitioned into a blended cover of Neil Young's 'Old Man' and Radiohead's 'Everything In Its Right Place'. It was an ambitious manoeuvre, but it truly worked a treat. It had a mysterious effect that I can only describe as broody, psychedelic, gospel soul.
While 'Rainbow Valley' was Corby's main focus, he did make sure to detour into some old classics playing 'Brother', 'Resolution', 'Empires Attraction', 'Monday' and the big burner 'Souls A'fire'.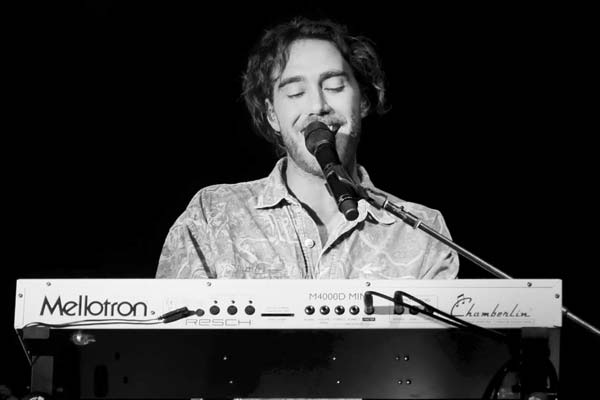 Matt Corby - image © Creation Saffigna
As to be expected, Corby and his crew were summoned back to the stage by an auditorium of stomping feet for the ol' encore dance. To the delight of a few excited yellers, Corby answered the shouted requests and finished the show with the powerful 'Miracle Love'; most of the crowd abandoned their allocated seats and rushed to form a mosh of iPhone torch lights at the front of the stage.
Corby engaged the reaction and encouraged the crowd to echo the chorus: "Can we bring back that miracle love!" Which they did, creating again that strange sense of gospel power that Corby has a bit of a thing for.


All in all, Corby provided a warming musical experience. He has a gentleness to him that brings its own sense of peace to the room. And while he's not afraid to let that voice of his loose, it is always done with a tastefulness and harmony that fits with perfect softness into the rest of the music.
It's hard not to leave his show without being wrapped in a blanket of loveliness and calm. More power to you Doctor Corby. Keep stirring those wild, musical medicines.