Let's be completely frank with each other here, this probably won't be a completely honest review.
There will be an attempt to put aside assumptions and expectations, but really Matt Corby has something special, has always had something special and it's awfully hard to write without a reverence filter.
The night at QPAC (20 April) began with sweet support act Kita Alexander, who could not have been any more appealing if she tried. Like an adorable ray of sunshine, she skipped out on to the stage, opened her mouth and golden notes floated out. Adding to this is the fact that she is a tall, long-legged blonde with hair to her waist and the aura of a beach goddess: you could probably assume she is going places and fast.
Click here for more photos.
As good as Kita Alexander sounded, it was a Corby crowd and mini me Matts were everywhere. Every second dude was shaggy-haired, wearing skinny jeans, a knit cardigan and a felt hat, and the Concert Hall could've easily been a Splendour tent and nothing about the vibe would be different.
Image © Jann Angara
Much has been written about Corby and his obvious aversion to the superficialities of fame. And his show reflects this ethos: his band in all black, minimal use of props or effects and often times, a single spotlight would burn down on him and it would just be him, his voice and the crowd.
The Telluric Tour focuses mainly on his new album and he opened with 'Belly Side Up', which rolled over the crowd like hypnotic waves of sound. At some point, Corby picked up a flute and started playing and the crowd responded with surprise and claps of admiration.
Image © Jann Angara
Flanked by a bass player, a drummer, two keyboardists and a guitarist, Corby stood in the centre and used his vocals like a conductor, modulating tone and volume with ease. Playing almost all of his tracks from 'Telluric' including 'Do You No Harm', 'Wrong Man', 'Monday' and 'Knife Edge', Corby goes soulfully deep and his voice is a fluid, flawless instrument that is allowed to roam free.
At times, it felt like you had wandered down into a underground jazz club in New York, and other times like Corby had been hanging out with a gospel choir and embraced call and response. But whatever the sound, it was always slightly restrained. It's as though Corby isn't quite sure what would happen if he completely let go and went wild.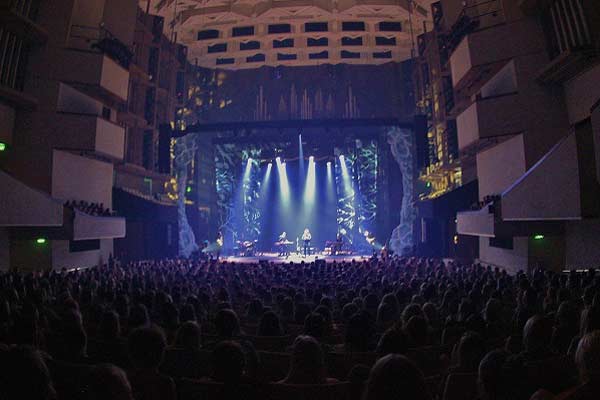 Image © Jann Angara
There is a feeling that Corby is dancing close to his own creative flames but not ready to jump into the fire yet. And almost to bring himself back to normality, he would slip back into singing a song that everyone knew. And of course the crowd was definitely waiting for 'Resolution' and 'Brother'; people sang along, clapping and cheering as soon as he started them.
But this felt more like the tour where Matt gets to be Matt, and lets that incredible voice of his take his fans on a journey. At times he seemed to be channelling Barry White such was the depth of his voice and then with a sense of effortlessness, he soars into a breathy falsetto that is just as intoxicating. His vocals are layered, textured and warm and has the effect of simultaneously inducing relaxation and inciting excitement.
Image © Jann Angara
Corby sways unconsciously to the beat, his hands almost cradling the sound and it truly looks as though his body becomes a vessel for the voice. He is both achingly vulnerable on stage and in complete control. Finishing with a cover of Sam Cooke's 'Change Gonna Come', Corby's voice rumbled deep in his chest and crooned his way to a musical nirvana.
This is an artist who is only now starting to realise who he is and what he can do: when you see the air around him vibrate as he sings, you start to understand that he is destined for greatness.
Click here for more photos.