Madonna was at the start of the pop era: she helped craft the up-beat, synthesized culture with songs that still endure across radio stations around this vast globe.
These days most of the pop artists follow her exemplary shows as if they were the only way to do them. The visual effects: lights, props and the choreography of the dancers all fit the mould of Madonna's earlier concerts.
Australia waited 23 years for Madonna to return with her big stage and "wow" performances. And, unlike her Thursday night performance (10 March) when she made adoring fans wait an extra four hours at The Forum Theatre, she was rather punctual on this night (12 March).
Image © Kevin Mazur/ Getty Images
Following on from the Thursday night show, Madonna became a clown again on the big stage at Rod Laver Arena and rode a tiny little bike while honking a horn and pulling out a rather large hip flask, which she claimed only to contain water.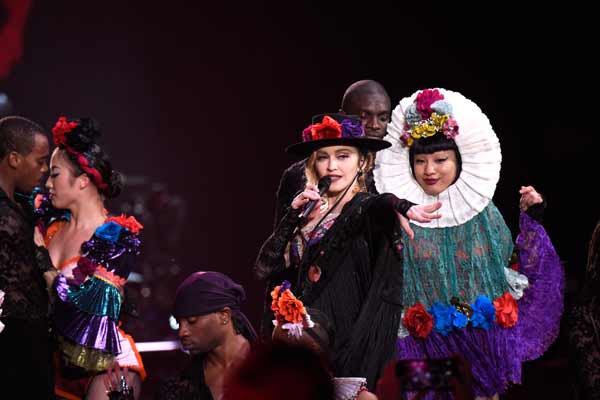 Image © Kevin Mazur/ Getty Images
There were a couple of moments during the show where Madonna seemed to zone out a little and was somewhat exhausted, in what appeared to be a drugged, drunken phase. But it all made sense when she announced: "The antihistamines are now working. I have a cold."
Image © Kevin Mazur/ Getty Images
However, the 57-year-old kept it together and put on a highly-polished show that ended with the self-professed Queen of Pop donning the Aussie flag and singing the ultimate of pop songs, 'Holiday'. "Nobody fucks with the Queen," she screamed before Molly Meldrum made a brief appearance while tucked away at the end of the heart-shaped (or penis-shaped, depending on where you were standing) stage.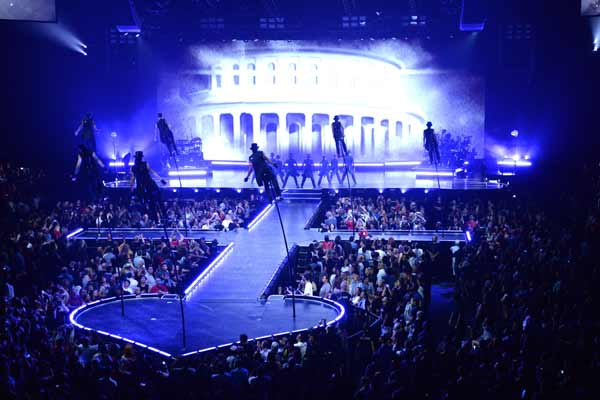 Image © Kevin Mazur/ Getty Images
Madonna thanked him for "being the first man in Australia "to fall in love with me". She dedicated the next song to Meldrum enforcing her affinity and gratitude to him: "You're the best" as the crowd chanted "Molly! Molly! Molly..." Reaching for the microphone, he managed to stumble out: "I… I fuckin' love you".
Madonna plays Rod Laver Arena again tonight (13 March) before flying up the east coast to deliver her stunning show again in Brisbane and Sydney.
Rebel Heart Tour
Sun 13 Mar - Rod Laver Arena (Melbourne)Wed 16 Mar - Brisbane Entertainment CentreThu 17 Mar - Brisbane Entertainment CentreSat 19 Mar - Allphones Arena (Sydney)Sun 20 Mar - Allphones Arena (Sydney)
Setlist went like this:
Joan of Arc / Samurai: Revolution
Video intro with 'Iconic' snippets'Iconic''Bitch I'm Madonna''Burning Up''Holy Water' (with 'Vogue' snippet)'Devil Pray'
Rockabilly Meets Tokyo: Messiah
Video interlude'Body Shop''True Blue' (acoustic)'Deeper And Deeper''HeartBreakCity' (with 'Love Don't Live Here Anymore' snippet)'Like A Virgin' (with 'Heartbeat' sample)
Latin / Gypsy
'S.E.X.''Living For Love''La Isla Bonita''Take A Bow''Rebel Heart'
Party / Flapper
'Illuminati'Video interlude'Music' (with 'Give It 2 Me' sample)'Send In The Clowns' (Stephen Sondheim cover)'Candy Shop''Material Girl''La Vie En Rose' (Édith Piaf cover) (acoustic)'Diamonds Are a Girl's Best Friend' (Jule Styne cover)'Unapologetic Bitch' (joined onstage by Courtney Act)
Encore
'Holiday'


All images are from Madonna's Montreal, Canada show on 10 September, 2015.