Returning to Australian shores this April after a nine-year hiatus are one of the UK's top-selling groups of all time, Madness.
Here to celebrate the release of their twelfth studio album, 'Can't Touch Us Now', Madness will perform a string of Australian shows including a set at Byron Bay's Bluesfest.
With seven Top 10 albums, twenty two Top 20 hits and over six million album sales to their name, it comes as no surprise that this six-piece, ska ensemble recorded the sixteen-track 'Can't Touch Us Now' in under three weeks. "We always try to spend as little time in the studio as possible," Madness frontman Suggs explains.
"I mean, you've got so much technology now. But what we try and do is write songs, have some fun and then try and catch a bit of atmosphere when we're in the studio and get it done fast. And I think we did that on this record."
The follow-up to 2012's Top 10 album 'Oui Oui Si Si Ja Ja Da Da', 'Can't Touch Us Now' saw the band reunite with Grammy Award-winning producer Liam Watson and the band's long-term producer Clive Langer. "It was a great process.
"We had a lot of fun. I mean Clive is a great arranger, but it's almost like having a referee; somebody between the rounds to make sure no one gets knocked out when the fur starts to fly.
"And you need an impartial voice every now and then because obviously we've got very strong characters in this band."
Coinciding with the band's 40th anniversary, the release of 'Can't Touch Us Now' saw the band play UK's biggest arenas last December. "We've got a real purple patch at the moment considering we've been around for 400 years, and the fact that people still like what we do is a privilege and a great honour.
"Madness are really excited about coming to Australia and I mean that. We've always had a great time. Anyone who comes to the show will have their mind blown and if you want to come see my one-man show all the better. It'll make you a better person."
Part play, part stand-up comedy and part music hall, 'Suggs: My Life Story' – described as a hilarious yet moving one-man tour de force – was inspired by the untimely demise of Suggs' favourite cat on his 50th birthday. "I was lying in the bath and my cat fell off a shelf and died... it was a very strange feeling.
"You know, I hadn't really thought about it before [being 50]. It's half a century… and it got me thinking about fate and all the different things that have happened to me.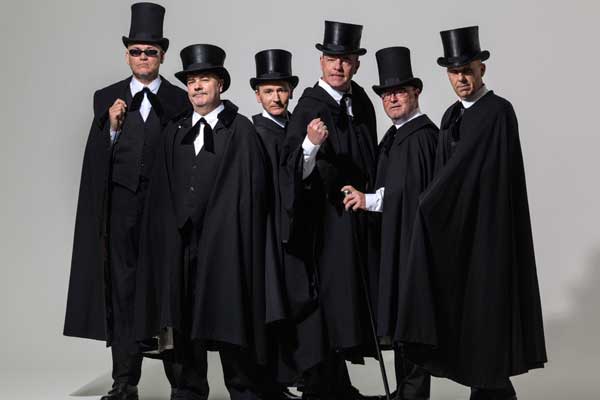 "I could have turned left or I could have turned right, and I might not have bumped into the band when I was a kid, but I did. Every step of the way there's been so much luck and fate involved.
"I thought I'd tell that story and that's what I do. I tell the story of my life. It's about being in the band, but it's also to do with being a man of my age. I play a few tunes with a keyboard player and it's a good night out I should say.
"It's exciting. I've never done it outside Great Britain, so it'll be interesting to see how it's received out there [in Australia]."
Madness Shows
Tue 11 Apr - Fremantle Arts Centre
Thu 13 Apr - Festival Hall (Melbourne)
Sat 15 Apr - Hordern Pavilion (Sydney) Sun 16 Apr - Bluesfest (Byron Bay)


Suggs: My Life Story Shows
Thu 20 Apr - Enmore Theatre (Sydney)
Sat 22 Apr - Astor Theatre (Perth)
Mon 24 Apr - Comedy Theatre (Melbourne)