Of all of the bands in the last decade to have mined the '80s for inspiration, M83 have endured best.
While others exploited the decade for ironic value or as trend-hoppers, M83 leader Anthony Gonzalez has a genuine love of the decade of his youth, with each of the band's albums exploring his nostalgia for the films and music created during it including their latest, 'Junk'.
M83 - image © Ophelia Symons
This nostalgia isn't just apparent in their music; making the transition into their music videos, TV performances (a recent one featured Gonzalez dressed as Michael J Fox from the film 'Teen Wolf'), and also their live show, which was co-ordinated to match the cinematic quality of the music, as they demonstrated with utmost perfection at The Tivoli Theatre (14 May).
Click here for more photos.
The beginning of M83's set was pitched in darkness, with synth hum slowly rising with the increasing brightness of the lighting. A sudden explosion of light revealed the band, kicking into 'Reunion' as soon as they were visible; also revealing a backdrop of fluorescent tube lights hanging at different heights and angles, somewhere between a prog-rock show and an episode of '80s-era 'Countdown'.
M83 - image © Ophelia Symons
The opening number wasn't just comparable to the beginning of a cinematic experience, but it also showcased the vocals and synth work of the group's newest member, Kaela Sinclair. Sinclair's vocals perfectly complemented those of Gonzalez, with her voice playing the angel on the shoulder to Gonzalez's conflicted protagonist.
M83's set featured material from their entire back catalogue; most of it devoted to music from the newer 'Junk' and the acclaimed 'Hurry Up, We're Dreaming'. Even though the songs were from different albums, together they felt as if they pieced together a narrative much like Gonzalez' beloved '80s films, with 'Do It, Try It' showcasing our carefree, cool hero, ballad 'Wait' sound-tracking our hero's conflicting emotions, and many of the other songs acting as anthems to cheer the hero to victory.
Gonzalez spent much of the show swapping between singing with closed eyes and guitar in hand, to wandering over to a complicated synthesizer set-up, which blasted his songs out into the galaxy.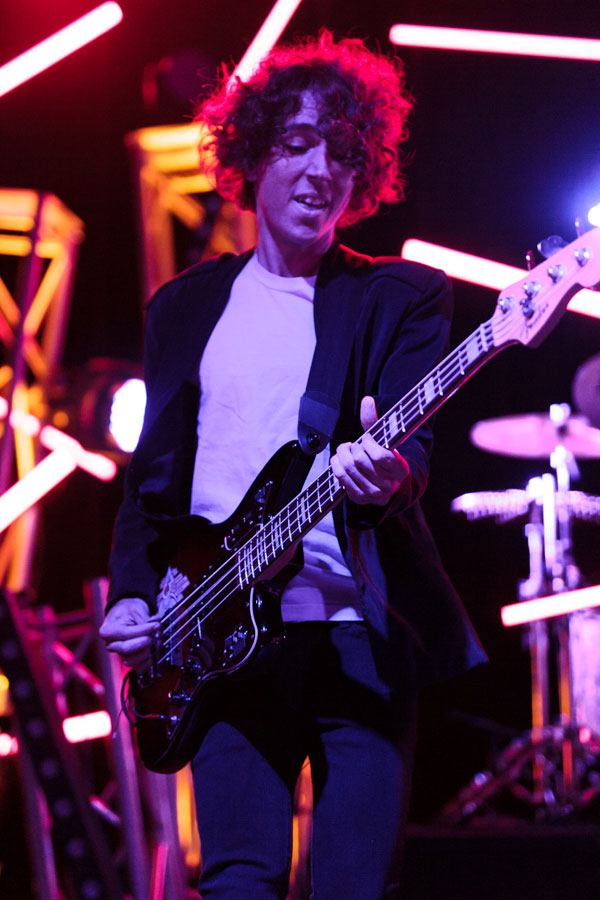 M83 - image Ophelia Symons
Right-hand man Jordan Lawlor has cemented himself in the line-up, impressively recreating Steve Vai's guitar solo on lead single 'Go!', and taking the lead on his own composition, 'Walkway Blues'.
It wasn't long before the opening synth hook of mega-hit 'Midnight City' appeared, filling the venue with excited screams. This was a crowd favourite if the number of phones appearing in the air was any indication. It's lucky those who had their phones out did, as they captured an amazing solo on '80s staple instrument, the saxophone. Band member Joe Berry absolutely nailed the solo, with hips swaying and sweat dripping giving his performance even more swagger than before.
M83 - image © Ophelia Symons
With a cascade of synth noise and a fade to black, the band returned for an encore. The group took a different tact to the anthems that dominated their set, deciding to play 'Couleurs', an instrumental house-music jam not unlike fellow countrymen Daft Punk; featuring synth soloing, bass grooves, driving guitar and cow-bell, all combining to create a dancefloor banger.
After finishing with the make-out soundtrack of 'Lower Your Eyelids To Die With The Sun', the band gathered to the front of the stage and took a deserving bow: a fitting ending to the end of transcending experience, travelling from The Tivoli to the stars and back, all on the back of soaring hymns to youth.
Opening the show was Japanese Wallpaper, the moniker for Melbourne-based Gab Strum. Accompanied by a guitarist adding subtle, atmospheric licks, Japanese Wallpaper uses his racks of hardware to create twinkling synths, glitching beats and ambient drones to build dazzling pop songs.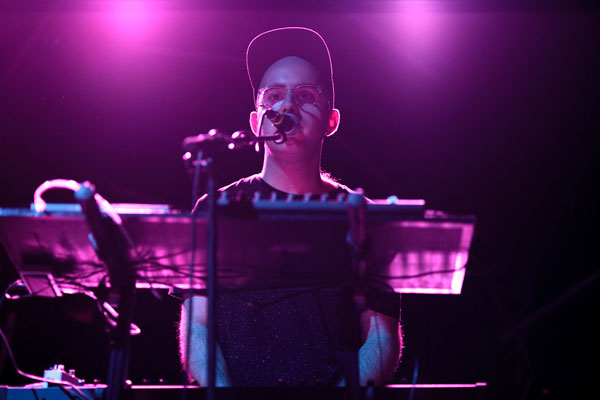 Japanese Wallpaper - image © Ophelia Symons
It was interesting to see Strum more active with lead vocals throughout the set, as his releases have mostly relied on guest vocalists. Strum's vocal style can be described as quiet and intimate, like he's not trying to disturb a sleeping partner from their slumber. His restraint gives a new take on a cover of Bjork's 'Hyperballad', a song which is bombastic when performed by its writer, but in his hands adds a more reflective tone to the dreamy lyrics.
Japanese Wallpaper closed his set with his latest radio hit, 'Forces'. Already a special song, Strum retains its specialness by inviting to the stage the song's vocalist, Airling. Japanese Wallpaper's delicate set was spectacularly performed, providing a nice quiet verse to what would be M83's massive chorus.
Click here for more photos.