Australian music sensation, Tkay Maidza has released her self-titled, debut album.
To support the release, Tkay is heading off on her own headline tour of Australia. Joining Tkay on the road will be Sable, Midas Gold as well as a live drummer adding an extra dimension to Tkay's already electric show.
The 14-track album is unsurprisingly exceptional from front to back, featuring polished production from the likes of Salva (Young Thug, A$AP Ferg) and Dre Skull (Major Lazer, Snoop Dogg) among others. "I was really happy to work with these producers," Tkay says, "as I really look up to them and it came together well as I really liked their previous production work. So it was really great to have them on it: the whole album is quite random and each song came out as I hoped."
The highlight and lead single 'Carry On' is a natural standout and features the honed emceeing talents of Killer Mike of Run The Jewels. "When the time came to the nearing of the completion of the lead single 'Carry On'," Tkay says, "I thought it'd be really cool for Killer Mike to feature on that song. He understood what the song was about and had his own take on it, and recorded two separate verses for it which proved to be difficult in deciding which one to choose in the end to use.
"He acted like a big brother for the song, really sweet, and I was really happy with how it came out. The song and the fact that Killer Mike chose to work with me is really special as it gives me further exposure to develop; his talents and time that he took on the record for me is pretty cool for him to do that."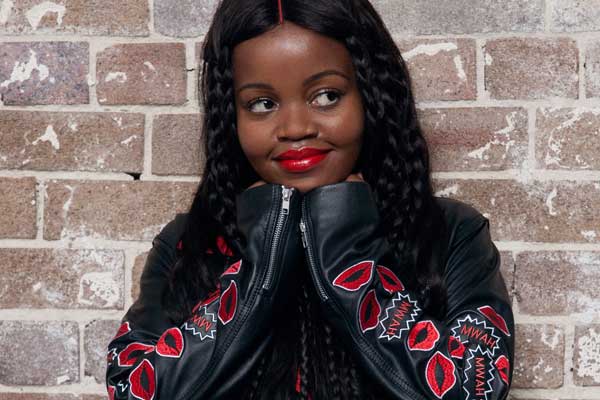 This single has been received well in Australia charting in the ARIAs and is accompanied by one of the most polished film clips produced by any Australian artist in recent memory. The energetic and bouncy second single, 'Tennies', has also been released to glowing reviews from music critics and fans alike.
Tkay Maidza's story is an intriguing one and one that demonstrates just how much she has achieved already. She recently scored a BET Awards nomination for Best New International Act, catapulting the 20-year old further onto the world stage and capping off an impressive and rapid rise over the last couple of years. "I was really surprised to be nominated," Tkay says.
"It was a really cool experience being able to see LA in a different light away from my usual LA experience; in that this time I was away from the LA recording studio life; [it] was cool seeing the red carpet celebrities up close, such as Stormzy, Akon, Beyoncé and Kendrick Lamar."
Tkay was the second Australian to be nominated for a BET Award after Iggy Azalea, and received a hearty, glowing endorsement from a then stranger in Killer Mike last year during a lecture at MIT in America, in reference to Tkay being the female rapper that Americans should know about.
Tkay was born in Zimbabwe before moving to Australia with her family when she was five-years old. Living throughout Western Australian and South Australia before settling in Adelaide, she graduated from high school 2 years early at 16 and like a young Ice Cube, studied architecture at university before concentrating full time on music.
Tkay got her initial music break through Adelaide's Northern Sound System artist development programme, coming up through the watchful eye of former Hilltop Hoods manager PJ Murton, and at 17 released her debut single, 'Brontosaurus', to instant buzz. She released the excellent EP 'Switch Tape' in October 2014, and fans have been patiently waiting since for news of her debut album.
She debuted on American radio as part of Skrillex's OWSLA Radio's second episode in February 2016. She has also been branching beyond her hip hop roots collaborating with various dance and pop producers in Australia and internationally, charting well across Europe.
'Tkay' is available now. In celebration of the release today (28 October), Tkay has announced a surprise pop-up in-store at Sydney's Butter where she will perform live and be signing copies of the album. Tkay x Butter - 6 Hunt St Surry Hills, Sydney, from 4pm AEDT.
Tkay Maidza Shows
Thu 3 Nov - The Triffid (Brisbane)Fri 4 Nov - 170 Russell (Melbourne)Sat 5 Nov - Capitol (Perth)Thu 10 Nov - The Metro (Sydney)Fri 18 Nov - HQ Complex (Adelaide)Sat 19 Nov - Uni Bar (Hobart)Tkay also appears at Falls Festival (Lorne, Marion Bay & Byron Bay) as well as Field Day 2017 1 January, 2017.