British neo-soul sensation Laura Mvula (nee Douglas) makes her way to Australia this month for a performance at Bluesfest.
Following on from the unprecedented success of her 2013 debut album, 'Sing To The Moon', Laura released her sophomore LP, 'The Dreaming Room', last year.
Despite the critical praise stemming from her debut, recreating past triumphs is the farthest thing from Laura's mind. "Everybody's trying to make music to get to number one or be the hippest thing; it's a trendsetting culture," she told
Rolling Stone
in June last year.
"I consider it my curse that I neither care about that, nor am I able to do it."
Laura's story is one of love, determination, hardship and heartbreak. She was raised in Birmingham, the daughter of West Indian immigrants in a close-knit Christian household with her younger brother James and sister Dionne, where an eclectic love for music was nurtured from a young age.
"My mum liked Diana Ross, so we'd clean the house to her," Laura tells
The Telegraph's Stephanie Rafanelli
in 2014. "My dad was into Etta James, Miles Davis, The Carpenters. Saturday mornings were orchestra rehearsal. Sundays were gospel and church music."
At age 18, she enrolled at the Birmingham Conservatoire, graduating with a degree in composition. It was at the Conservatoire she met Zambian-born baritone, Themba Mvula with who she fell in love almost instantly, and they married after graduating.
Laura got her big break when she was working as a receptionist. With the help of Themba and only a bare-bones recording set-up (keyboard, mic and recording software), Laura produced a series of demos that she sent to various power-players in the music industry.
One of these players was producer Steve Brown as well as his manager, Kwame Kwaten, both of who became instrumental in developing Laura's talent and ambition into a legitimate career.
Taken under the managerial wing of Kwaten, Laura was signed to RCA and released her first EP 'She' in November of 2012. Upon the release of 'Sing To The Moon' in 2013, Laura quickly became a domestic and international success.
She was nominated for the Critic's Choice Award at the BRIT Awards in 2013, that same year winning Best Female Act and Best R&B/ Soul Act at the MOBO Awards. In 2014 she received another two BRIT Award nominations for British Breakthrough Act and British Female Solo Artist.
As an added boost, Prince had given Laura's album his own personal seal of approval, playing before and after his live performances. "On Twitter he said he wakes up to 'Green Garden' every morning," Laura beams to The Telegraph. "He plays my album before and after shows. It's the highest praise. It sends me a very clear message. It's very grounding, like feeling loved."
For all intents and purposes, Laura was a bona fide star-in-the-making. But the glamour and awards bely a darkness that is never far from Laura's mind. In a 2013 podcast for The Daily Telegraph, Laura admitted she suffers from debilitating anxiety and panic attacks, which leave her all but physically and emotionally crippled.
"It can be such an isolating illness," she says. "You're often convinced that it's yourself against the rest of the world."
Speaking openly about her mental battles in an interview with
The Guardian
from March 2016, Laura revealed they had taken taken an immense toll on her personal life, and as an extension, her creative output.
"Naturally, all this was a huge strain on mine and Themba's marriage. Then, a year ago [2015], we split. I don't want to say too much more. This anxiety thing is something that has dictated my life. I know it was a factor in my marriage breaking down.
"I wish that life could be compartmentalised: 'That was because of that, and that was because of that.' Really, I'm not sure. It was a combination of lots of things. I would say… quite honestly, that I failed him. I failed him as a wife."
It was against this backdrop of personal grief and crisis that 'The Dreaming Room' was written and recorded. Feeling 'creatively spent' in the wake of 'Sing To The Moon', Laura struggled to reconcile her private life with the public demand for another album. "My marriage was now publicly over," she tells Rolling Stone.
"Before 'The Dreaming Room', I went to my lowest place. It was like I had to face everything that I'd been running from for many years. Now all of a sudden I couldn't run, and I had an album to write."
'The Dreaming Room' has Laura expanding musically into more conventional pop forms, incorporating elements from styles such as disco into her music. It also involved her working with legendary guitarist Nile Rodgers on the track 'Overcome'.
In a Rolling Stone interview last year, Nile said of Laura: "Even though we're all governed by similar rules in Western music, she was treating things differently, blending her voice with orchestral instruments to come up with timbres that you normally don't hear."
As legend after legend comes out in support of, or in collaboration with, Laura still finds herself at odds with the success of a mainstream pop star. "Being a pop star is something I don't think I'm very good at," she tells
Nick Duerden from The Independent
in 2014.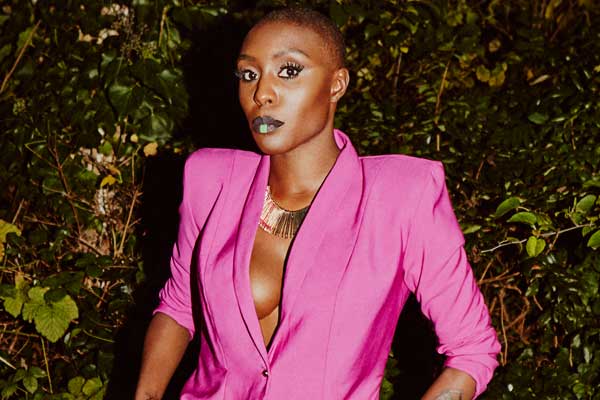 "I'm worried it's making me too paranoid, because all of a sudden, life has become this constant assessment. When you put something out there and people get to hear it, then those people react to it, socially, culturally."
In what's being viewed as a 'snub' by organisers, neither Laura nor 'The Dreaming Room' received a single nomination at this year's BRIT Awards. In January,
NME reported
Laura as saying she was "genuinely hurt" by the omission in a tweet which expressed genuine disappointment and suggested that she would have been included "maybe if I wrote better music".
It is surprising considering the love the BRITs have previously had for Laura, but maybe not-so considering she herself 'snubbed' the awards ceremony last year in protest of what she saw as a lack of diversity in the nominees.
In February 2016 she told The Andrew Marr Show: "Growing up, my black identity is something that is hugely important to me and something that as I'm now going in to my 30s I'm thinking lots and lots more about. I guess the problem for me is knowing that there are young, black kids growing up feeling that they're not acknowledged in society, in media and in mainstream music."
These days life and music is very much a family affair for Laura, with brother James and sister Dionne accompanying their elder sibling in her five-piece live band playing cello and violin respectively.
Perhaps the greatest compliment of all is the assertion made by
Geoffrey Himes of The Washington Post
earlier this year in his review of 'The Dreaming Room' that Laura is 'a kind of anti-diva'. He goes on: 'She showcases her big, low voice not by pushing it to its limit but by pulling back on the reins. This restraint creates a delicious tension between what she's doing and what you sense she could do.'
Laura Mvula plays Byron Bay Bluesfest 13-17 April.


Laura Mvula Side Shows
Wed 12 Apr - Metro Theatre (Sydney)
Thu 13 Apr - Melbourne Recital Centre